SMEs are considered to be the major drivers of competitiveness and innovation in many economic sectors. Small enterprises not only outnumber large companies but also tend to employ a larger number of people throughout the globe.
But, what makes these industries profitable? Here is a list of some of the most profitable SME industries and their average profit margins.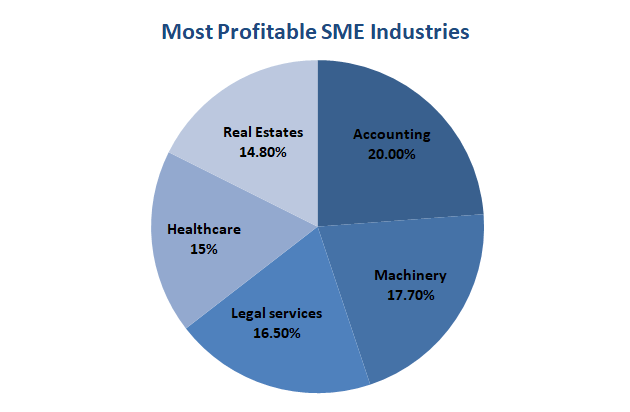 1.Accounting, Tax Preparation, Bookkeeping and Payroll Services
With low overheads, higher marketing scale and larger number of loyal clients, this industry looks evergreen despite the changing economic status of the country. Everyone will always need an accountant, no matter how poor or richer the economy gets.
2.Commercial and Industrial machinery and Equipment Rental and Leasing
World is always going to need machines; be it drilling machines, construction equipment, electric motors etc, and obviously no one would like to buy them for one time usage. With initial investment and low maintenance costs, these industries also maintain a noticeable profit margin.
3.Legal Services
Lawyers! They are not very pocket friendly. Just like accounting, legal services like lawyers, notaries and settlement officers also have very low operating costs and also repeat clients.
4.Freestanding Ambulatory Surgical and Emergency Centers
If you break a leg, then you will find a way to fix it as soon as possible regardless of the fee charged for the treatment. Services like X-ray, setting broken bones, patients suffering from injuries from accidents etc comes under the section and is among the most profitable medium businesses.
5.Offices of Real Estate Agents and Brokers
Although, the profits largely depend upon the economy of the country but such offices also have very low operating costs. All you need is a license.
Summing Up
Service Industries are majorly considered to be the most profitable amongst the above mentioned domains. Low overheads and small start-up costs are the major factors that keep their expenditures low, eventually leaving higher profit margins.