 Digitize your Business with

#1 Platinum SAP partner
Trusted ERP software companies in Kerala Uneecops is Asia's #1 SAP Business One partner and India's first SAP Business One Platinum partner. We provide the best ERP software in Kerala. Our SAP Business One customers are able to reduce costs, improve business processes, and achieve transformational outcomes with SAP Business One. We are among the leading SAP Business One partner Kerala, offering end-to-end solutions. As a trusted SAP implementation partner Kerala and advisor, we offer secure, low-cost cloud solution for risk-free transformation to SAP Business One. Start your automation journey with Uneecops now, capture the full value of SAP Business One and improve time-to-value while lowering costs. Why SAP Business One

Should Be Your Preferred ERP?
Designed and priced for fast-growing businesses, SAP Business One is one of the world's most popular and deployed ERP that has all the features and innovation your business needs to succeed.
The software is a perfect solution for small, mid size and leading organizations to manage their key business functions from finance, inventory, logistics, accounting, sales, human resources, customer relationship management, plus much more.
This accounting software in Kerala has everything that your growing business needs with in-built BI functionality and an in-memory platform to optimize decision-making across your business. It helps you file GST, GST returns, e-way bill, e-invoicing, TDS and manage all your ongoing business challenges.
Fast-paced Kerala Businesses Need

Fast-paced SAP company in Kerala
In Kerala, everything is dynamic. The business world is fast-moving, and SMEs have to cope with the ever-evolving business world. Whatever the industry, niche or sector, organizations need SAP consulting companies in Kerala to keep up with the pace. Uneecops works with businesses to offer top-class ERP for small businesses in Kerala. Our aim is to enable SMEs to grow bigger in terms of their technological prowess.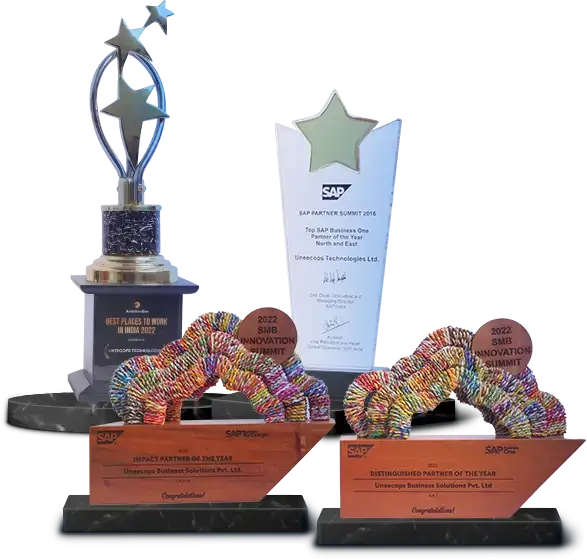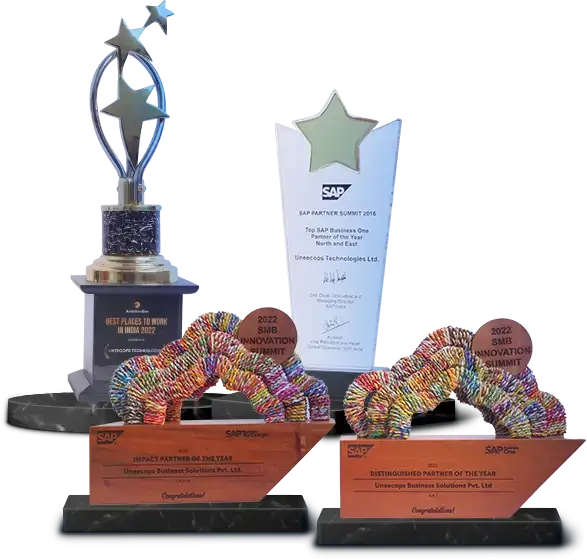 Uneecops is your trusted
SAP Business One Partner in Pune and Across India
We're honored to be recognized by SAP that bears testimony to our pursuit of excellence.
SAP Business One
Impact Partner of the year
2020-North
SAP Business One
Partner of the year
2020
SAP Pinnacle Award
ERP Partner of the year
2020
Uneecops' Capabilities as a

SAP company in Kerala
11+ years of in-depth industry domain expertise in SAP Business One makes Uneecops one of the preferred ERP companies in Kerala. We are among the only SAP Companies in Kerala that offer a complete range of SAP solutions, including consulting, SAP B1 licensing, SAP implementation, SAP migration, integration, support and managed services. Our capability as ERP solution providers in Kerala is becoming your go-to partner team. We are known as the SAP Business One Kerala team that solves the complex business landscape of mid-market businesses. As a SAP B1 partner in Kerala, we are guided by the purpose of addressing the mission-critical needs of companies with ERP, Analytics and Cloud Technologies. That is why we are the SAP Business One partners in Kerala that SMEs count on!
Our SAP Business One
Services in Kerala
Uneecops provides the best billing software in Kerala. Among the SAP Business One Partners in Kerala, we pride ourselves on the multitude of services we offer. Have a look!
License Procurement & Installation
License Procurement & Installation
We are among the popular SAP Business One partner in Kerala as we make the licensing and installation process seamless and effortless. We are the SAP B1 partner in Kerala who can assist with SAP license procurement as per your business needs.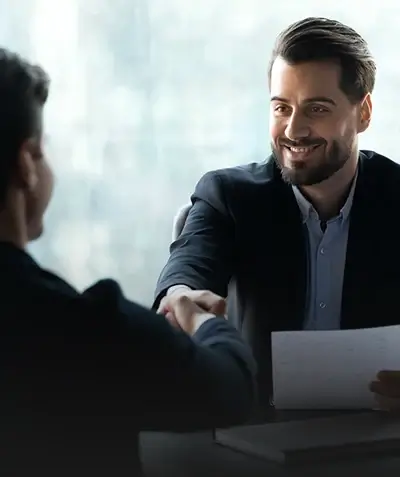 Implementation
Uneecops offers the best ERP software services in cochin that works on the ASAP implementation model. With 800+ SAP Business One implementation, we have the industry-based experience to meet customers' business demands more convincingly.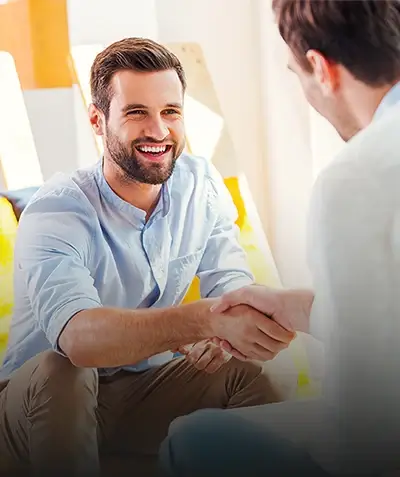 Customization
Customize SAP Business One as per your specific business needs, goals, challenges and budget. As one of the best ERP software in Kerala, Uneecops' advisors devise a personalized SAP Business One solution for every business so that the software grows with your business.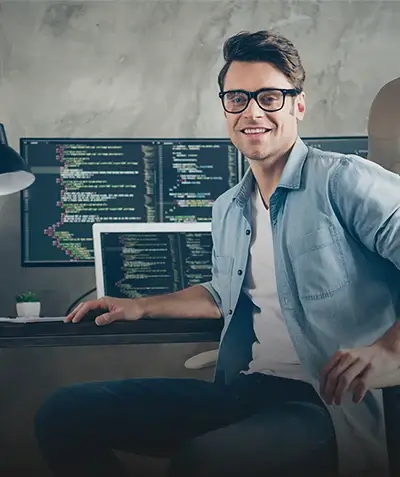 SAP Business One SQL to HANA Migration
SAP Business One SQL to HANA Migration
Manage all aspects of SAP Business One SQL to HANA with support from Uneecops. We work closely with you to assess in detail, plan, apply readiness and migrate data through testing to go-live and support.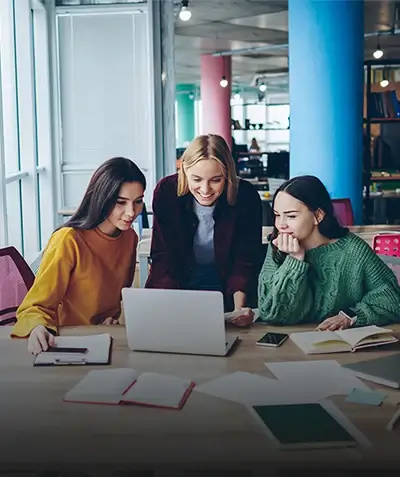 Add-Ons Development
Avail an array of SAP Business One add-ons for 18+ industries. As a SAP partner in Kerala, Uneecops offers add-ons that suit your unique business model. After implementing 500+ SAP Add-Ons across diverse industry verticals, we are ready to give your business a boost.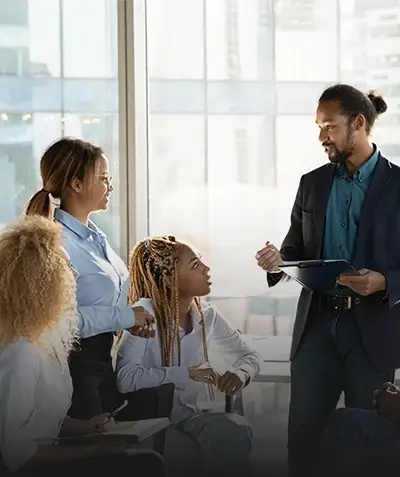 Upgradation (Standard Products & Add-Ons)
Upgradation (Standard Products & Add-Ons)
As the best SAP Business One partners in Kerala, we help you seamlessly upgrade to the newer SAP Business One version. Move securely to the latest version with our SAP Business One upgradation services.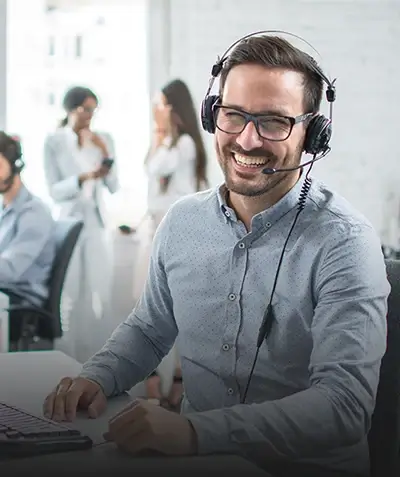 Training & Documentation (On-site & Off-site)
Training & Documentation (On-site & Off-site)
Maximize return on investment with your SAP partner Kerala. We are among the only SAP Business One partners in Kerala that offer SAP Business One training. Get all the essential documentation and training to start using this enterprise-ready software from day 1.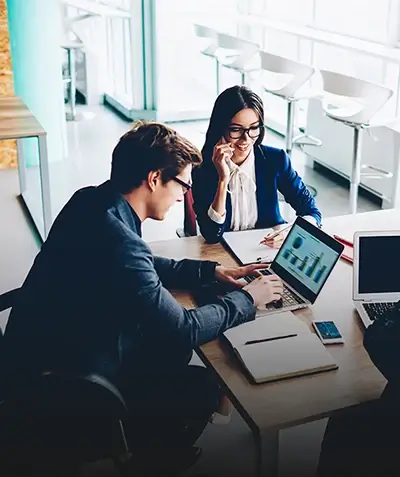 Support
Uneecops is the best SAP Business One Kerala partner. We are not just one of the SAP implementation companies in Kerala but also render 24 x 7 support via our dedicated portal to handle all your queries and requests. We have onshore, offshore, and mixed models to give you the best SAP Business One support.

Consult the Best SAP Implementation
Partner in Kerala
We provide the best ERP software in Kerala that meets your exact business needs. Learn more about how we deliver excellence and more about us and SAP Business One.
Let's Talk
Frequently asked questions
If your business is experiencing challenges with manual processes, data fragmentation, inefficient operations, or difficulty in accessing real-time information, it may be the right time to consider implementing ERP software. Also, if your departments are functioning in silos and need better collaboration, you should consider ERP. An ERP system can automate your business processes, unify all data, enhance productivity, and provide in-depth insights for better decision-making.
The choice of the best ERP software for mid-market companies depends on various factors, including industry, specific requirements, scalability, and budget. It's important to evaluate the features offered, integration capabilities, scalability, vendor support, and customer reviews to determine the most suitable ERP software for your mid-sized company. As a technology solutions provider with 25 years of experience, Uneecops recommends SAP ERP for fast-growing companies. Businesses choose SAP ERP for its comprehensive functionality, as it provides a wide range of modules and features that cover various aspects of operations, enabling integrated management of finance, human resources, supply chain, sales, and manufacturing processes. This all-in-one solution promotes efficiency, accuracy, and streamlined data management, empowering organizations to make informed decisions, improve productivity, and drive growth.
The cost of implementing SAP Business One in Kerala can vary based on several factors, such as the scope of implementation, customization requirements, number of users, and additional modules needed. It's recommended to contact an authorized SAP partner or vendor for a detailed assessment of your business needs and a customized quotation based on your specific requirements. As an SAP Platinum Partner in India, Uneecops offers SAP Business One in Kerela. We can begin with a discovery call, understand your SAP ERP requirements and give a quote based on your requirements. Connect with us for a personalized consultation/demo.
Uneecops is recognized as a leading provider of SAP ERP solutions in Kerala for several reasons. We have a strong track record of successful ERP implementations and deep expertise in SAP technologies. With 1000+ successful implementations, 250+ consultants and 21+ industry expertise, we are also India's #1 SAP Platinum Partner. Uneecops offers comprehensive end-to-end services, including consultation, implementation, training, and ongoing support. Our team of certified SAP consultants understands the unique needs of businesses in Kerala and provides tailored solutions to optimize processes, drive efficiency, and maximize ROI. Additionally, Uneecops has a strong customer satisfaction record and positive testimonials from clients in the region.