In this highly competitive environment, it is necessary to have a robust software solution in place that can mitigate the operational complexities and enable the organizations to make informed business decisions. There are many software in the market who can ease the tasks and manage the complexities. Certainly, Tally is the oldest and renowned accounting software while SAP Business One is not just accounting but it is a comprehensive and complete software that manage all the business hurdles in a smarter way.
Introduction to Tally and SAP Business One
Tally ERP is an evolved and extended version of the basic Tally accounting software which is primarily focused on GST, accounting, managing inventory, and other vital back-office functions. Tally is also beautifully integrated among various areas like Accounting, Finance, Inventory, Sales, Purchase, Manufacturing, Payroll, Costing, Job Costing, Legal Compliance etc but is yet on the way to fully integrated software.
On the other side, SAP Business One is tried and tested and globally accepted ERP software that helps streamlines every business function. Be it managing your finances, managing customer relations, materials management, product life cycle management, production planning, sales and distribution, business intelligence to name a few.
Infuse agility and intelligence
in your business with
Gartner Rated Tableau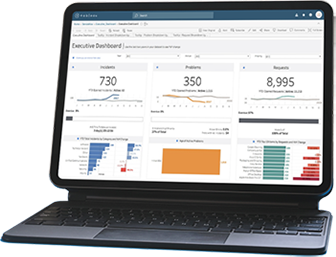 Let's find out a few key differences between SAP Business One & Tally
Here is an overview of Tally vs SAP to better understand the two software.
| Tally vs SAP Comparison Parameters | Tally | SAP |
| --- | --- | --- |
| Suitable for | Small/ Micro companies | Majorly SMEs, also large companies |
| Security | Limited | Highly secure with standard encryption communication |
| Data validations and substitution | Not automated | Automated |
| Document approval system | Two-level | Multi-level |
| Data handling | Can handle smaller amounts of data | Can handle large, complex database |
| Parallel accounting feature | Not available | Available |
| Cost of ownership, implementation, and maintenance | Relatively cheaper as compared to SAP | Expensive, as compared to Tally |
Security
Trusted by over 60,000 customers across the globe, there has to be a strong reason as to why SAP Business One is the best ERP. With the high-security protocols and standard encryption communication channel, SAP Business One complies well with the global regulations and the software is safe with any security force attacks and breaches. Undoubtedly, SAP Business One is a highly secure and must-have solution for small and mid-sized businesses.  

Likewise, the Tally software safety protocols ensure that nobody gets access to the data. However, when it comes to user level control administrator's intervention is required very frequently owing to user wise tolerance limit in Tally software.
Data Validations and Substitution
SAP Business One facilitates the checking process of entered values automatically as per various combination configured previously. This is really an important feature as it helps mitigates potential errors. There is no such checking and smart feature of data substitutions in Tally software.
Data Handling Capacity
There is no possible hurdle or constraints in handling huge database. You can manage millions of data and can filter the data with SAP Business One software. However, with Tally software, it is really a pain to handle huge data and it stops responding when it comes to processing large database.
Suitability Standpoint
SAP Business One (SAP B1) as we have already referred is a time-tested software used globally for managing different business operations. The software is good and advisable both for small and medium-sized enterprises and large scale business having a multi-national and multi-location operation. Whereas, Tally software is good and advisable only for SMEs where data volume is comparatively less and the business is not operating multinational or operating globally.
The multi-level document approval system
SAP Business One software facilitates users to pass documents through various levels before it gets posted. While in the case of Tally, there is a limitation of passing documents at two levels only before they get posted.
Cost of Ownership, Implementation, and Maintenance
The cost of ownership, implementation, and maintenance is generally high in SAP B1 as compared to Tally software. However, the benefits of having a complete and enterprise-ready software once implemented outweigh the SAP Business One licence cost in no time.  
Parallel Accounting
Probably, one of the most powerful functions of SAP Business One software as compared to other software in the market. It is a fully supported ERP with parallel accounting option. However, in Tally it is not that prominent. There's only workaround solution around it.
Conclusion
Both software – SAP Business One and Tally have their own share of benefits. Tally is more apt for startups and small businesses who do not have the requirement of huge data handling capacity and are happy with basic accounting and other basic features. While SAP Business One a ground-breaking ERP is more apt for small and medium-size businesses and large enterprises who are operating globally and require a software that can streamline their business functions and take the burden off their shoulders by managing it all seamlessly.