We resist change; it's human nature. There are legacy systems still being used. Even today, SMEs use homegrown solutions, excel sheets, traditional ERP, 'on-premise' ERP, and standalone software. Now, we ask: what about the dynamic, ever-evolving, ever-expanding, highly competitive business environment? How do you cope with agility and tackle disruption by startups for bringing resilience to your organization? As per Gartner, enterprise software makes up approximately 15% of total IT spending—a significant chunk of money—meaning businesses that don't get it right will pay dearly down the road. Hence, the need of the hour is to plan efficient ERP initiatives in the continuously evolving ERP landscape. The new buzzwords are composable ERP and multi-cloud ERP. Let's dig deeper.
No More Monolithic; ERPs Should be Hybrid and Multi-cloud
Gone are the days when ERP was implemented and forgotten. The once famous 'once and done' is now a continuous journey depending on evolving business outcomes. Advanced technologies powered by Cloud are paving the way for what Gartner calls Composable ERP. Conceptually, the term has existed for many years and refers to the future state of ERP, which is agile and adaptable to deliver various outcomes depending on organization's requirements. The concept has now become a reality with the SaaS-based ERP applications and seamless third-party integrations fueled by the API economy.
Gartner defined the fourth era of ERP as having AI as the centerpiece of consumable ERP solutions built on data fabric. Modern CEOs, CFOs and decision-makers who adopt an agile talent strategy to increase synergy and improve ROI will thrive.
Composable ERP: Sophisticated business capabilities that rely on multiple data sources
To remain relevant now and in the future, you need a platform that not only models or documents your business processes but creates end-to-end processes seamlessly.
For this, addressing business process management end to end is important – along with the cohesive view of design, implementation, analysis, and optimization. This allows composing process flows with the help of technologies such as AI and ERP.
Tomorrow is all about keeping end-to-end consistency. In the long run, enterprises can only foster agility by creating environments that enable enterprises to build and consume business operations in a composable fashion and execute them across system boundaries.
How do we do this? Look at the infographic below.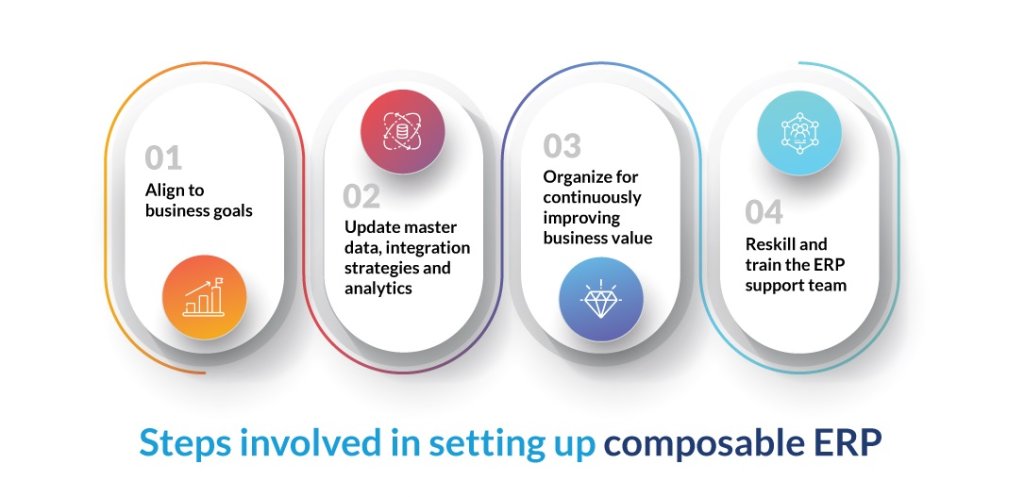 This means ERP investments should be able to multiply efficiency and profitability with an aim to meet the needs of their customers before competition.
Now comes the real deal. What is a key differentiator when it comes to ERP? Is cloud, data, or analytics significantly influencing the ERP tech stack? Scroll below to delve deeper.
The revolutionary cloud-based composable ERP helps businesses create new data strategies and data models
It's a digital-first world. But what powers the digital world is the cloud.
Let us see how cloud ERP has advantages over a legacy solution.
| | Legacy Software | Cloud (SaaS) model |
| --- | --- | --- |
| Innovation | Low rate of innovation | Continuous innovation |
| Implementation | Slower implementation, high efforts | Quick implementation |
| Upgrades | Manual | Automated and fast |
| Scalability | Not scalable | Highly flexible |
| Security | Low security | High security |
| Costs | High due to maintenance | Low costs |
Cloud-based ERP creates room for innovation and gives actionable insights on the move. Enterprises benefit from the SaaS model as it can be implemented and scaled quickly without major bottlenecks or disruption. With cloud ERP solutions, companies benefit from the immediate provision of new innovative technologies for automation, IoT, analytics, and AI.
The ultimate catchphrase is: 'No-cloud' enterprise in the modern world of work is as rare as it was to have the 'no-internet policy' in the mid-2010s.
This means those who don't embrace cloud ERP models risk falling behind the competition, which can prove to be a death sentence in today's era of fast-growing businesses. For measurable value, business and IT alignment, new cloud ERP systems have to be explored.
SAP is a multinational software company and the world's leading enterprise resource planning (ERP) software vendor. Its latest cloud offering, SAP S/4HANACloud, is the new-age, next-gen ERP driven by AI, IoT, digital best practices and data in-memory model. It allows users to access their data in real-time and get 360-degree visibility into all operations – anytime and anywhere. Let us look at some of the benefits of cloud ERP software.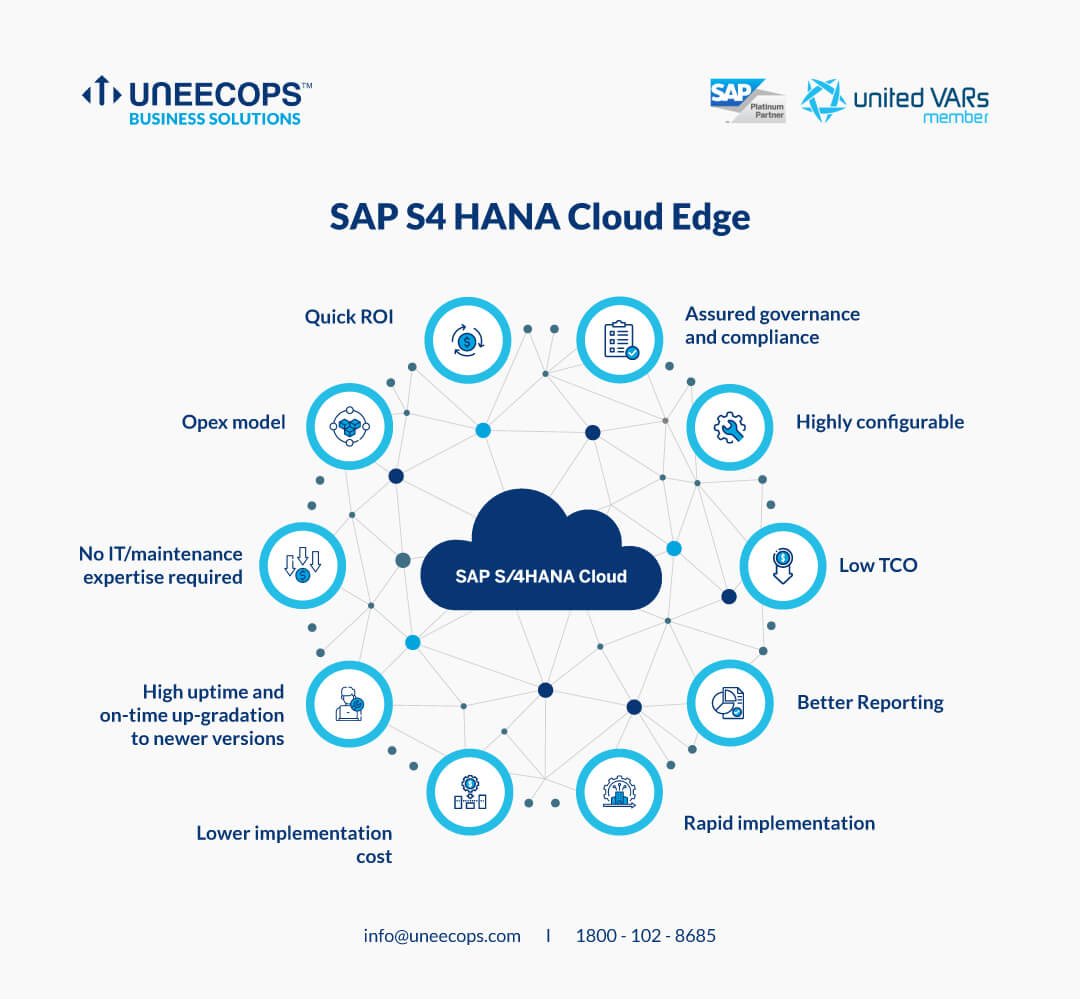 Companies can enjoy a competitive advantage and experience the best of SAP S/4HANA Cloud by leveraging its latest cloud features:
In-memory Based Performance
Machine Learning Capabilities
Embedded Analytics and AI
Data Compliance
Optimized User-friendly interface
Automated Software Updates
Every enterprise requires developing new models to gain efficiencies to enable innovation and kickstart mission-official systems without risk. As modern organizations deploy SAP S/4HANA Cloud, RISE with SAP program has provided the required impetus for moving SAP workloads to the cloud.
RISE with SAP: A business transformation as-a-service and pathway to SAP S/4HANA
RISE with SAP takes the guesswork and piecemeal license purchases out of enterprise planning: It offers organizations all the tools they need to implement SAP S/4HANA Cloud on their terms, at their pace, and without introducing additional complexity or risk. It helps overcome many challenges faced by the on-premise and SAP ERP customers while transitioning to the cloud. More reasons to choose RISE with SAP solution are shown in the infographic below.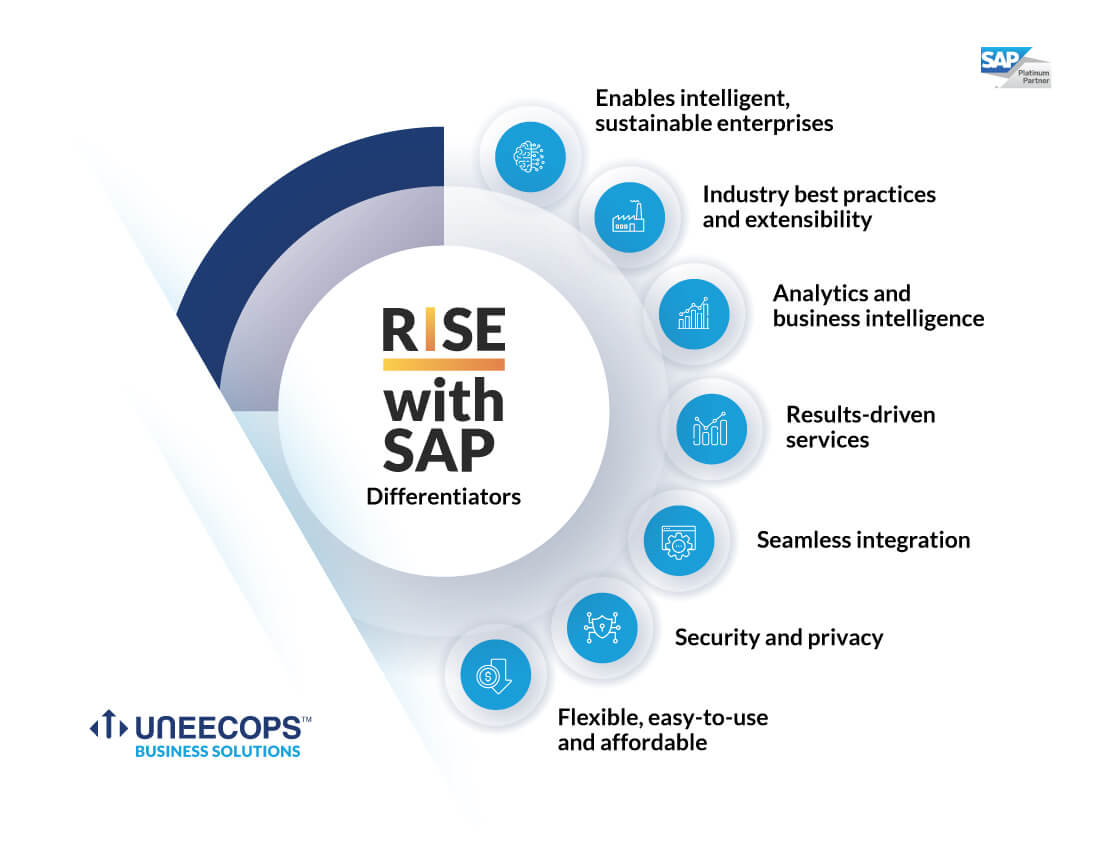 It's proven and safe to say that the new motto for contemporary businesses should be: 'Accelerate cloud adoption with RISE with SAP. Increase resilience, lower TCO, and ensure scalability with SAP S/4HANA Cloud.'
The call to action is there. Now, enterprises are looking for the right partner to support cloud migration to public, private or hybrid cloud.
Types of cloud for SAP apps
Private
Saas -AWS, Azure, GCP
SaaS- SAP Fieldglass, SAP Ariba, SAP Success factors
Nothing is 100% success assured, but there are strategies businesses can use to set themselves up for efficiency for years to come. How these strategies manifest might look different from one company to the other. But the key deciding factors in choosing the right SAP S/4HANA Cloud ERP partner would be:
Partner's ability to leverage SAP accelerators and template
The implementation success rate for mid-size enterprises for specific industries
Ability to provide and operate SAP in the cloud
Certified cloud and ERP talent across the tech stack
Experience in cloud migration
Implementation with managed services and tech support
Finding a partner seems tough. But one thing matters – your unique needs and the partner's ability to deliver.
Uneecops Business Solutions (UBS) facilitates business transformation in the cloud and fuels cohesive view with SAP S/4HANA Cloud
Uneecops Business Solutions is one of the preferred and platinum partners of SAP. We are a member of United VARs, which is an SAP Platinum Partner. We co-create the future and turn over a new leaf of agility, intelligence and success with composable ERP, data fabric, hybrid and multi-cloud platforms, data strategies and data models. Over the years, we have showcased our expertise and catered to clients across all industries.
Check out our success stories and get inspired: https://www.uneecops.com/case-study/
Are you ready to RISE with SAP and soar with Cloud ERP? Thrive with UBS!