From gigabytes to billions of terabytes and zettabytes, data is growing exponentially. IDC estimates that by 2025, organizations will have 10X more data than they had just two years ago. Clearly, as as analytics become pervasive across organizations, data is here to increasingly influence decision-making within enterprises.
Now comes the tricky part.
Powered by AI/ML, there is a sustained buzz around advanced analytics. However, technology buyers have unlimited options as alternative hypotheses keep emerging. How can your business functions leverage the best of data analytics?
Augmented analytics is the newest and most powerfully emerging means to analyze data. It uses modern technologies to interact with data at a contextual level.
According to Gartner, "Augmented analytics is the use of enabling technologies such as machine learning and AI to assist with data preparation, insight generation, and insight explanation to augment how people explore and analyze data in analytics and BI platforms."
Business leaders and executives benefit from augmented analytics as it helps visualize data quickly without requiring expert technical skills. Users can easily find data, ask relevant questions, and quickly uncover business insights. Having augmented analytics capabilities, enterprises can broaden the use of data analysis and confidently get business questions answered from their data.
Let us understand the benefits of augmented analytics in a nutshell:
As your teams set out to solve complex problems and discover new opportunities, augmented analytics allows you to do so much more. You can calculate your machines' failure probabilities, improve cybersecurity, predict customer behavior or check someone's creditworthiness. The following features enable this: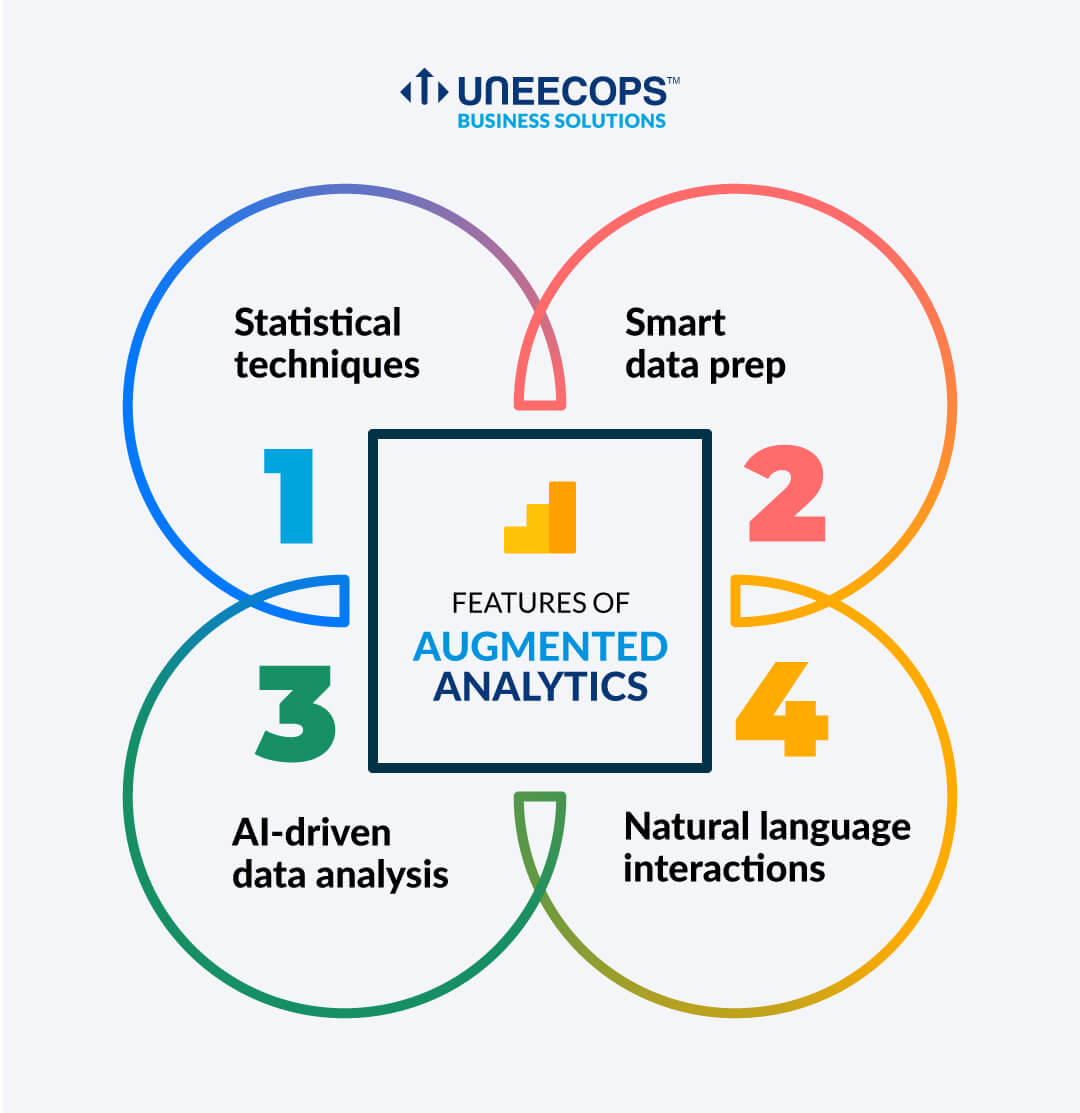 Now, you can do more than just increase revenue, customer satisfaction, quality, and customer loyalty; you also identify trends, save costs, and reduce entrepreneurial risk. This is primarily a transformational capability for big industries, including:
Manufacturing
Pharma
Retail
CPG
Healthcare
Intrigued? Let's now understand how modern companies and leading organizations are tapping into augmented analytics potential.
Mining the Augmented Data Analytics Opportunity
Businesses must consider an ecosystem of cloud, database, and apps to make future-proof choices regarding analytics solutions.
In simple words, we know the way; we need the means.
The data preparation involves an iterative-agile process for transforming the magnitude of multi-source raw data into a curated data set suitable for self-service analytics. Tableau is the world's #1 analytics platform and business intelligence tool that uses AI to drive meaningful decisions with data. From one-click statistical analysis and smart data prep to natural language queries, the augmented analytics capabilities allow more users to learn what they need to know from their data with increased confidence in their results.
Advancements in Tableau Augmented Analytics Help People Answer Questions Faster
Tableau BI software includes various augmented analytics features (AI, ML, etc.) that will help you explore your data better and find the answers you're searching for. With Salesforce at the helm of Tableau BI software, the two companies offer modern augmented analytics solutions and facilitate confident decision-making.
1. Ask Data
Interact with data using natural language to get instant answers. Get rich visualization outcomes to derive the data insights you want.
2. Explain Data
Automated, AI-driven explanations based on advanced statistical models for deeper data exploration. Get the value of a data point with a single click.
3. Ask Data for Salesforce
To get instant insights with instantly generated reports, salesforce users can ask questions via natural language. Everything is tailored to the business context to enable you to spend less time finding the right question and more time taking action on insights.
4. Einstein Discovery for Reports
This means AI-powered insights within Salesforce Reports! Be able to scan data rapidly using comprehensive statistical analysis and machine learning. Dive into the associated Einstein Discovery reports for deeper analysis in a few clicks!
5. Data Stories
Now, with AI algorithms, you can add simple language explanations to your dashboards within seconds. With this new consumption experience built for business users, you can break down data into easy-to-understand stories.
The end is your place to begin.
While we wrap, we reinforce,
In a marketplace defined by data, choosing augmented analytics could be the difference between success and failure. From basic cognitive processes to complex, real-time analyses incorporating billions of data, the stage is set for augmented analytics-based decision support.
With Ask Data, Explain Data, Einstein Discovery, and Data Stories, Tableau is already integrating natural language generation and employing AI-based storytelling to make data exploration easier. Using Narrative Science integration, you can communicate with data. The aim is to close the data literacy gap in modern organizations and reimagine a whole new analytics experience.
As you begin, all you need is a little support!
We're talking about that 'push,' that expertise your company may need to implement Tableau and augmented analytics efficiently.
Tableau resellers are leading and heading the augmented analytics revolution by being partners in digital transformation progress. While essential services such as creating a data lake and providing security remain readily available capabilities, data storytelling and augmented insights are the latest differentiators in the market.
Uneecops Business Solutions (UBS) is a Tableau Gold partner that helps businesses leverage the modern capabilities of Salesforce and Tableau. With over ten years of data science experience, UBS has built time-tested approaches that make us a top Tableau reseller in the country.
With Tableau BI tool and its features, UBS helps businesses drive meaningful decisions with data.
We're consistently investing in Tableau's business analytics tools, including machine learning, statistics, natural language, and intelligent data prep.
It's time to make impactful decisions with data, take the data-driven approach using Tableau augmented analytics, and transform with UBS!
For more information on Tableau license, Tableau license cost and Tableau pricing, click here.