Today, speed is everything. In a rapidly evolving world, everything needs to be fast-moving- quick turnaround times, swift decision making, and faster challenge solving-abilities. Also, technology should play a bigger role. It should rise to every business change and challenge. You sure cannot expect last-generation ERP to achieve next-generation operations. Cloud ERP emerges as a next generation ERP (SAP S/4HANA Cloud) for the same. Cloud means users can access all business data without zero commitment to hardware, IT staff or on-premise databases. All this at the speed of thought!
Take Your Business to Cloud Nine
According to IDC FutureScape worldwide cloud 2022, by 2025, with respect to security, performance and compliance needs, 60% of businesses will adopt dedicated cloud services.
Taking your business to the next level means leveraging Cloud technology for all business processes.
Introducing SAP S/4HANA Cloud – A Suite of Integrated Cloud Business Applications
SAP S/4HANA Cloud is built to enable companies achieve 360* digital transformation. The ERP tool takes advantage of real-time data and HANA's in-memory processing. That's why we call it – the power of HANA and the performance of the cloud.
The key S/4HANA Cloud business modules include finance, accounts, HR, inventory and procurement, sales, professional services and manufacturing.
Compete with the Confidence of Cloud
Automate enterprise management with a single, unified cloud ERP solution that fosters unparalleled business growth and efficiency. SAP S/4HANA Cloud allows users to access their data "in real-time" and make smarter decisions faster.
High uptime and on-time up-gradation to newer versions
Highly configurable
Lower implementation cost
User-friendly interface that requires no prior expertise
Pre-configurable
Minimum IT manpower required
No infrastructure/maintenance costs
Opex model that results in lesser investment and gives you better ROI
Complete data security
SAP S/4HANA Cloud is 21st-century's SMART
It includes all the new-age technologies. Take a look at the image below to learn more!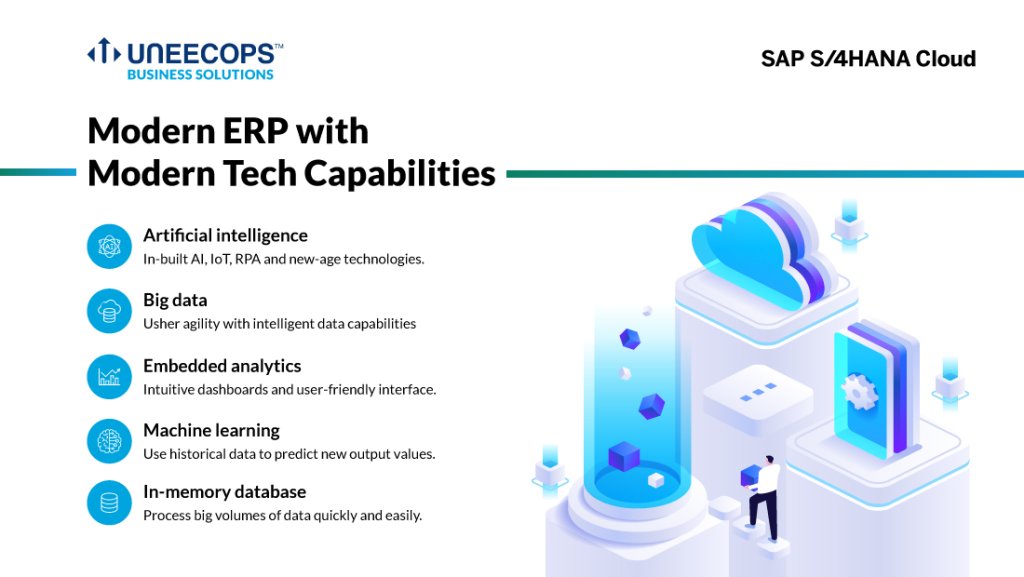 Achieve a faster time to value with the standard best-practice procedures. The ready-to-use functions and intuitive user interface contribute to quicker and more successful decision-making.
That is why the Cloud ERP is more capable of handling business change and challenges.
Succeed with SAP S/4HANA Cloud. Achieve Success with UBS!
SAP S/4HANA cloud is no doubt the future of ERP and automation. Businesses must rethink value creation by adopting SAP S/4HANA Cloud and remain up-to-date with innovative solutions in the cloud platform. Uneecops Business Solutions (UBS) acknowledges the value creation process and works together with SMEs to design future-proof strategies in SAP S/4HANA. This has helped many of our customer businesses to achieve enterprise transformation and maintain consistent delivery of services.
Deep Dive Into the Future of Work
Today is all about hybrid working or remote working. With employees, customers and partners working in multiple locations and varied time zones, SAP S/4HANA Cloud and UBS enable digital transformation. You can see your whole business on one platform- from anytime and anywhere. This gives your business additional accessibility, transparency, agility, data accuracy, and efficiency.
UBS is your all-in-one partner for SAP S/4HANA Cloud consulting, implementation, cloud applications, technical support, managed cloud services, and more. For more than 25 years, we have worked closely with our customers to analyze their business needs and define a suitable cloud roadmap. By delivering exceptional services, we earn our client's trust and build long-term relationships that drive their success today, tomorrow and in the future.
Automate Your Business Today, Get Started Now!
We'll find the right approach for your company as per business goals and unique requirements. Simply ask for your S/4HANA Cloud demo – our experts will be happy to help you!