Which business would not like to stay ahead of the game? But what does it take to get there? Is it smarter and real-time analytics, access to modern technologies such as process automation, AI, or quicker period-end financial closings? It's actually ALL. This means you ought to be the 'king of all trades to really rule the business landscape.' In the modern world, this means leveraging the latest automation software. SAP S/4HANA migration can be the two-word success formula.
SAP S/4HANA brings a competitive advantage to enterprises with its real-time intelligence. Top fortune 500s to large and mid-sized enterprises are eager to lift-and-shift of existing applications to the cloud owing to its transformational benefits. They are looking forward to SAP S/4HANA migration for simplifying the finance office, managing production woes, streamlining the chaos and erratic supply chain and much more. The decision for companies to transition to S/4HANA is often driven by two main factors: the realization that their existing legacy systems are no longer viable in the long term and the desire to adopt a modern ERP system that offers access to cutting-edge technologies.
LET'S CONNECT With EXPERT
Before talking about migration, let's quickly understand SAP S/4HANA advantages.
Advantages of SAP S/4HANA
In-memory database
Multi-tenant SaaS architecture
Close integration with the SAP Business Network
Easy integration with cloud-enabled technologies, such as AI
Faster financial closing capabilities
Real-time analytics on consolidated data
Access to the latest technology, including AI, chatbots and IoT
Quarterly automatic updates
Easy-to-understand UI
Complete process automation
easier-to-update business models
Whether you are already using the SAP ecosystem and looking for SAP ERP migration to S/4HANA or are new, wanting to undertake migration in SAP, it is vital to determine the optimal approach for the migration process.
What you need to absolutely understand is that –
"Upgrading to SAP S/4HANA is not simply a routine technology update; it is a significant business endeavor."
Thus, a substantial yet fulfilling transition demands a deliberate and meticulous SAP S/4HANA migration process to avoid any unforeseen challenges in the future. By taking a focused approach, we can ensure a smooth and successful migration, setting the stage for a future free from unexpected surprises.
SAP S/4HANA Migration Approaches
When organizations begin SAP S/4HANA migration, they are presented with a range of options, including two distinct approaches: Brownfield and Greenfield SAP S/4HANA migration.
A greenfield deployment represents a clean slate, where an entirely new SAP ERP system is implemented, typically utilizing a new data center or cloud infrastructure. In certain instances, it may even serve as an organization's initial venture into the realm of ERP solutions. Let us understand the Brownfield and Greenfield SAP S/4HANA migration approaches better. Check the table below:
| | | |
| --- | --- | --- |
| Migration Approach | Brownfield | Greenfield |
| Definition | An approach where the existing SAP ECC system is converted to SAP S/4HANA while retaining the current configuration, customizations, and data. | A fresh implementation of SAP S/4HANA where the existing SAP ECC system is not directly migrated, but instead, a new system is built from scratch. |
| Data Migration | Existing data is migrated to the new SAP S/4HANA system, including master data, transactional data, and historical data. | Data migration involves mapping and transforming relevant data from the old system to the new SAP S/4HANA system, excluding unnecessary or outdated data. |
| Technical Complexity | Less complex as the existing system structure and customizations are carried over, requiring fewer system changes. | More complex as it involves a new implementation, requiring system configuration, data mapping, and the recreation of customizations and integrations. |
| Time and Effort | Typically requires less time and effort compared to Greenfield, as the focus is on converting and adapting the existing system. | Generally requires more time and effort due to the need for a new implementation, including system setup, configuration, and customization. |
| Impact on Business Operations | Minimal disruption to business operations as the existing system is adapted and converted to SAP S/4HANA. | Potential for more disruption as the new system is built from scratch, requiring extensive testing and adjustments to ensure smooth business operations. |
| Opportunity for Process Optimization | Limited opportunity for process optimization, as the focus is on maintaining existing processes and configurations. | Offers greater opportunity for process optimization and redesign, allowing businesses to leverage SAP S/4HANA's advanced features and functionalities. |
| Risk and Complexity | Lower risk and complexity due to the retention of existing system elements. | Higher risk and complexity due to the need for a fresh implementation and potential challenges in data mapping and system customization. |
| Cost | Generally, more cost-effective compared to Greenfield, as it involves fewer changes and a smoother transition. | May incur higher costs due to the need for a new implementation, including system setup, configuration, and potential business disruption. |
| Customization Retention | Existing customizations are carried over, allowing for a smoother transition and preserving previous investments. | Requires the recreation of customizations, offering an opportunity to evaluate and optimize customizations based on business requirements. |
It's important to note that the choice between Brownfield and Greenfield approaches depends on various factors such as the complexity of the existing system, business requirements, desired process optimization, and risk appetite. If you are already using the SAP landscape and are thinking about the brownfield approach to S/4HANA migration, you have more options!
Alternative Approaches for Migration
Many organizations choose to begin their S/4HANA journey by implementing the S/4HANA Finance module. This approach allows for a partial migration, focusing on financial aspects, and simplifies data migration in SAP. Referred to as the brownfield approach, the migration to S/4HANA Finance-Central Finance offers a practical path forward.
Another option is to leverage "Rise with SAP," which is marketed as "business transformation as a service." Rise with SAP provides a comprehensive bundle of products and services designed to expedite the adoption of S/4HANA Cloud and its extensive ecosystem. It enables customers to swiftly establish their presence on S/4HANA Cloud and embrace the benefits it offers.
Confused even more?
Deciding Which Migration Approach is Best
When selecting the most suitable approach for your S/4HANA migration, the decision-making process typically occurs during the design phase of implementation while establishing the strategy and roadmap.
Both SAP and its consulting partners provide comprehensive strategy and planning procedures to analyze various factors that determine the optimal migration method. This phase, also called the phase 0, aligns with the initial stages of SAP's Activate methodology. While the terminology may differ, the following key steps are typically involved:
Check the existing system: This step involves assessing the existing ERP system, its data, and the business processes it impacts. Through discovery or readiness assessment, SAP ERP migration to S/4HANA can be determined. Factors such as licensing, maintenance costs, and pain points shared by users are also considered. IT conducts an inventory of custom code and analyzes master data.
Assess the architecture: Here, you analyze how your current ERP modules and business processes align with the available S/4HANA modules and deployment options. This evaluation helps determine which components can be carried forward and which ones may need to be left behind.
Analyze the future state: During this stage, you envision the desired functionalities and capabilities of the new ERP system based on requirements gathered from users, department heads, executives, and other stakeholders. Quantifying the anticipated benefits, such as cost savings from consolidating ERP systems or launching new e-commerce initiatives, is an integral part of this analysis. The information gathered during this step contributes to the ERP business case, which typically follows as one of the subsequent stages.
By following these steps and engaging in thorough analysis and planning, organizations can make informed decisions about their S/4HANA migration approach, ensuring alignment with business objectives and maximizing the benefits of the new ERP system.
As you decide and begin, you may look for risk-free, rapid migration options that have less business downtime.
Typically, migration requires comprehensive planning, extensive testing, reconfiguration, and detailed redesign of business processes and cutover activities.
Uneecops Helps Modern Enterprises with Smart SAP Migration
If your SAP landscape needs an upgrade or cloud migration, the first step is evaluating the priorities and requirements. Uneecops helps the CIO office and business leads realize the complete business value of their SAP application portfolio with purposeful innovation. As India's #1 SAP Platinum Partner, we provide end-to-end solutions throughout the entire lifecycle of SAP applications on-premise and on the cloud.
Our SAP S/4HANA migration approach delivers outcome-focused results, whether it involves legacy software modernization, operations enhancement, or digital automation innovation. We specialize in the following areas of SAP migration:
S/4HANA Cloud migration and conversion strategy
SAP ERP migration to S/4HANA
Data migration in SAP ecosystem or from SAP application landscape to SAP S/4HANA
Cloud migration, including data
Other complex SAP migration projects
Uneecops' Unique, Modern SAP S/4 HANA Cloud Migration Approach
Uneecops helps accelerate business transformation in the cloud and fuel future growth with SAP S/4HANA Cloud. Our SAP-certified experts have come up with a specialized approach to SAP S/4 HANA migration to cloud. Our approach aims to reduce downtime and improve business benefits in terms of ROI. Here are some more advantages of SAP S/4HANA migration to cloud.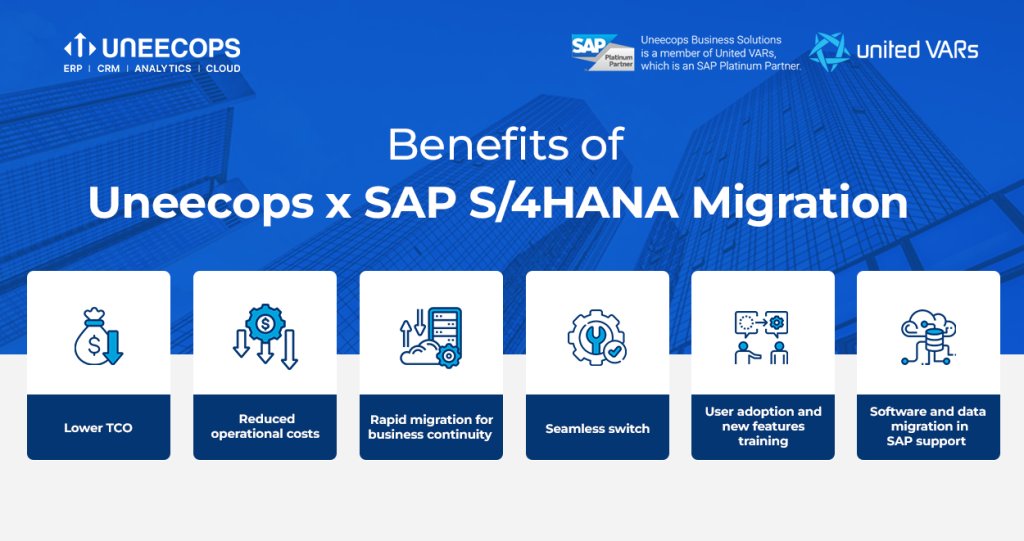 Uneecops is also a member of United VARs, which is an SAP Platinum Partner. We simplify operations with RISE WITH SAP.
Already decided to move and migrate? Let's collaborate!
Congratulations on your decision to move to intelligent business automation with SAP S/4HANA Cloud. You are already a step ahead in the race for business transformation. This strategic choice is a step towards business agility and resilience in a highly unpredictable business landscape.
Let's begin with a discovery call!
Please contact us to find out how Uneecops can support your SAP migration to the cloud journey.