Safe and effective medicine. Keeping up with new healthcare emergencies. Extensive R&D. Intensive stocking and manufacturing. Clinical trials. Drug adherence. Legal and compliance protocol. Innovative medical devices. – There is a lot that Pharma businesses have to do.
In today's fast-paced world of change, Pharmacy companies must capture large amounts of data on everything from minute operative details to stock levels, drug sales, revenue, regular updates on turnover and more.
With so much on the plate, streamlining how Pharma businesses research, market, and sell promising drugs becomes the key. A pharmaceutical dashboard provides real-time visibility into key operational processes, enabling better decision-making and optimization. With customizable views and real-time updates, you can monitor critical metrics such as drug development timelines, production timelines, inventory management, sales data, and more.
The pharmaceutical dashboard allows you to identify bottlenecks, track progress, and take corrective action when necessary. By streamlining and optimizing operational processes with a pharma dashboard, companies can improve efficiency, reduce costs, and ultimately bring life-saving drugs to market faster.
Pharmaceutical companies have gained their competitive edge with blockbuster drugs. But as the landscape evolves, healthcare companies need to turn to different assets – data and analytics– to fuel success. Also, Pharmaceutical companies have built empires on research and development (R&D) innovation. But as patent protection ends and the landscape of consumer behavior shifts, new forms of innovation must account for both top-and bottom-line growth.
Breakthroughs will require individuals to analyze data in better, newer ways.
There are many types of dashboards for pharma company available in market to monitor pharmaceutical KPIs in one place, increase profits, track production quality, prescription sales performance, and more. Many forward-thinking Pharmaceutical companies around the globe are using Tableau software for data analysis. Pharmaceutical Dashboards connect companies with their customers and boost bottom line with actionable insights. Pharmaceutical Dashboards reporting is useful for the pharmaceutical industry, providing numerous benefits like quickly identifying and addressing issues before they become major problems. Pharma Dashboards helps with improved decision-making, identifying areas of inefficiency and acting to optimize processes, making data-driven decisions that lead to improved patient outcomes, making strategic decisions that reduce costs without sacrificing quality.
"Every company— and especially a growing company like us—wants to make decision making fast and simple. What we needed was a common platform to bring data together from all our different applications and make it visible."

PRAMOD GOKHALE, GROUP CIO, MANKIND PHARMA
Tableau Life Sciences Pharma: A Prescription For More Effective Pharmaceutical Data Analysis
Modernization and innovation are critical for healthcare. As the Pharmaceutical industry evolves, innovation and information from all corners of the organization are vital to driving success.
Revolutionizing the health experience with data helps provide more equitable, convenient, personalized, and cost-effective care for consumers. Here are more benefits of Tableau software for Pharma companies:
Be able to monitor outcomes of drug discovery
Allocate resources and budget to current and emerging pharma markets
Optimize marketing strategies, R&D and physician education outcomes
Leverage global Pharma trends and tap emerging pharmaceutical markets
Data sets that can speak with other sets give a valued birds-eye view of the whole business
Equip users to quickly analyze data and assemble it in meaningful dashboards for efficient collaboration
Tableau dashboard that presents data of all business functions
The biggest benefit is that Tableau for Pharma will be able to manage the whole business – allowing you to invest more time in growing the business and better working for the greater good of global healthcare.
Read More: Tableau for Healthcare: Key Contributions of Tableau to the Healthcare Industry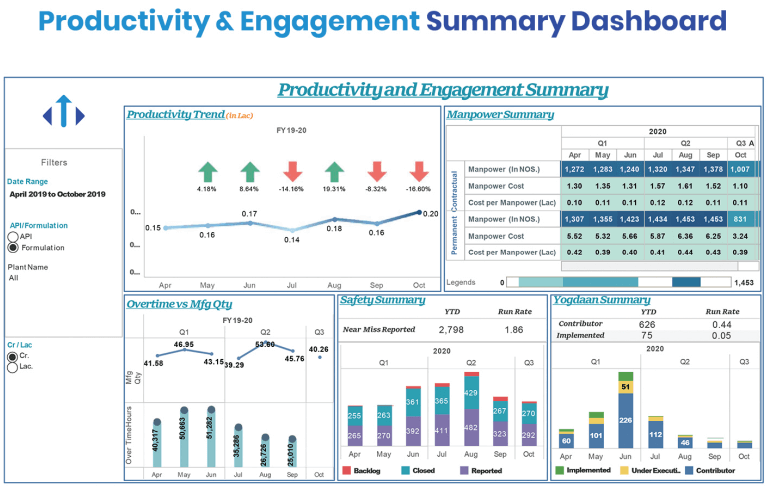 Tableau Dashboard: Pharmaceutical Businesses Best Medicine!
Pharma enterprises can enjoy improved efficiency and immediate data accessibility to compete more agilely. A critical step in maximizing the impact of data is equipping people with an intuitive business intelligence solution. Tableau utilizes the latest data visualization and business intelligence features. It empowers organizations to keep up with the dynamic technology. It is an easy-to-use software with rich functionality. Tableau dashboards provide quick insights by transforming data into engaging, interactive reports.
With Tableau for Pharma, businesses can:
Analyze data in a few clicks: You can analyze data easily and logically as it is converted into visualizations within a few minutes.
Create interactive, intuitive dashboards: Tableau dashboard that gives users an in-depth knowledge of the data.
Deal with massive data: Using Tableau, you can seamlessly assess huge amounts of data.
Publish and share data anytime and anywhere: The dashboard can be published live on the platform the user is accessing.
In the mobile world, a Tableau dashboard can be accessed on a smartphone or tablet—and the data can be available when you need it.
No software expertise is required, so anyone in the pharmaceutical business – from a salesperson to a manager – can access the Tableau software and view data in real time.
That is why, when we say Tableau is the best medicine for Pharma companies, we mean that the software is a prescription for more effective pharmaceutical data analysis.
Pharma Data Visualization
Using graph and timeline visualization makes lot of sense to pharma data. Pharma data visualization cuts through noisy data to reveal the connections and patterns you need to see. Pharma data visualization, especially network visualization and timeline visualization, helps clinicians and analysts to join the dots in pharmaceutical data. It helps companies making better decisions more quickly.
Pharma data visualization untangles connections between patents, classifications, assignees and inventors, giving a clear overview of the intellectual property landscape
The ability to visualize the connection between research and results avoids effort duplication, identify gaps in understanding and generally ensure better decisions
Leverage Tableau Healthcare Dashboard Analytics to Drive Value in Your Pharma Business
Uneecops' Tableau Analytics solutions are designed to tackle the most pressing data challenges. These solutions enable you to access more healthcare and critical medicine data, analyze large chunks of information and extract valuable insights. The companies can accelerate medication discovery and development, boost the effectiveness of clinical studies, target a particular patient population, understand patient behaviour, enhance the efficiency of medicine distribution and healthcare outcomes. Our standard yet modern approach has helped Pharma companies achieve outcomes across the Pharma value chain. To read our success stories from Pharma Industry please click!