There were times when ERP systems were restricted to only bigwigs of industries owing to their huge capital investments. However, there has been a dramatic change over the past couple of decades as we are seeing a shift in the landscape of small to midsize businesses. This group has shown tremendous growth in the last 10-15 years because of the enthusiastic approach of the new players and some of the older ones to achieve growth and assure their long-term success.
This has been possible because small and midsize businesses have realized the significance of agility in today's market space. Agile SMEs have the ability to grab opportunities and gain a competitive edge more quickly while building stronger relationships with their customers, suppliers, and distributors. However, it takes dedicated transformation efforts to sustain business agility which is not very easy for small and midsize businesses amid balancing the competing priorities of resilience and operational efficiency. To get on the right track of achieving agility, small and midsize businesses need to drive an interconnected approach within the management.
An interconnected approach would require reinventing processes to better understand interdependencies across the organization, changing needs of the customers, opportunities, threats, and critical business data. Where the interconnection is believed to be the foundation of growth and stability in the business, most of the small businesses still lack coordination between the departments which has been the major barrier in their transformation initiatives.
Make sure you don't miss the race by falling in this category as maintaining communications will only become more difficult in the later stages as your organization grows. Respond to these business disruptions and future growth dependencies with strategic and valuable ERP software assets that help in integrating the core business functions while maintaining organizational agility.
Accelerate your Business Performance with the Right Software
As mentioned at the beginning of the article, ERPs today are not restricted to just large enterprises; SMEs also have various options available to them in the market. But, when it comes to affordability, flexibility, and scalability along with rapid turnaround times, none can match the SAP Business One ERP solution.
SAP Business One continues to be a reliable, consistent, and long-standing performer as an ERP solution for small to midsize businesses. More than 250,000 SMEs across the globe trust SAP Business One to streamline their business functions and to enable organization-wide agility to meet their desired goals.
Still wondering why SMEs are choosing SAP Business One as their preferable ERP for digital transformation purposes and why you should also choose the same.
Let's understand what's behind 'Why only SAP Business One' in detail with these 5 key reasons.
SAP Business One is Budget-friendly, Affordable, and Value for Money
While the return on investment is guaranteed to justify the total cost of ownership of the ERP software, budget and finances are a constant worry for small and midsize businesses. Related to all the cost-related doubts and challenges of SMEs, SAP Business One ERP software gives them a sigh of relief as not just it provides a terrific return on investment, but the initial cost of implementation is also affordable that comes with varying payment options to choose from as per your comfort. Also, it is a comprehensive solution that integrates the functionality across the entire business functions rendering everything that SMEs would require in one single package with incredible cost-efficiency.
SAP Business One Centralizes your Efforts
As businesses grow, the number of systems for handling individual business processes also increases. These disparate systems then add to the complexities in the organization with silos of information getting scattered across the business. The lack of centralization then leads to reduced productivity, increased inefficiencies, customer dissatisfaction, etc. SAP Business One ERP understands the significance of an inter-connected approach and allows small businesses to capture all the critical business data into a single and scalable data platform. This drives enhanced efficiency and productivity across the organization, ultimately helping leaders to make informed decisions using real-time analytics.
SAP Business One Fits into your Unique Requirements
Change is constant and anything that resists the change resists the growth as well. We live in the most uncertain times where especially the market conditions are simply unpredictable. Also, the ever-changing industry standards and regulations force businesses to implement new strategies to keep businesses up and running. SAP Business One is a next-gen ERP solution that is customizable, compliant, flexible, and adaptable to meet all your requirements. It optimizes your business processes with agility making your organization more future-ready.
SAP Business One can be Deployed both on-premise or Cloud
Small, midsize, or even a subsidiary of the large enterprise, businesses have their own choices whether to go on-premise or opt for the Cloud option based on their infrastructure, IT team, hardware, and maintenance availability. SAP Business One recognizes the unique choices of the businesses and offers both types of deployment methods which are equally efficient. Plus, the convenient scalability of the solution gives you the freedom to grow with the same solution as your business needs increase.
SAP Business One has Assured Continuity and Strong Ecosystem
With decades of experience and success in business automation software, SAP has established a strong ecosystem of SAP themselves, trusted SAP partners, and vendors who work in cohesion to provide the users with an incredible software experience. Trusted implementation Partners like Uneecops – SAP Platinum partner, helps you with the seamless implementation of the software and end-to-end post-live support services. Also, because of the agility and flexibility of the software, your partner can easily customize the solution to fit the same as per your needs and can even extend its capabilities with specific Industry-add-ons to give you a complete personalized solution.
The mentioned pointers are just a few of the many reasons that support investment in SAP Business One ERP software, a worth. Furthermore, the fact that SAP Business One has been designed specifically to meet the needs of small to midsize businesses makes the software all the more important for SMEs as all of their requirements can be met with a single ERP solution that comes with easy payment and scalability options.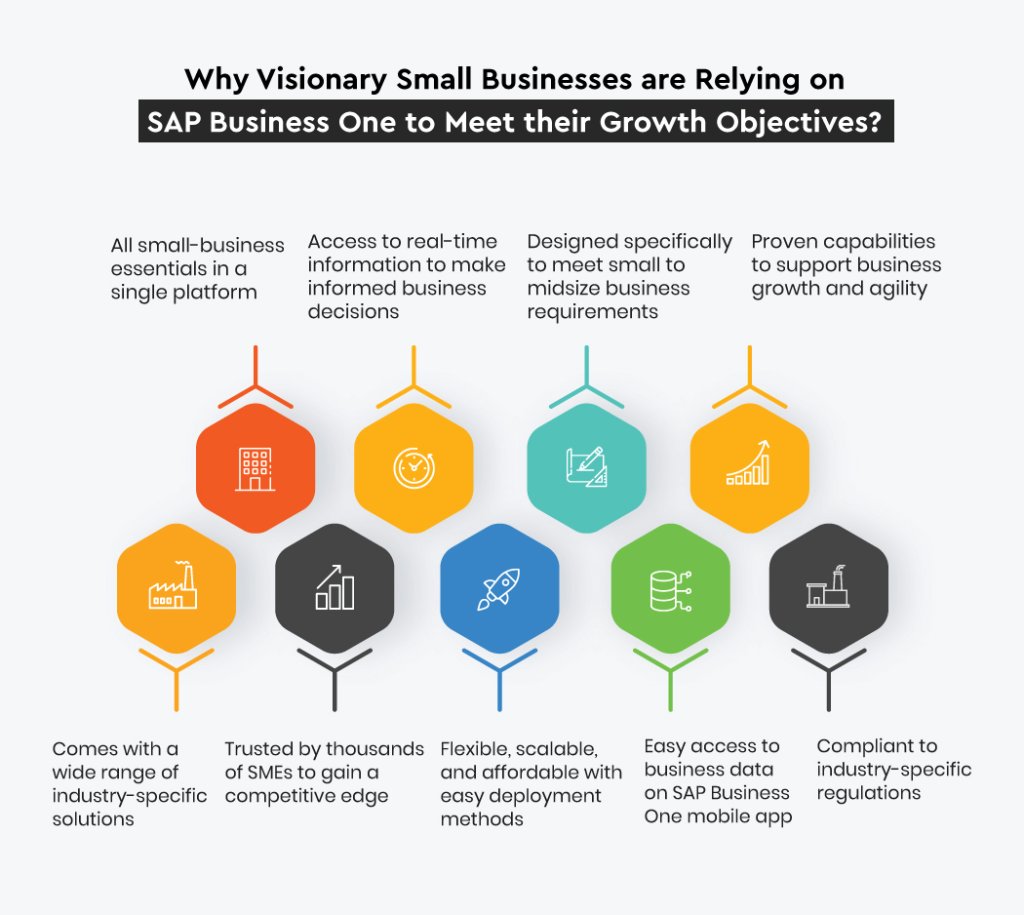 Are you Ready to Reinvent your Small to Midsize Business with SAP Business One? Try Seamless and Fast Onboarding Process with Uneecops!
With our in-depth knowledge and experience of successfully implementing 500+ SAP Business One ERP software solutions, we have acquired the trust of more than 1800 clients across the nation. We are SAP Platinum Partner and offer unmatched ERP services to help you grow your business without any hiccups.
Learn from our clients about their experience of partnering with us on SAP Business One ERP software in India:
Need more information related to SAP Business One ERP software? Get in touch with us today!