The trading industry has entered a new era of sophistication and scale. Financial constraints, strict compliance, disrupted supply chain, and fierce competition seeks agility and innovation as never before. To keep up with changes in a fast-moving world, the trading industry has to adopt new business models and invest in a robust business model for sustained business growth.
SAP Business One Starter Package is one such cloud-powered ERP that empowers micro and small businesses to manage and integrate all your fundamental business processes. These include Budgeting, Inventory Management, Purchase Management, Sales Management, GST Compliance and others.
Let's take a closer look at each one of these functions:
Budget Setup
SAP Business One Starter Package offers all the tools needed to manage your finances and budget efficiently. You can automate day-to-day operations such as journal entries management, tax calculations, and more. The system supports transactions in multiple currencies. It offers a hassle-free way of managing banking tasks such as processing payments, account reconciliation and bank statement imports.
With SAP Starter Package, you can effortlessly manage and allocate budgets for specific areas. The system provides you with a concise budget report comparing the actual figures with the projected ones. Online alerts will notify you when the spending exceeds the allocated monthly budget amounts. SAP allows you to generate reports based on actual vs budget across any combination. You can analyze budgets in detail at any level.
With the SAP Business One Starter Package, you will have a solid grip on the finances of your trading business. One software is all you need to create a uniform system for all account and budget-specific activities such as accounting, bookkeeping, and financial planning. The ERP also provides all tools and reporting options needed for efficient management of the financial department.
Inventory Management
SAP Business One Starter Package automates crucial inventory management tasks such as procurement, warehousing, accounting, sales and customer management.
The software helps evaluate stocks, examine the last price, check aspects like vendor aging, customer aging, and generates item aging reports. You can micro-manage inventory at the item and warehouse level. With alerts for stock inventory and minimum stock deviation, you can-
Manage active and inactive items
Manage multiple units of measurements, GST numbers, and different bill-to-ship cases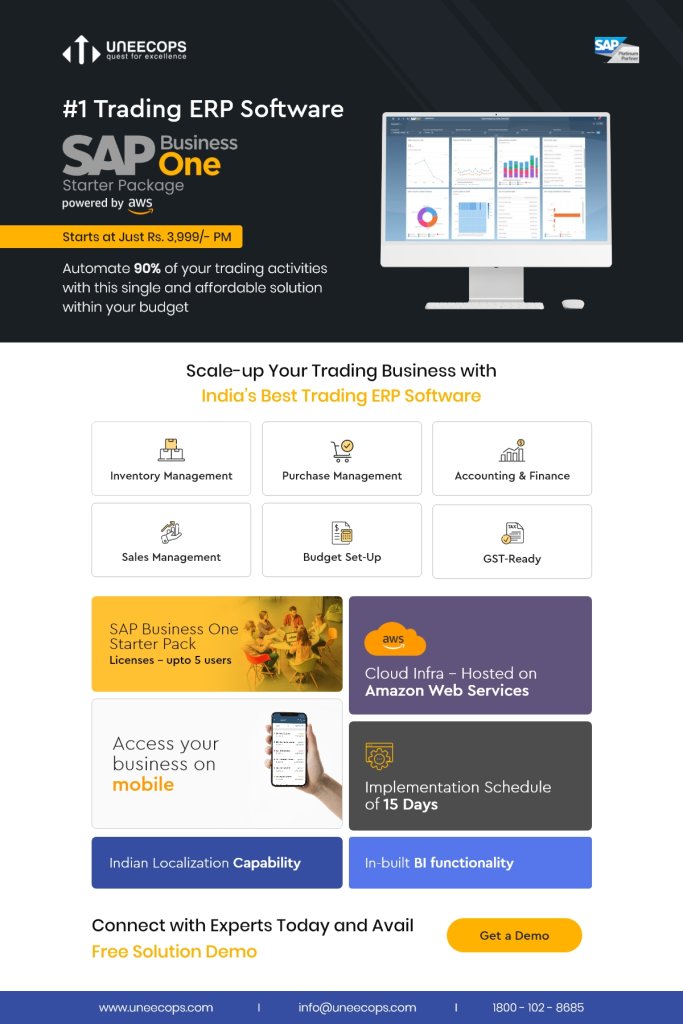 Monitor and Manage Your Business Anytime From Anywhere
Make your trading business mobile, conversational, and smart with SAP ERP
GST Compliance
Trading is a complex business and involves the filing of various documents for tax compliance purposes. If your company is micro, small or medium-sized then you may face an increased burden of GST compliance. With SAP Business One Starter Package, you can do your business in peace as you don't have to worry about tax compliances. The software addresses all the concerns in GST, such as returns, e-way bills, e-invoicing and TDS. You can automate the complex and time-consuming GST processes as Starter Package assures simpler and faster filing of GST.
Purchase Management
With SAP Business One Starter Package, you can perform a detailed analysis of the purchase of items and orders. The software allows the creation of comparison reports, GRPO, vendor quotation, and down payment invoices easily. You can use the ERP to manage the lifecycle of orders from goods receipt to POS, goods return, A/P invoice, down-payment invoice, down-payment request, and A/P credit memos.
Sales Management
SAP Business One Starter Package helps you generate sales analysis reports at the item, customer, and sales personnel levels. This is a simple way of accessing detailed information for better management of your trading business. The ERP also helps with sales orders, quotations, credit memos, pricing information and lots more! You can get details about every area of your business, including sales invoices, credit notes, AR down payments and others in one place to put you in control of all events.
Identify the opportunities available to your business, and make quick and correct decisions based on the detailed information and analysis available at your fingertips.
Other Functionalities
Change Log
Whenever there is a change in business data, it must be documented for various purposes. You must have a system that can track the changes made to all your data. With SAP Business One Starter Package ERP, you can track all the changes, including details of when and who did the changes, the previous value, the present value, and other vital metrics.
Access Log
SAP Business One Starter Package also allows you to view the history of log changes based on specific criteria.
Other key benefits of using the ERP are viewing all your documents on a single, convenient platform. The plug-in-play feature allows you to generate excel reports and interaction reports to get a detailed view of your trading business activities.
The SAP Business One Starter Package addresses the fundamental business requirements of MSMEs with its finance, sales, purchasing, and inventory functionality. This functional scope is particularly suited for trading companies in wholesale distribution and high-value-item retail processes.
Any trading business that's growing fast needs an effective and proven ERP solution to keep pace with the growing needs of every area of business management. SAP Business One Starter Package is just the right one for you. Your trading business can scale new heights of success only when you have a grip on various areas of business management. SAP Business One Starter Package is the most advanced and intuitive ERP solution available that not only provides the most advanced business management solutions but is also easy to use. It is designed for fast deployment and is one of the most affordable ERP solutions available.
Entrepreneurship can be an exciting journey if you have the right business idea and the strategy to sustain and drive your business ahead. In these times when technology is the driving force behind every business idea, it is crucial to embrace the best ERP and align with the right ERP partner such as Uneecops.