A software solution often comes loaded with features, but only after you start using it can you unlock its full potential. SAP Business One Starter Package is an ERP software developed specifically for micro and small businesses and startups. It is an affordable ERP that offers all the standard functionality that an MSME requires. Coming from the House of SAP, Starter Package promises you unmatched business agility. But is that all?… No, there's more to it!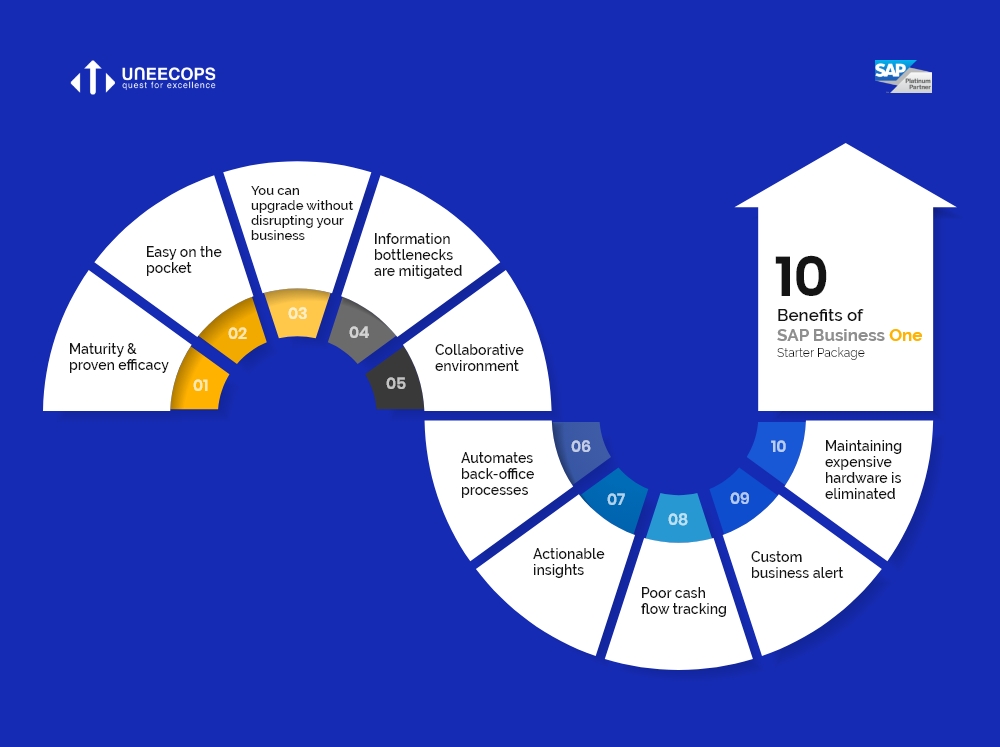 SAP Starter Package is a power-packed ERP software that never stops to amaze you with its cutting-edge features. Here are the top 10 benefits that you can reap from the ERP software.
1. Maturity and proven efficacy that even micro and small businesses can rely on
SAP Business One Starter Package is an optimised version of SAP Business One– an ERP software solution that is globally acknowledged for its robustness. It was first released in 2002 and got a stable release in 2020. This means that SAP Business One Starter Package is a tried and tested ERP software that MSMEs and startups can depend on. Organisations can perform critical business operations in SAP Starter Package without worrying about any bugs or security threats.
Why SAP Business One required for your business
Know more about benefits, then decide
2. Easy on the pocket
SAP Starter Package is meant for startups. This is the reason that the price of this ERP has been kept within reach of MSMEs. Uneecops offers this software at just Rs.3999 per user/month. The one-time implementation charge is just Rs.49,000. This means that businesses don't need to have deep pockets to compete with their larger counterparts. SAP B1 Starter Package, thus, creates a level playing field.
3. You can upgrade the SAP Starter Package without disrupting your business
A time will come when your business will spread its branches and grow into a mid-sized business. Naturally, you'll need to upgrade the Starter Package as it is meant for MSMEs. Will it cause an expensive disruption in the business? Not at all! SAP Business One Starter package is based on the main version of SAP Business One. Essentially, under the hood, the core components of SAP Business One are already present. Hence when you upgrade the Starter Package to the full version of SAP Business One, it will be a smooth transition with zero disruption to your day-to-day work. With SAP Business One Starter Package, your business will assuredly flourish.
4. Information bottlenecks are mitigated
Startups and small businesses often have workforce constraints, not all, however. But just like larger companies, the departments in a startup require the same data to function coherently. For example, both the sales department and the inventory department work with the same customer data. If you don't automate the flow of company data across various departments, a time will come when these departments have to waste time on back and forths, entering the same data twice, using outdated data, etc.
SAP Business One Starter Package automates this data flow. As a result, one department doesn't have to depend on another department to get the necessary data. This ERP software stores data centrally, and anyone in the organisation can access it anytime from any part of the world. So when required, the Purchase department can check the inventory from the centralised ERP system and order items accordingly. Similarly, after any sale or purchase, the Accounts part of the software get automatically updated. No need for the Finance department to request transaction history.
5. This ERP creates a great collaborative environment
With information flowing smoothly, all the departments in the company can see what's going on. The departments of the company depend on each other to complete a task. For example, the Sales department depends on the inventory management department to fulfil the customer order and vice versa. So there needs to be a synchronisation of data and information between the departments. SAP Business One Starter Package keeps the departments in sync leading to a great collaborative environment.
6. SAP Starter Package automates back-office processes
The unfettered flow of information also leads to automation in back-office business processes. As we said earlier, all the transactions automatically lead to the automatic triggering of ledger updates. Likewise, when an item is delivered, the inventory level gets auto-updated. These are just two examples of how you'll achieve enterprise-wide automation with this ERP.
7. You can gain actionable insights
SAP Business One Starter Package is not just plain ERP software. This ERP offers intelligent reports on accounts, sales, purchases, inventory and customer interaction. These reports give you both a high-level overview and granular insights into your business. For example, the sales module gives you the option to see all the insights on sales. You can see all the sales in a given period of time, which customer bought how much worth of items, which customer brought you, how much profit and so on. The dashboard itself is packed with nuggets of useful information.
8. Say goodbye to poor cash flow with SAP Starter Package
With timely reports from SAP Starter Package, you can keep track of open A/R and A/P invoices. You can see which customer is neglecting to pay you even after 10 days. You can find out the loss-making items. All these will give you greater control over cash flow.
9. Customised alerts never let your business get derailed
With SAP Business One Starter Package, you can set up customised alerts that are initiated by the ERP whenever any particular business metric goes below a specific unit. For example, you can set up SAP B1 Starter Package to alert you whenever an item in the inventory comes down to a certain quantity.
10. The need for maintaining expensive hardware is eliminated
Uneecops offers SAP Business One Starter Package as an AWS-hosted ERP platform. This means that you don't need to install the software on-premise. This saves you a lot of money because your business doesn't need to buy expensive hardware to house the software. Maintaining hardware requires significant manpower, and you are saved from that too. Lastly, since the ERP is hosted not by you, the responsibility of securing the platform is shared among SAP, Uneecops and You.
SAP Business One Starter Package is a feature-rich ERP platform. The above benefits are just some benefits from a big list of advantages. As you start using this ERP, you'll find it so intuitive that it will seem like the software is 'talking' to you. If you opt for SAP Starter Package, after 10 years, it will appear as the best decision of your entrepreneurial career when you look back.