Data analytics have been of great significance ever since the data wizards recognized it as the secret for a successful business. However, the methods of converting a humongous amount of data into meaningful information have certainly changed to more complex, AI-based techniques from the conventional paper-based manual methods, because the business requirements of yesteryears were different than those of present.
Enterprises across various industry verticals like, manufacturing, transportation, telecommunication, federal/central government, professional services, etc. have joined the data analytics bandwagon and are capitalizing on the same to reap the benefits of data. From general executive to C-suite, it helps the users understand how business is faring and what all is needed to be done.
Still wondering why you should invest in data-analytics software? Let's understand the same in a bigger picture, but first, let's learn why data-analytics and data-driven decisions are imperative in today's workforce.
Why Data-driven Decisions Matter in Running an Organization Today!
While think-tanks, focus groups for analysis, and brainstorming meetings are helpful in driving out the conclusions, they also don't present the practicality and confidence that data can. This is one of the major reasons that most successful organizations today are extremely reluctant to make decisions without the concrete data backing them up.
The best thing about data is that data never lies, it is proven and powerful. And if handled by the right person/technology, it can do everything from illustrating the entire lifecycle of the customer journey to bringing product/service to the market faster with improved efficiency. That is, data-analytics is no less than the education that teaches to handle the complexities and intricacies of big-data which ultimately impact an organization's overall growth and success.
Not taking initiatives on embracing a data-driven culture is simply encouraging the guess-work at making decisions and guessing shakes the foundation and the entire infrastructure of the profitable organization. Thus, visionary CEOs from all small to large businesses are investing in data-analytics tools and skilled resources to not just understand the multiple facets of the data that is being collected but to also utilize it to its maximum potential for the overall growth and stability of the organization.
It is not just interesting but inspiring to see how smart companies are integrating their data analytics, data engineering, and data architecture in their business operations to create an enterprise-wide culture powered by big data findings and analysis.
Having said that, let's take a closer look as to why investing in data-analytics is important.
Why Investment in Data-Analytics is Essential?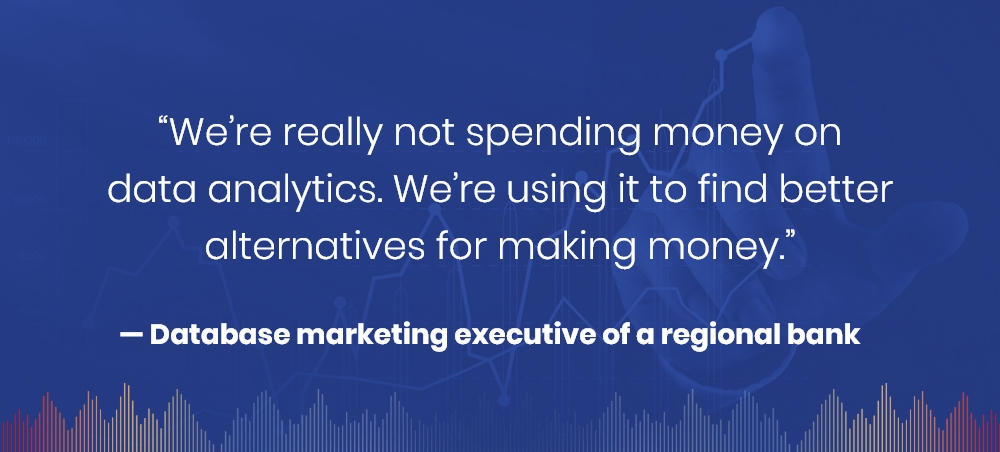 Capitalizing on corporate data makes identifying new opportunities easier while making you more competitive than ever. Sophisticated data analytics tools like Tableau Data-analytics Software render essential insights to departments helping them understand the strategies to better interact and engage with customers across multi-touch, multi-channel communication mediums and transaction pipelines. This proven data-analytics software helps the users to drill down the historical data to analyze the past campaigns, responses, and inculcate them in designing a predictive algorithm to leverage future opportunities.
Let's take a closer look at some of the potential reasons to invest in data-analytics software.
1.Data-analytics Maturity Makes Market Segmentation an Easy Affair
The theory of segmentation is all about dividing the customer data as per their relative age category, shopping trend, product usability, location, etc. The result of this grouping of customers based on demography, interest, and behavior is a targeted marketing strategy for each group.
Segmentation indirectly helps in slicing down the cost as well by rendering you the information related to which segments out of all the customer groups are more profitable for business and which groups can be avoided altogether on marketing efforts. Efficient data analytics software like Tableau automates the segmenting processes while maintaining a Customer Lifetime Value (CLV) to measure how much a customer is worth to a company and if investing in the same will prove beneficial in the long run.
2. Real-time Data Empowers you to Come up with High-quality Products/Services
The customer-centric market today demands tailored products and services to each customer for a competitive approach. Conducting surveys or experimenting with A/B testing is a powerful method to determine what works and what not in marketing. The data collected from the feedback helps in improving the quality of product/services while opening new opportunities to groove into the market with innovative strategies fueled by data. This is the best way to showcase data-analytics tool investment benefits or how Tableau helps business. Backed with the power of analytics to create winning strategies, Tableau empowers the users to make informed business choices and maximize their chances of success.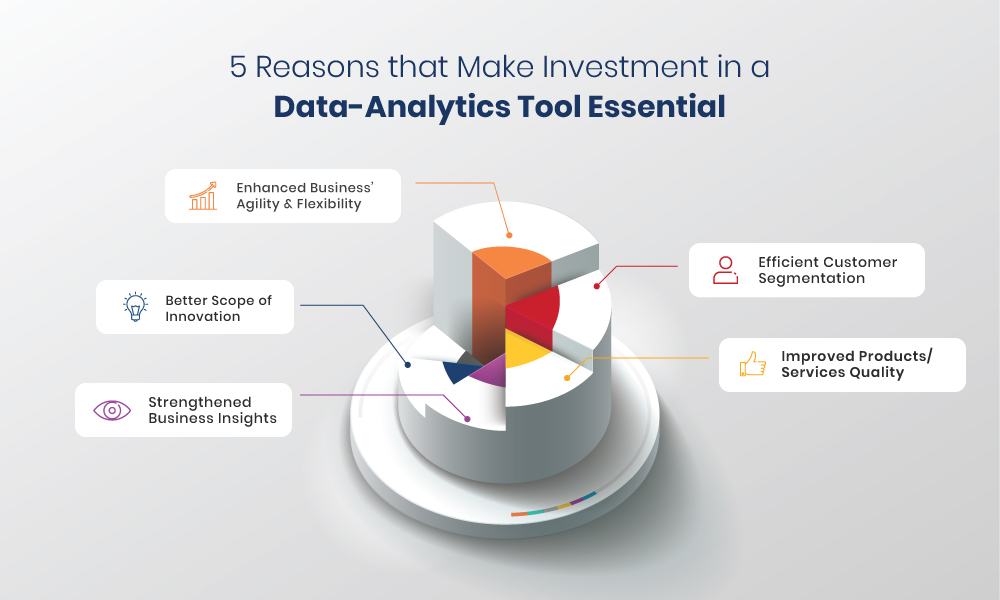 3. Advanced Analytics Encourages Agility and Flexibility in Business Strategies
In this fast-paced market scenario, retaining customers is all the more difficult than convincing the new ones to get on-board. The reasons accounting for the customers switching their product/service provider are their changing needs, challenges, and requirements as per the trends in the industry. So, in order to increase the customer retention factor, businesses need to constantly revive and quickly adjust to new strategies that provide solutions as per changing needs of the existing customers. This is exactly what is Tableau used for, that is, to understand the changing trends in product/service requirements of the customers and helping the analysts to realize the market needs faster and change the strategies according to the same.
4. Data-analysis Uncovers the Scope of Innovation
It is evident and striking from the records that people who obsess over data and use data as their core foundation for building strategies are more successful, innovative, and creative than the other competitors in the market. Provided the data is reliable and accurate, the decision-makers are empowered to take the road less traveled and try something new and creative. In line with the same, unique Tableau features not just arranges the data in the most manageable form, but also enables users to uncover the innovation and give their customers new experiences.
5. Real-time Data-analysis Turns Information into Actionable Insights
As disruption continues to impact most organizations, access to accurate, historical, and real-time data empowers the organizations to merge all the information and better analyze the market scenarios, trends, and customer behavior based on insights. This helps companies make more informed and actionable decisions backed by data and gain a competitive edge over their highly responsive and proactive competitors who are already making use of the powerful technologies and becoming more data-driven. This is again one of the benefits of investing in an AI-based data analytics tool, Tableau. One of the major Tableau advantages is turning complex business data into creative and intuitive actionable insights.
Looking for Data-Analytics Strategies to make your Organization More Data-driven? We can help!

Establishing a data-driven culture doesn't happen overnight, it is a continuous process. But, the process can certainly be accelerated with a powerful data-analytics tool, Tableau. Tableau with its best-in-class data analyzing and data-illustrating capabilities can help you make your organization more data-driven and leverage the power of your business data to its maximum potential.
Get in touch with us and we'll help you create your customized data-analytics strategy with Tableau BI software.