For modern CFOs (Chief Financial Officers), conversations are not just about financial results. It is also about practices that improve performances. Over a cup of coffee, today, the discussions are about shared financial business challenges—crazy-like-a-fox competition and burgeoning compliance requirements. If technology can pay dividends, it has to be AI-based ERP!
The smartest CFO is he who is already making the leap to agile finance with cloud ERP software.
But, is cloud ERP software the cutting-edge, competitive edge that your finance business needs in the 21st century?
Infuse Intelligence in Your Finance Business with AI ERP
The world of banking and the financial industry has a new way of interacting with money.
AI-based ERP enables finance businesses to streamline and optimize processes ranging from quantitative trading to credit decisions and financial risk management. It helps predict cash flows, adjust credit scores and detect fraud.
New-age ERP software such as SAP S/4 HANA Cloud and SAP Business One have new technologies such as artificial intelligence that help automate routine tasks, improve the customer service experience and boost the business bottom lines. Business Insider predicts that by 2023, artificial intelligence applications will save financial institutions and banks $447 billion.
Most finance enterprises understand the potential benefits of ERP and AI, but now it's more important than ever after the pandemic, which has affected the finance industry and pushed more companies to embrace the digital experience.
COVID-19 has forced financial institutions to respond to customers faster — and around the clock. AI-based ERP can free up manual, error-prone tasks and ensure that the business moves in the right technology-advanced, innovative direction.
Lets understand this better.
What is AI in ERP?
AI in ERP refers to applying artificial intelligence tools and software to enterprise planning solutions. AI in ERP includes intelligent process automation, interactive chatbots, AI-powered financial planning, etc. According to Gartner, 37% of businesses have implemented Artificial Intelligence (AI) solutions in some form.
Talking about the best ERP for finance businesses, AI-enabled ERP helps vendors lead the way forward. Such intelligent ERP software for the banking industry allows businesses to be cost-efficient, offer a good user experience, and predict future outcomes beforehand.
AI, through process automation, can boost how your banking ERP system handles and analyzes data, as AI technology can analyze larger datasets. This means that AI's ability to work with huge amounts of data can enable faster, real-time, and more accurate data insights. In addition, AI can also be used to interpret historical financial data and learn from earlier behavioral patterns. This could be extremely helpful to custom bankers in terms of future planning. When integrated with ERP software for banking industry, AI can detect inefficient processes and enable predictive diagnostics, reducing resource wastage.
Hence, AI-infused is the best ERP for finance industry.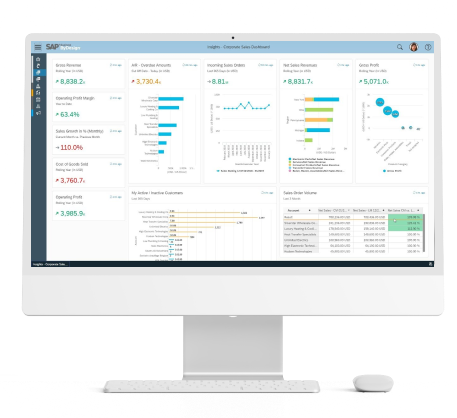 Talk To Experts,
Then Make Decisions – 24/7 Availability
AI Based ERP
Read on to learn about how artificial intelligence-based ERP software can help finance firms thrive:
Risk assessment and management
Risk management is always a significant, ongoing challenge, especially in the banking industry. Now, cloud ERP software can help businesses use data to pinpoint trends, identify risks, save manpower and ensure better future predictions and forecasting.
Process automation
The financial system deals with large volumes of information and has security concerns related to data privacy. ERP for financial services is a great solution that helps create financial reports, manage accounts, perform ​cash accounting, payment processing as well as security management. AI-based ERP for financial services can increase the efficacy of mundane and time-consuming tasks. It can digitize documents and show a 360* view of all business processes.
Increased efficiency
If there is one platform on which all business functions can be operated, it is ERP. With easy and quick access to all data, ERP allows finance businesses to digitize daily tasks, such as filling journal entries and creating reports. Cloud ERP software with new technologies such as AI and machine learning help in enhancing process efficiencies by simplifying work and fostering data-driven decisions.
Smooth collaboration
Banking ERP system enables effective and smooth collaboration between employees from different departments. Moreover, an ERP system facilitates collaboration with remote teams. An offshore or nearshore team will be available within a few clicks to ensure a productive workflow.
Fraud Detection and Management
Every financial institution aims to reduce the risk conditions that surround it. AI is the go-to technology for security and fraud identification. When embedded within ERP software for banking industry, AI can help assess past spending behaviors of customers and point out odd behavior, such as using a card from another city just a few hours after it has been used elsewhere or an attempt to withdraw an unusual amount. This helps finance businesses make sophisticated decisions about what can be considered fraud and what cannot.
Increased Data Security
An ERP system such as SAP Business One or SAP S/4 HANA Cloud monitors data vigorously. AI in ERP helps detect suspicious or unauthorized activities as all banking activities are accessible to the admin.
Intuitive Analysis, Predictive Results: AI-based ERP for Modern Finance Enterprises by UBS
Accomplish your modernization goals with AI-based cloud ERP software. Reduce costs, maximize operational efficiency and service excellence, and focus on the innovation that distinguishes your business.
Many use cases are leveraging the power of artificial intelligence (AI) — for fraud detection, risk assessment, increasing customer satisfaction, and improving accounting and transactional automation to algorithmic trading.
Banks and financial institutions have continuously trusted Uneecops Business Solutions (UBS) to stay relevant and offer improved customer service. In the AI age, finance and banking companies use modern ERP technology to transform digitally and thrive. With UBS's appropriate implementation and managed services, banks can improve human decision-making and reduce risk, unleashing trillion-dollar opportunities and beyond!
Key Features of UBS AI-based ERP System for the Banking & Financial Industry
Cloud Storage
Concurrent tracking
Analysis and Reports
Scalability
Close Monitoring of ATM Transactions
Enhanced Customer Experience
Data Privacy
Logical Decision Making
Inter-department Integration
Accurate Transactions
Our cloud ERP software, including SAP Business One or SAP S/4 HANA Cloud, provides intelligent solutions for banking and financial companies through unlimited automation possibilities.
In the long run, all financial results – dividends, profits, ROI and value – are made possible with AI and ERP.
Kickstart your journey with UBS!