The two buzzwords of the modern business world are – ERP (Enterprise Resource Planning) & BI (Business Intelligence). A clear understanding of ERP software implementation and BI tools helps pave the way towards business success.
Understanding ERP
ERP can manage various business processes at the same time. It is a software used to automate business processes by integrating financial information, manufacturing data, accounting information, CRM, HR data and insights at every stage of the supply chain. A modern ERP system draws on a standardized, centralized database that aids major efficiency gains, better productivity and cost savings as businesses spend less time searching for critical data. In other words, ERP provides a 360 degree view of your entire business.
What is BI?
BI software is a business intelligence software that helps to make actionable decisions and analyze business data faster. The software plays a vital role in making accurate forecasts and doing what if analysis smartly.
ERP & BI Key Difference – Similar, yet distinct!
Yes, both involve data intelligence. Both software are beneficial for micro, small, medium-sized and large businesses. But, ERP and BI are two sides of the same coin. ERP & BI key difference is that ERP manages various business functions — reporting, payroll, inventory control, accounting, staff acquisition, etc. — BI focuses on reporting, data and trends analysis.
Complimentary Business Management Tools
ERP & BI Work Best When They Work Together!
While ERP aids in collating and streamlining business data, BI tools help analyze this data and turn them into actionable insights. Together, the two software complement each other, just like a symbiotic relationship! In other words, BI requires an ERP to perform well, while the value of ERP software is enhanced once paired with BI.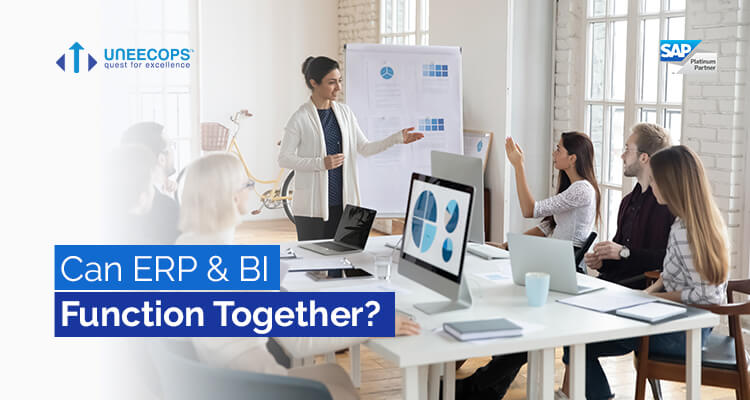 So if ERP software solutions can foster business efficiency now, the added functionality of BI can prepare your business for tomorrow by providing you with the insights you need. Simplifying further, BI takes the data identified by ERP further, enabling businesses to organize, analyze and contextualize information from around the company to generate actionable insights.
To paraphrase Albert Einstein, "Business Intelligence without ERP is blind and vice versa".
BI and ERP : Win-win combination!
Are you already benefiting from the efficiency and effectiveness of ERP? Now, it is time to take business management to the next level with Business Intelligence. With ERP and BI tools, you can analyze business information and present it in ways that make decision-making both effective and easy.
Uneecops Business Solutions (UBS) is a CMMI Level 5 company offering digital transformation and business automation solutions to some of India's leading SMEs and large businesses. We have multiple ISO certifications and 50+ awards in various business categories. What makes us one of the trusted companies is our recognition as Asia's #1 SAP BI partner and India's first Platinum SAP BI partner. We serve over 120 clients such as Mother Dairy, Select CityWalk, Apollo Munich, Mankind Pharma, Lenskart, Uno Minda and DS Group, to name a few. With over 25 years of industry experience, we have built time-tested methodologies that enable us to offer end-to-end ERP software implementation and Business Intelligence tools. What can be better – one reliable company offering both solutions (ERP & BI).
Together, ERP and BI make strong business management tools. With Uneecops helping you integrate ERP & BI into your business processes, you get the enterprise-ready software to power ultimate success.