Being the C- suite professional and top executive of a leading business is not easy. You are constantly tasked with challenges and opportunities. Given that, you could work nonstop and still have plenty left to do, you simply lack one crucial thing: time.
The fully redesigned version of Tableau Mobile helps you access the most relevant data in minutes, whenever you need it. The app which works best for both iOS and Android is designed to help all C-suite professionals and business users find immediate answers without any complexity or location constraint. So, if you are looking for a simpler and easier way to know what's going around in your business, then you can have the data at your fingertips with Tableau Mobile.
The new look of the Tableau Mobile app is designed to make life easier for all business users and get them to the relevant content faster. Let's dive in and check out some of the major capabilities of Tableau Mobile app.
Immediate access to recent history even on Phone
Make better decisions and understand what's going around in your business. Get to the details easily through a recent search. Something that was only accessible from your desktop or laptop will not be a hurdle to find on your phone today. It's that AWESOME!!!
Offline access to your data made easy with Interactive Previews
It doesn't matter whether you are traveling somewhere for a meeting or on vacation, you can drill down information faster. The amazing feature of Tableau Mobile app facilitates you to download all your favorites to access them later. So, even if the device is offline you can still access information and load complex dashboards in a matter of time.
As the name implies, Interactive Previews are interactive and useful. You can easily scroll, zoom, select and highlight various actions needed to make informed decisions.
Mobile Optimized Dashboards renders great readability even on a small device
We haven't yet talked about Mobile Optimized Dashboards which are considered ideal for any business scenario. Tableau on Mobile gives you content that looks great on a phone or any device. The dashboards are smart and adjustable even on a small screen. They create a great impact on readability and render extreme clarity for users making it easier to read by adjusting to the full width of the screen.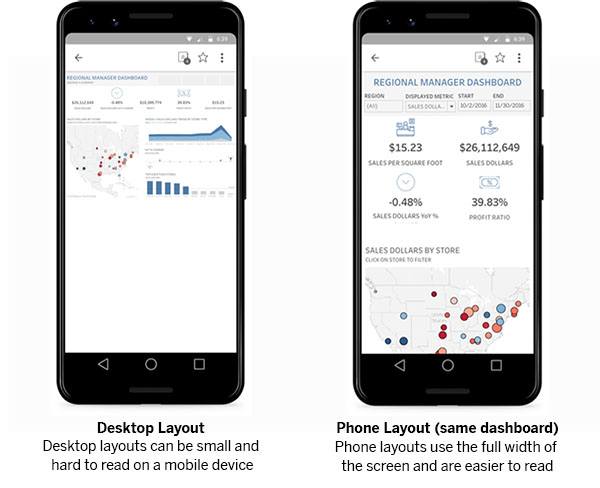 As we can see the desktop layout is placed on the left while the mobile-optimized layout is placed on the right. Information, however, remains the same. But, if you deep dive you will see that the mobile-optimized screen indicates a better message on the go making it more readable and catchy for a user.
From a security standpoint, Tableau Mobile works just the same as Tableau desktop version. This comprises multi-factor authentications, SAML, and more.
Answering 'where' and 'why' to the perfection
Tableau Mobile app empowers everyone to know the cause of action and know why sales are faltering in a specific region. The app facilitates every business user to rest their analysis with timely forecasts and review detailed summaries. You can easily land to the conclusion, analyze trends and derive great value from your existing data and make informed business decisions.
Time is key to us and for all decision-makers. Tableau Mobile app empowers all business users to monitor their business right from their phone. The app gives you a 360 view of data on the go and helps you make critical business decisions with confidence.
Do you wish to know more about how Tableau Mobile can be the best for your business? Talk to us or meet us in person. Uneecops is a bronze partner of Tableau with over 100+ successful BI implementations across 18 industry verticals.