A rapid surge in Omicron cases poses a downside risk to businesses in 2022. Read on to delve deep into the impact of the Omicron variant and how to navigate complications using an ERP software solution.
The world is on high alert with Omicron variant slowly gripping us within its clutches, which poses a "very high" global health risk, according to the World Health Organization (WHO).
Businesses were not over the delta variant threat yet and pushed their return-to-office plans. Now, the omicron variant is here to further delay business plans in 2022. Companies may not be able to resume operations if vaccines aren't found to be as effective at preventing the illness caused by Omicron.
Since the variant is new, there are still many unknowns about the same. As researchers and scientists study its transmissibility, severity and whether vaccinations will stand up to the variant, the only ray of hope is that nearly two years into the pandemic, we know much more about Covid-19, how to deal with it and prevent it.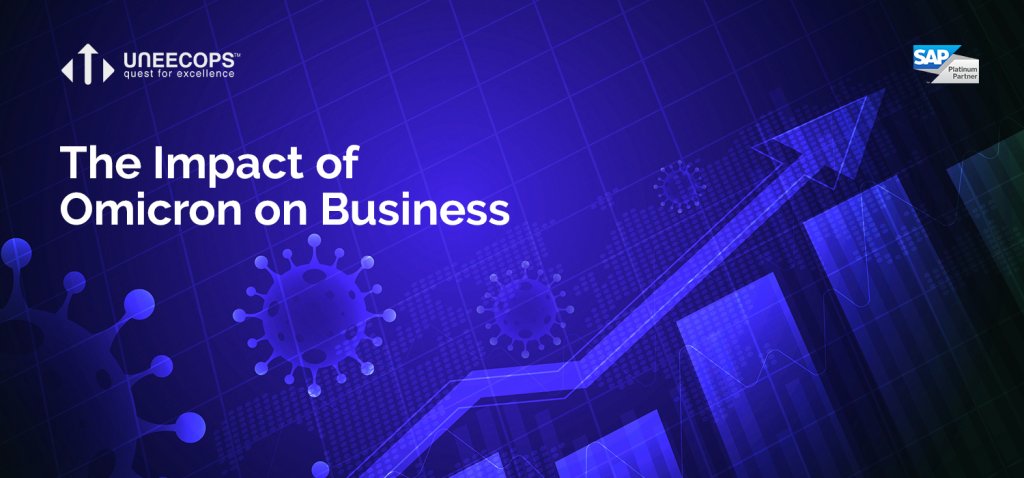 Some of our efforts at containing the virus and its variants have remained constant throughout, including getting vaccinated, wearing a mask, social distancing, getting tested regularly in areas of high transmission to keep the virus from spreading. While many don't see Omicron as "a cause for major panic," it does stress businesses to keep their guard up and do everything they can to minimize its impact.
With the rise of Omicron cases globally, there are growing economic disruptions due to the fresh wave of restrictions. As Omicron spreads in various parts of India, how will the nation's businesses face the brunt?
The impact of Omicron on businesses
In an emerging market country like India, where many startups and SMEs thrive, the COVID-19 pandemic has been harsh.
The emergence of the new Omicron variant comes during a phase of slow economic recovery, increasing inflation, stretched supply chains and labour shortages. The spread of the new variant has started to disrupt business operations by adding to supply chain stressors, curtailing demand, lowering productive capacity and increasing cost pressures in sectors with exposure to global supply chains.
On the demand side, fear of vaccination could lead a large population to avoid engaging in economic activity that requires physical contact. This could lead to diminishing demand for services ranging from hospitality to travel, at a time when holiday-related spending would usually amp up the country's revenue multi-fold.
Omicron: Majorly impacted industries
With the food and the hospitality industry facing downside risk due to limited movement and ongoing curfews, related businesses have suffered huge losses. Further, travel bans have severely impacted those businesses dependent on tourism revenue.
Manufacturing and industrial activities are also facing significant disruption due to the fresh curbs, and the affected sectors may bounce back sooner if states succeed in limiting the fresh wave of infections. Until there is fear of contracting COVID-19, there is bound to be prolonged uncertainty surrounding education and child care. Renewed restrictions on international travel will continue to dampen the labour supply.
The way forward: Automation and Enterprise Resource Planning
After 2 years of the COVID-19 pandemic, all businesses have realized the importance of digitization. With remote working becoming the new normal, the Indian economy started recovering steadily despite health disruptions. Omicron is likely to slow down the pace of this recovery in 2022. But for businesses that are well prepared, future-proofing themselves would be easier.
An ERP solution is one of the forward-thinking data strategies that extend beyond supply chain and demand forecasting. Taking your business on cloud could help team members, stakeholders as well as other employees to collaborate on a single platform – from anywhere and at any time. With a top ERP software solution such as SAP Business One, businesses can unify all operations and view them all – on a single dashboard. You can monitor everything remotely and ensure transparency across business processes.
Time to transform: from desk to data!
Pre-pandemic, businesses relied on standalone processes and manual spreadsheets. This was possible due to in-person meetings and physical business operations. But today, companies using the right host of automation tools can break down traditional information silos between sales, accounting, marketing CRM and all other departments. SAP partners help integrate your business on cloud and usher order in times of chaos. With a secure and central data repository, everyone in the business can be confident, up-to-date and informed.
Perhaps this aspect of ERP software solution promises the most significant long-term business impact. SAP Business One offers real productivity boosts that help navigate the problems posed by emerging covid-19 variants. By reducing the frustration of delays experienced while gathering information, SAP Business One opens up the possibility for better resource planning, thus, enabling organizations to shield themselves from Omicron and such other future challenges.