Today's trading businesses are complex, multifaceted entities selling different types of products to end-users (B2C), other businesses (B2B), and the government (B2G). Sometimes acting as intermediaries between manufacturers and retailers, trading companies foster economic growth and play a major role in the distribution of goods. The other times, trading in itself becomes a focal business prospect, nationally as well as internationally.
With 2022 here and the pandemic still looming, the trading industry is entering a new era. The ever-growing complexity and interconnectedness of the markets, coupled with the presence of huge swathes of data has raised the bar for trading ERP. While most trading companies already manage their business using robust ERP systems, it is time to delve deep into what the future holds for ERP for the trading industry.
Trade your on-premise ERP for Trading ERP Cloud
Do you think your on-premise ERP is unable to support your workload or deliver expected process efficiency?
How do you manage a remote team and varied operations such as finance, sales, marketing, accounting, CRM and HR?
Do you feel that your data is not safe on routine systems or standalone software?
Here is when trading ERP cloud shines. When you think your on-premises ERP costs are increasing, you need the support of scalable technology for business expansion or the latest applications cannot be integrated with your ERP, it is time to take a new approach to future-proof your trading company.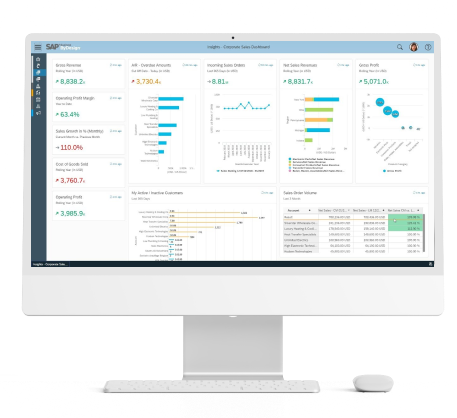 Try Demo,
Then Make Decisions – 24/7 Availability
Cloud ERP
Take your trading business in the cloud – ERP for Trading Company
Your business will be on the ninth cloud (literally and practically)! That's how cloud ERP can transform your trading enterprise. Here is how trading ERP cloud will enable you to build an efficient and resilient business:
Lower costs – Moving to the cloud is a great way to shift IT expenses from capital to operational ones by lowering maintenance and upgrade costs associated with on-premise ERP or other software.
Build a scalable and agile system – Modern ERP for trading companies can quickly adapt to organizational changes. That is how the business management solution can help solve the trading challenges of today and empower your business for tomorrow.
24/7 accessibility – Anytime, anyhow, anywhere work is possible with cloud ERP. Now, you can handle remote teams and manage various departments – all on one platform. Trading cloud ERP enables allows you to access data with end-to-end visibility. Hence, the business can be done 24/7, without any interruption or hindrance.
Leverage intelligent analytics and updates – Cloud ERP has the capability to integrate with analytics tools such as Artificial Intelligence (AI), Machine Learning (ML), and the Internet of Things (IoT). Plus, you can easily update your system to provide real-time data and insights for informed business decisions.
Strengthen security – Cloud ERP allows you to keep your data safe and available. With built-in security controls and top-grade data protection features, cloud ERP becomes every trading company's competitive advantage.
SAP Business One – The #1 ERP software for trading industries in India
Cloud ERP enables trading firms to access, use and interpret increasingly complex data. In the race to digitize, industry leaders have found SAP Business One to be a driving force. SAP B1 is among the top cloud ERP software for trading industries in India. It is an affordable, flexible and scalable business management solution that can give a 360* view of all your business activities. Since trading is a vast function with numerous departments working simultaneously, SAP Business One for trading companies can help streamline processes, including stock management, stock transfers, adoption of new laws, categorizing items, launching discount deals, performing receivables, ageing analysis, tracking sales orders, invoices and so much more.
To mitigate the intense demands and challenges of the trading industry, smart leaders are introducing smart cloud ERP such as SAP Business One to respond timely and fulfill all customer demands.
In conclusion..
Now is the time to take action. As the pandemic and automation cement our reliance on technology and accelerate the adoption of cloud ERP for trading companies, critical decisions have to be made. As you embark upon your cloud ERP migration journey, you will need guidance with the right advice. A well-known trading ERP cloud partner can help you achieve your goals. Uneecops Business Solutions (UBS) is trusted by leaders in the trading business. Being the top SAP Platinum partner in India and Asia's 1 SAP Business One Partner, Uneecops has helped multiple trading companies to manage their business functions seamlessly. The team at Uneecops can help you end-to-end – from SAP cloud ERP implementation, customization, support to managed services, cloud hosting, and migration services. Partner with Uneecops to align your business success and prepare to thrive as an industry leader