Uneecops which always remains in the news for achieving one or more awards from SAP for its outstanding contribution, customer and delivery excellence has added one more award in its already big list of achievements. Uneecops Asia's #1 SAP Business One partner has won the prestigious SAP SME SEEDx Development Challenge Award 2020 for the Asia Pacific Japan (APJ) region in the Digital Trailblazer Category for the "Connectrix Application".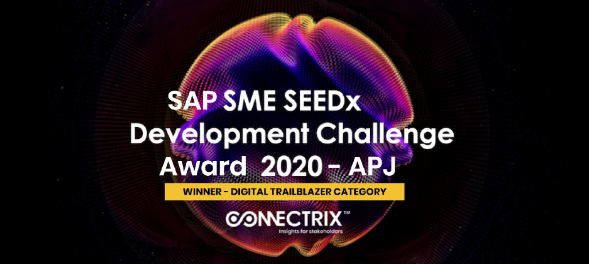 SAP SME SEEDx Development challenge is conducted every year since 2017 and gives SME partners the opportunity to innovate, build and showcase solutions for the smart and fast growing enterprises.
The competition level in SAP SME SEEDx Development challenge is intense and SMEs partners are encouraged to emphasize new ways of thinking, brainstorm and develop a PoC (Proof of Concept) / MVP (Minimum Viable Product), in various emerging technologies, such as Machine Learning, Internet of Things, Advanced Analytics, Blockchain, Augmented / Virtual Reality, etc.
Out of 20 participants across the APJ region; our product Connectrix was chosen as the winning product for the year 2020. Connectrix™ is a unified platform built by Uneecops Group, which enables all SAP Business One users to get their customers, sales and company connected over an application for seamless business interaction.
The entire team of our SAP product team is joyous of this big win and the relentless work and dedication that has been invested to make this happen has finally paid off.
This further strengthens the long-standing partnership of Uneecops with SAP designing innovative and high-impact solutions to help customers simplify their digital transformation journeys.
Uneecops as an SAP Gold partner has won a prestigious set of awards such as –
"Partner of the Year- India 2018"
"Partner of the Year APJ 2018"
Top Partner – Net New Names- Asia 2018
Pinnacle Award Finalist
Partner New Net Names Asia
SAP Ace awards
SAP Partner of the Year (North) 2009-16
Partner of the Year 2018
Emerging MVAR of the year- 2017 for India
These awards are usually conferred to those SAP Business One partners who have gone way beyond sales achievement and performance indicators.
Uneecops Technologies continues to focus on quality and delivery excellence by implementing SAP best practices, rapid and remote methodology and rendering transformative business solutions with SAP Business One.