Streamlined business processes, centralized management, quick decision making and clear analytics have become essential for any business to grow in the modern day scenario. A lot of businesses are now adapting smart Enterprise Resource Planning or ERP softwares to meet this need. While each industry has its own reasons for implementing a suitable ERP software, the pharmaceutical industry has some unique requirements.
Over the past few years, pharmaceutical industry has undergone major transformations due to extremely competitive markets and introduction of stringent production regulations. The companies now have to deal with an informed customer and hence it has become imperative for them to maintain highest quality standards across all processes. The entry of global players in the pharma segment has also fueled the need of having more organized processes to enable faster production, while complying with all regulations.
These changing market conditions have now encouraged businesses to adapt robust ERP softwares that integrate and automate all the key functions. An ERP software for pharmaceutical industry not only enables the consolidation and integration of pharmaceutical manufacturing processes across multiple units, but also helps businesses to keep a track on sensitive operations across organization, such as compliance, expiry management, quality, formulation, costing, yield and more.
Transform your pharma business & achieve
extraordinary 360° value with
In an industry that is extremely dynamic, yet follows stringent compliance practices, it becomes essential to have a system that throws accurate, actionable information, in time. The right ERP for pharmaceutical companies helps the businesses in organizing their procurement processes, while reducing production and delivery time. It also helps them in managing all finances with a clear insight into payments and overall supply chain.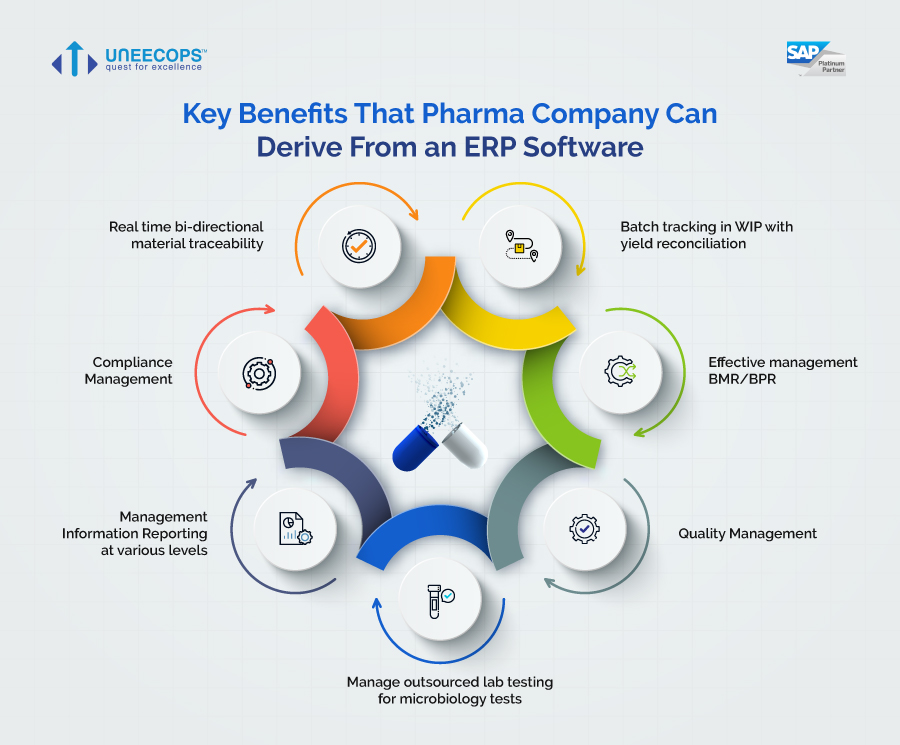 Below are some key benefits that a pharma company can derive from an ERP software such as SAP Business one:
Compliance Management
Real time bi-directional material traceability
Batch tracking in WIP with yield reconciliation
Effective management of BMR/BPR as per GMP
Wastage elimination through Expiry alerts &FEFO based material consumption
Quality Management – IPQC, In process inspection and Certificate of Analysis
Management Information Reporting at various levels
Manage outsourced lab testing for microbiology tests
Minimize the operational work through automatic alerts between departments
As the markets continue to shrink, ERP softwares have become an essential component of business management. Faced with global competition, pharma companies need to re-engineer their processes frequently to match up and maintain their quality. Adapting a comprehensive ERP software for pharma like SAP Business one, is a key step towards scaling and growing businesses in this segment.