One can find a therapy or medication for practically every illness, whether it be acute or chronic, in today's vibrant pharmaceutical sector. Effective management of complicated processes is essential given the rising prevalence of diseases and associated treatments. Pharmaceutical businesses must continually deal with strict rules, standards for quality control, complex supply chains, and the necessity for real-time data visibility. It's critical to have a system in place that eliminates confusion and responds to the concerns of all parties engaged in the process if you want to keep up with the frequent changes and satisfy the high demands.
Pharmaceutical organizations are increasingly relying on ERP (Enterprise Resource Planning) technologies to address these issues and stay competitive. In this blog article, we will look at why ERP in pharmaceutical industry are important and how they are removing barriers and reducing issues for the workforce.
ERP in Pharma:
Let's analyze from the below points how erp for phrama is transforming the work for the industry one thing at a time.
Regulatory Compliance: Compliance with stringent rules is one of the pharmaceutical industry's most important components. Pharmaceutical businesses must abide by rules established by regulatory organizations like the FDA (Food and Drug Administration). Serious repercussions, including product recalls and legal action, may result from noncompliance. To resolve this issue integrated modules provided by ERP systems assist pharmaceutical companies in maintaining compliance by facilitating tracking, reporting, and recording of all activities. This guarantees that all production processes, from research and development to manufacture and distribution, adhere to legal requirements.
Batch tracking and serialization: When it comes to batch tracking and serialization in the pharmaceutical business, it is considered of great significance. Pharmaceutical EPR modules can help these businesses track each batch of products, from raw materials to finished products that are set for distribution. For quality assurance or in any case of product recalls or investigations into any issues with the product, traceability is crucial. ERP system in pharmaceutical industry offer serialization, which assigns distinct identities to each unit and improves product security by assisting in the fight against and sham replication of the products.
Inventory Management: A crucial component of pharmaceutical operations is inventory management. Pharmaceutical organizations have access to sophisticated inventory management tools through ERP systems. These systems aid in stock level optimization, waste reduction, and stockout and overstock prevention. Companies can guarantee product quality while cutting expenses with real-time data on inventory levels and expiration dates. This enables them to ensure that the distribution process is not interrupted and that neither hospitals, pharmacies, pharmacists, nor clients in need will experience scarcity.
Supply Chain Optimization: Due to substantial demand, the pharmaceutical supply chain is complicated. Thus, ERP solutions are crucial to improving supply chain operations. They improve vendor management, expedite the procurement process, and allow for improved demand forecasts. ERP systems enable pharmaceutical companies to make educated decisions and react rapidly to market changes by giving real-time visibility into the supply chain. This additionally helps them make sure that there is no disruption in the supply process, thus making sure the demand and supply chain are balanced without causing any changes in the prices of the products.
Research and development support: ERP systems are not just limited to management and keeping a check on quality or the supply chain; they are here to offer more than that. They can aid pharmaceutical companies in research and development (R&D). ERP systems offer modules that assist in managing R&D projects, tracking experiments, and documenting results. This centralized information repository promotes collaboration among researchers and ensures that R&D efforts align with business goals. Furthermore, this helps speed up the process of finding solutions to long-standing problems and inventing life-saving medicines.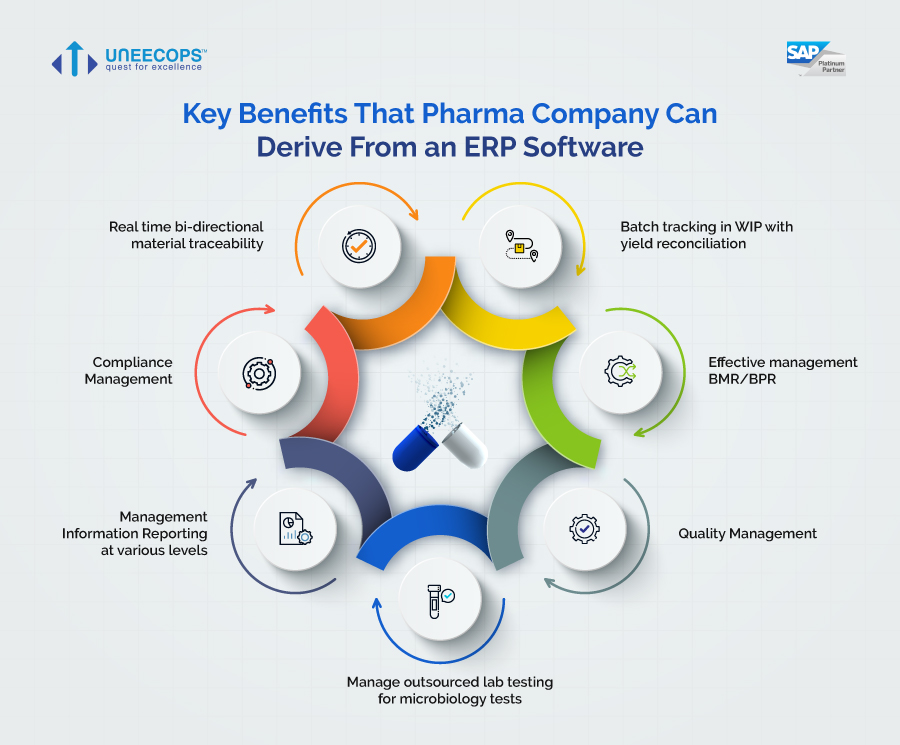 Below are some key benefits that a pharma company can derive from an ERP software such as SAP Business one:
Compliance Management
Real time bi-directional material traceability
Batch tracking in WIP with yield reconciliation
Effective management of BMR/BPR as per GMP
Wastage elimination through Expiry alerts &FEFO based material consumption
Quality Management – IPQC, In process inspection and Certificate of Analysis
Management Information Reporting at various levels
Manage outsourced lab testing for microbiology tests
Minimize the operational work through automatic alerts between departments
Conclusion
ERP systems are indispensable for pharmaceutical companies due to their ability to address the unique challenges of the industry. These systems provide robust solutions for regulatory compliance, batch tracking, inventory management, supply chain optimization, and R&D support. As pharmaceutical companies continue to evolve and adapt to changing market dynamics, investing in a well-implemented ERP system becomes not just a necessity but a strategic advantage. By harnessing the power of ERP in pharma industry, companies can drive efficiency, quality, and growth while ensuring compliance with stringent regulations.
Leverage Uneecops latest technologies to stay competitive and offer quality healthcare in all aspects. Our range of tech-driven pharma solutions enables you to streamline operations, derive actionable data insights, and integrate all pharma processes into one unified system.