Nobody can run a business mindlessly or aimlessly. We say this because running a successful business requires performance insight (and in today's world, valuable, actionable insights). Fortunately, there are many BI software and data visualization software that help track your organizational performance and identify potential problem areas before they cause damage.
Let's first understand the role of KPI metrics. Budget planning, sales targets, and driving top/ bottom line growth are day-to-day business terminologies. To assess these quantifiable areas or the driving factors, KPIs (Key Performance Indicators) play a very significant role in setting a viewpoint on:
Reaching target potential
Any potential impact or strategy change
Improved data-driven decision making
Assess areas of improvement or opportunity
A qualitative check on the objective-driven goal
Driven by facts rather than bias
Improve overall health card
This further leads to improved business opportunities and a goal-oriented vision.
Basics of KPIs
In simple terms, KPIs are aggregated numbers to help define the actual achievement or compare actual achievement to target or reach-to-goal progress metric. Not only with businesses, but the super term also 'KPI' is of value and purpose in our real life as well. Example, we do set personal targets to eat healthy, finish book reading or read x number of pages a day or report to the office timely. Any loss of track on our set of defined goals is ultimately a goal check or our personalized report card. Think about having a personalized KPI report card which brings inputs about our personal task commitment, professional and health-related metric; VOILA!
Now, let's suppose we could even measure these against a goal. This is where we could set a more reach-to-progress framework and dive in the direction of growing w.r.t the objective defined.
The above ideology becomes a business-specific KPI metric when synergized with more strategically defined goals and a vision. Now let's correlate our personalized KPI card from an organizational perspective. It could have KPI numbers for Sales Actual vs Target, Orders, Profit, Leads, Conversions, and new customer acquisitions. Now, these are business-specific, even having Employees, Gender ratio etc. It could even be a KPI metric for org. from an HR/ CXO perspective. One key part to consider in laying the definition of a good KPI would be that they are time bound with an end goal objective set. Any KPI without time bound would be a compromised measure to assess the potential and expansion.
KPI Example
A simple KPI dashboard view, as shown below, is an example of binding your reach to goal or a measure or assessment of the growth. Discover how different KPIs could help keep a check on the actual numbers or have a trend pattern view as well. Now, we certainly know that performance is the key, and to help assess the same, KPIs are a great time check.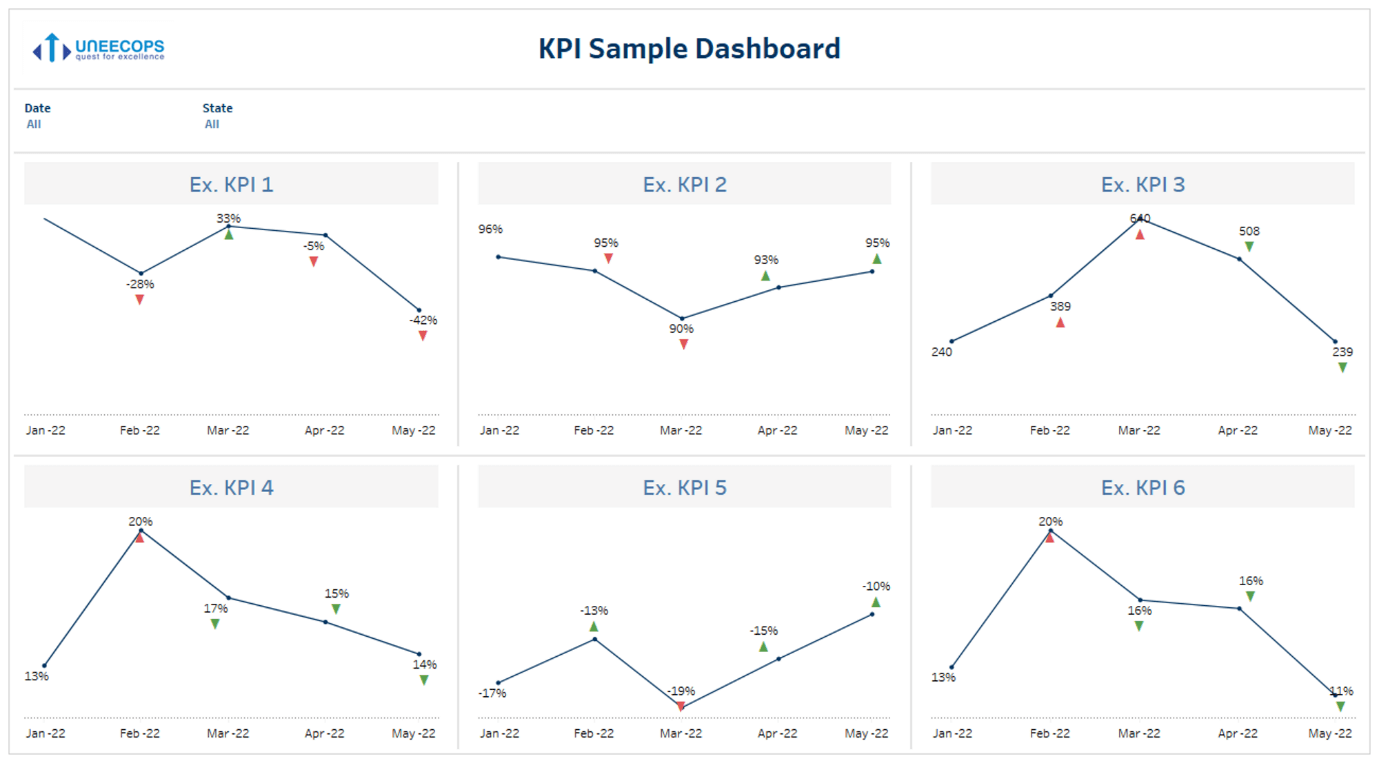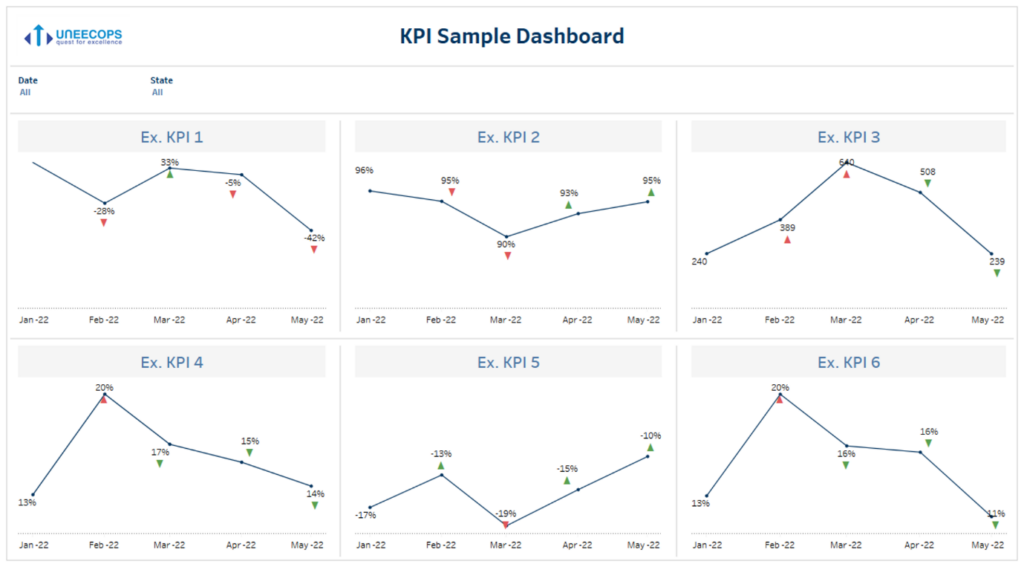 We know, every business must drive sales, purchases, customer acquisitions and retentions, marketing, quality service, and so on. But, the one common thing which remains consistent with all areas of operations is the 'data' key. Even though different industry domains have separate departments or functions, all that binds them together is the data, as that is the core that drives the heart of any organization.
You all would have heard about an organization's annual report card, which often tells us big, bold figures about revenue growth, whether it is 1.5x w.r.t last year or 2.5x. Driving this 'x' times growth is what comes along with having a clear indicator of goal driven and strategized KPI for any organization or business function to unlock the potential.
Role of data visualization software in mapping KPIs
As you set out to track your business KPIs, analytics tools and data visualization software can help you organize all your data on one unified platform. Such a data analytics solution can help to understand which areas are performing well and which need improvement.
Tableau software is a leading analytics tool that comes with a KPI Dashboard display. You can overview a specific objective in a visually helpful and concise way. It is a platform to deliver 'at a glance' data to the right audience to achieve objectives and goals. Uneecops is a leading Tableau software Gold Partner that specializes in Tableau implementation, Tableau data blending and Tableau dashboard creation. The solution experts not only deploy Tableau dashboard as per KPI, but also offer end-to-end support with data analytics solution user adoption. As you understand KPIs better, you can significantly improve your business ROI.
This brings us to the end of our blog post. The ideal approach could be to start with getting BI software and march toward the progress of the end goal!
Keep Vizzing!