It's no surprise – data analytics and media's pace of change has sped up enormously, leaving the industry's ad reps struggling to catch up with new distribution channels. All eyes are on today's digitally accelerated media industry, so it's important to tap every digital and social channel available to let audiences know what's on and where they can get it — and, in turn, find out what the people want to see and hear.
Print, electronic or digital – all media teams are struggling to remain competitive – as they are subject to new pressures from industry trends like ad viewability, campaign performance, instant delivery of content and the social media storm.
Then came COVID-19 and the wave of OTT (over-the-top) media, which changed the business strategy of relying on ads for profitability. The subscription-based models started gaining traction. Today is about mobile content consumption. But it's all for the better. As per PWC, post a slight decline in 2020, the global media and entertainment industry is set for steady growth.
Now, strong media organization positioning in the digital and mobile-first world needs these questions answered:
What can media businesses do to stay ahead of channel proliferation, enhance audience engagement and maximize ad sales, as well as content consumption through the coming decade?
How do we efficiently manage business models, content distribution, financial volume, and supply chain complexities – along with delivering experiences that maximize content engagement?
Winners in this changing marketplace will need to focus on providing sales teams with easy access to information, deep customer insights, and a data-driven approach to maximize audience engagement and optimize campaign ROI.
The path forward: Digital advertising channels and data and analytics capabilities
It is a world of data. Analytics and insights are the fundamental building blocks of any company. So, the need for automation and transformation has penetrated every layer of the media and entertainment space as well, shifting from legacy content business and revenue lines to a model that embraces easier agility, collaboration and customer insights as its foundation.
As media sales organizations' businesses become more complex and faster-paced than ever before, data analytics is empowering some of the world's largest and most innovative media companies with a next-generation solution to do business more efficiently and effectively on the go—selling faster and engaging with audiences more deeply.
How does this work? Let's find out: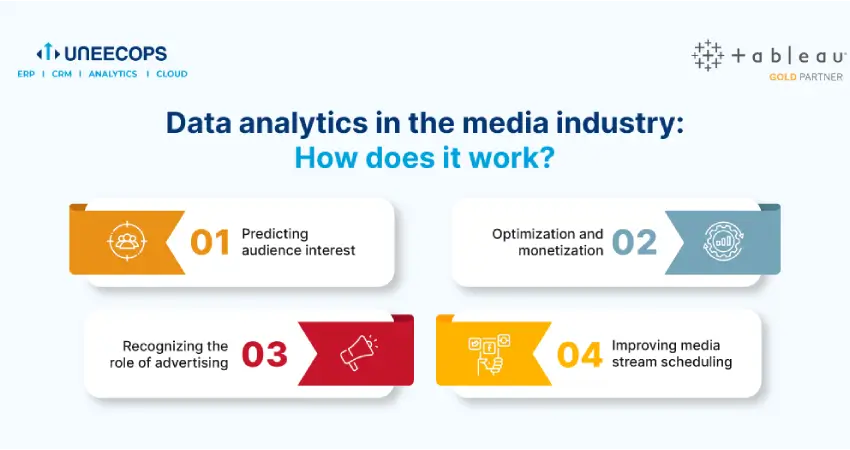 Predicting audience interest – Media outlets and entertainment channels can benefit from data analysis, particularly those that rely on internet streaming. Since pleasing their audiences' is their top priority, these channels strive to have the categories and material necessary to accommodate virtually all types of viewers, along with focusing on the dominance of content diversity. Data offers powerhouses in media and entertainment a ton of classified data, and analytics helps create content based on consumer behavior.
Optimization and monetization – Acompany can decide to include a specific movie or news piece, for instance, in their content list just because it is trending and consumers would like to watch /view/read it, based on current preferences and market releases. As a result of how viewers respond, there is also a possibility to reserve certain content for a membership-only audience, which is often a paid subscription—a method used by many entertainment companies, like Netflix, Hotstar, and Amazon Prime, to bolster their revenue streams. It is only data and analytics that can help ascertain all this!
Recognizing the role of advertising – The primary factor determining a company's market worth and profitability is still advertising. Big data not only helps customers and businesses to create content-related advertisements, but it also enables businesses to develop effective advertising strategies based on factors such as weather, timing, second-screen usage, etc. (as the online streaming platforms are multiple devices friendly)
Improving media stream scheduling: 2.62 billion individuals have social media accounts, as per Statista. This has lowered the barrier between distributors and end consumers. Big data in the media industry has made it possible to communicate directly with end consumers through pre-scheduled video streaming. Big data has also assisted the M&E sector in pinpointing the precise content that customers would like to connect with regularly.
As you gear up to take on analytics, you must know that harnessing the power of data analytics requires the latest tools and technologies.
Tableau: The World's #1 Platform for Next-gen Media Analytics
As a business intelligence, data analytics and visualization tool, Tableau tracks audience engagement, content usage, and other meaningful metrics to provide media companies with the insights they need to attract new customers, retain existing customers, and improve advertising offerings. With Tableau, the media industry can understand every customer journey stage. From tracking content engagement to analyzing web analytics, visual analysis allows media players to spot and stay ahead of emerging trends. Visibility into customer and web analytics helps reach dominant audiences like millennials, establishing a competitive edge in the digital ecosystem. You also get audience-specific insights with advertising partners to support ad partnerships while maintaining a positive brand experience. Learn how Tableau can be a powerful force for the media industry revolution.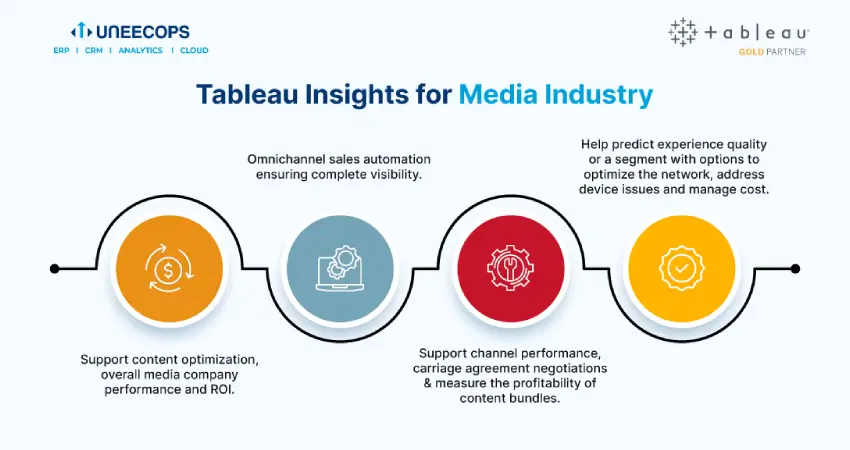 Use Cases of Tableau Data Analytics in the Media, Communications and Entertainment Industry
Enabling the print media to survive and thrive – COVID-19 hit the print newspaper industry really hard. Once among the dominant recipient of advertising dollars, newspapers' advertising revenues continued to erode. But the internet has saved everyone's sinking boat. Deploying Tableau, the print media giants are getting onto the digital bandwagon. Those who still publish are leveraging the analytics platform to align their distribution network and lakhs of agents who deliver newspapers. Rich dashboards and analytics that are integrated with Tableau enable the leadership teams to monitor sales performance closely and drill down to identify opportunities for improvement.
Utilizing web ad data and linking it – Web ad data can be imported on Tableau and analyzed to identify a specific viewer's interest, including search history, social media trends followed, age, language, etc. Based on this, media reps can customize the ad experience and use the insights to further improve the campaigns.
Enhance audience engagement with visual media analytics – Easily create personalized experiences at every stage of the subscriber journey using data and Tableau dashboards.
Continuously evaluate performance – With the rich dashboards and custom reports available on Tableau, the leadership team can constantly evaluate their media service performance. Reports capture the nature and number of queries, agent performance, escalation metrics and response times. These reports help media organizations maintain superior engagement with their customers.
Leverage internal collaboration – Tableau helps capture the collaboration that's happening across the company — to mobilize and grow the business. Disparate teams connect on one platform to view workflows in a single view.
Optimizing video engagement with Tableau – As video content is the most consumed nowadays, media teams need insights into what types of videos they should focus on for optimum results. Analyzing data in Tableau, the business intelligence team can identify the videos with the most views, user preferences and comments. This information can be used to create better-targeted and preferred-experience videos. Tableau is also a great tool for organizing your existing video library.
Trend data reveals millennial preferences – Nowadays, millennials are the generation that every industry focuses on. They are the mass consumers of media content, especially. Tableau can help uncover media trends,spot what's most popular and fastest moving every day, and observe daily, weekly, monthly, and yearly changes. This gives media and entertainment companies the opportunity to enhance audience development and increase revenue streams.
Device-level analytics drive mobile engagement – Staying ahead of the digital landscape is crucial for every media and communications enterprise. For both technology and marketing purposes, teams need insight into how the community interacts with their branded content across all devices. Tableau dashboards reveal insights into consumers' mobile behavior. The business intelligence team can then create an A/B test where they test the mobile site on a tablet as compared to the desktop site. Since most people make purchases using mobile devices, media houses can levy a chunk of their ad spend on mobile devices.
Insight into holiday and season trends helps grow advertising revenue – Media houses and entertainment businesses typically collaborate with advertisers to sell/advertise for brands based on what's hot in the marketplace. Tableau dashboards help them share data with advertisers, especially around consumer trends during the biggest holidays, festive seasons, and other sale periods. The media teams can discover nationwide popularity and geographical audience preferences through these dashboards.
Tableau Transforms Media Industry with Data Analytics Capabilities:
1. Customer Data Management
Assessing customer profiles
Unification and processing of high volumes of customer data in real-time
2. Loyalty Management
Collecting customer data at scale and segregating subscription customers
Insights on customers based on social and behavioral loyalty tactics
3. Experience Management
Uncovering patterns and behaviors
Delivering recommended actions to the right teams in the tools they use
4. Deeper insights
Personalized recommendations based on clickstream data or media title
Smart search predictions using embedded analytics
With Tableau, media teams have quick access to consumer data, allowing them to respond to trends and serve audiences with the content they want and need—assuring the loyalty of core audiences. Tableau is also helping optimize ROI on ad spending and select the best-fit commercial for each slot on each channel/online. With these audience insights, media companies can segment audiences to deliver fresh, effective content faster than competitors. But again, implementation, data migration, and software training are all a challenge when it comes to using new technologies.
Leverage Uneecops' data-driven solutions and agile services designed to make you unstoppable providers of next-generation, immersive customer experiences
Advertising has experienced profound disruption as new channels and innovative technologies emerge and evolve at speed. Competition is fierce, but businesses have an unprecedented opportunity to help advertisers reach target audiences.
Innovate with Tableau's data capabilities to compete in the new media landscape with agility and scale using Uneecops Edge.
Enable advanced audience targeting and segmentation across publishers.
Greater visibility and clarity into programmatic ad buying and ad campaign reporting.
Build engagement and loyalty with a data-driven engine that crafts hyper-personalized user experiences across all touchpoints.
Deploy data analytics strategy to increase customer reach through micro-segmentation.
Clear views on audience preferences to help make confident business decisions related to backend processes, content strategies, marketing and new opportunities.
Transform legacy business as the market moves, engage your customers with personalized offerings and monetize every single touchpoint.
Uneecops' analytics-led advertising services can help you grow your media business effectively and profitably – at scale. We innovate Tableau's data capabilities to help you successfully compete in the new advertising landscape. You can operate business models driven by agile development and delivery solutions.
As a Tableau Gold Partner, we have enabled over 100+ BI implementations and have 75+ data analytics experts. With the Tableau BI tool and its features, Uneecops helps businesses drive meaningful decisions with data. We're consistently investing in Tableau's business analytics tools, including machine learning, statistics, natural language, and intelligent data prep.
We can help you start or enhance your media enterprise transformation – no matter where you are in your journey. Build better, connected, next-generation media experiences with Uneecops x Tableau. Begin now!