Now, 'any data, anytime, anywhere' becomes 'all the data, all the time, everywhere'! We say this because you can manage all your data in one place and have it at your fingertips all the time. With Power BI software, you get to experience business intelligence benefits like never before. Power BI simplifies data visualization allowing users to extract useful information from data and solve complex business problems.
With Power BI, the power is in your hands. Discover the Power BI business intelligence benefits below:
Connect to all data sources
Excel spreadsheets, physical data sources, big data, streaming data, and real-time services: whatever the type of data and wherever it lives, you can connect to dozens of data sources with Power BI.
Bring your whole business on one dashboard
Build robust data models, unify all data, undertake consistent reporting and manage all this on one platform. Gain access to everything, on a single dashboard.
Visualize and analyze business data
Power BI introduces a new way to view all your data in one place – on-premises and in the cloud. You can view, understand and share key insights. Use pre-built dashboards or custom BI dashboards to create interactive reports for performance analysis. With a range of visuals to choose from, you can model varied data across multiple functions. Spot trends quickly and stay in the know in a smarter way!
Every time, everywhere accessibility
Reports and dashboards can be seen on any device with a Power BI desktop for business intelligence or Power BI application. All visuals can be adjusted for the screen size, such as mobiles, web, or even Apple watches! The best part is that you can not just view, but also take action on any device. Leverage the power of business intelligence with ease of use and get ready to access business information on all devices, all the time, and at all the places you can think of!
Infuse agility and intelligence
in your business with
Gartner Rated Tableau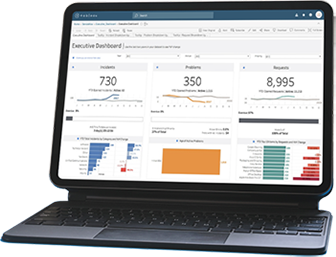 Built-in power BI features foster business growth
The Power BI platform comes packed with myriad features, including, but not limited to:
AI capabilities
Personalizable dashboard
Microsoft excel sheets integration
Prebuilt and custom data connectors
Real-time smart analytics
Microsoft Cloud App security
Drag and drop features
Modern data visuals
There are many add-ons and customization options available that you can use to enable unprecedented business growth.
Get rich, in-depth, and intuitive reports
Generating and sharing reports within your workplace takes a few minutes with Power BI desktop for business intelligence. The business intelligence management tool has the capability to integrate your applications to deliver real-time dashboards and detailed, interactive reports for all users. This further aids timely and data-driven decision-making.
Join the most powerful business intelligence revolution
To conduct hassle-free, intelligent business, you need a supportive end-to-end Power BI implementation partner. The right Power BI partner can guide you to build a cloud-first, next-generation business. Relying on a trusted partner will help you migrate to Power BI seamlessly, analyze data in real-time, achieve accurate reporting, and make better business predictions. From cloud hosting to answering your technical queries, Uneecops is all you need to become a part of the ultimate business intelligence management revolution.