Many crashed. Many failed. Others suffered losses. The covid impact on small business enterprises was quite disruptive. Small and medium businesses witnessed unique vulnerability to the economic impact of the COVID-19 crisis. What is the reason for small business failure? Let us understand in detail.
The big problem of small enterprise business organizations
While the pandemic affected most SMEs, those in the tourism, transportation, oil and gas, restaurant, manufacturing, construction, pharma and such other industries suffered severely as they did not have their contingency plans. In addition to this, small businesses encounter particular structural challenges that existed prior to the pandemic and have now escalated:
Already-grim margins due to factors such as decreased demand and the cost of conducting business.
Adopting new technology models can be complex and expensive.
But the pandemic also taught all those in the small enterprise business one thing – "It is not strong or intelligent who will survive but those who can best manage change." While some suffered, others were quick to adapt to online models of business.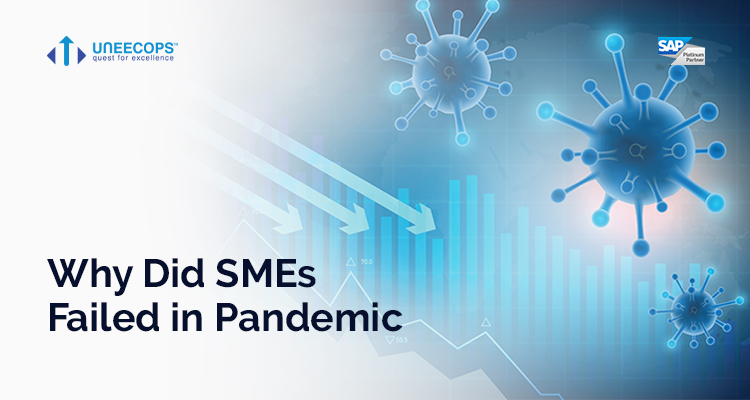 Here, one thing is clear. The reason for small business failure has been not adopting business automation. But the good news is that it is never too late. From digital communication platforms, online payment services to virtual business functioning, management and Cloud ERP Software, digital technology, the internet and telecommunications can help prevent a complete worldwide shutdown of all businesses. To survive this pandemic and consequent economic downturn, businesses around the world, especially small businesses and startups need to implement business transformation software that can automate operations and centralize all data.
The silver lining
To help small enterprise business organizations make the transition to the next normal, digital transformation, ERP and analysis tools such as SAP Business One, SAP Business ByDesign, and SAP Starter Package play a critical role. The purpose of implementing an ERP solution is to offer an end-to-end information management system that connects the right information to the right people, at the right time. It helps companies manage the many processes that make the business function effectively, such as human resources, finance, supply chain, inventory, procurement, and customer relationship management, among others.
Power BI and Tableau are powerful business intelligence tools that SMEs can implement to automate the smooth flow of data across the business and give decision-makers a real-time view of the overall profitability of the business, with probable risks and potential weaknesses more easily identified.
Now, the covid impact on small business companies and the reason for small business failure can be combated. What matters is that you need the right ERP and BI implementation partner. The right team can support you, customize the tools as per your business and answer all your queries. With 25 years of industry experience, Uneecops Business Solutions (UBS) is a CMMI Level 5 company having multiple ISO certifications and 50+ awards in various business categories. Among other accreditations, what makes UBS one of the trusted companies is its recognition as Asia's #1 SAP BI partner and India's first Platinum SAP BI partner. From their inception in 1995, they have grown into a conglomerate with 750+ experts serving 1800+ customers across 9 centers of excellence.