A global leader among customer relationship management (CRM) platforms, Salesforce is a renowned organization that offers a rich collection of powerful tools with top-notch functionalities that enhance user experiences and streamline multiple aspects of marketing, sales, customer service, and data management within the Salesforce ecosystem.
Salesforce provides a comprehensive set of tools, each designed to enhance specific areas of business operations and drive success. Whether it is about integration, automation, or improvement in data quality, Salesforce tools are incredible to leverage for maximizing the value of technical investments.
It can be difficult to know, with all the Salesforce tools available, which ones are best suited for certain requirements. To help you out, we have put together a list of them. With the categories broken down, you will be able to identify and use the right integration tools for your work with Salesforce, irrespective of the department.
Salesforce Integration Tools List
Salesforce provides a variety of integration tools that enable businesses to connect Salesforce with other applications, data sources, and systems seamlessly. Salesforce integration tools enable seamless data exchange, improved collaboration across platforms, and process automation.
Let's take a look at some popular Salesforce integration tools:
Salesforce Connect is a seamless and efficient Salesforce integration tool that allows data integration across system boundaries, enabling users to view, search, and modify data stored outside of their Salesforce org effortlessly. Users can access and interact with external data in real time through the sophisticated functionality of web service callouts that eliminate the need for data replication. Additionally, it ensures that users have updated information readily available to effortlessly bridge the gap between Salesforce org and external data sources.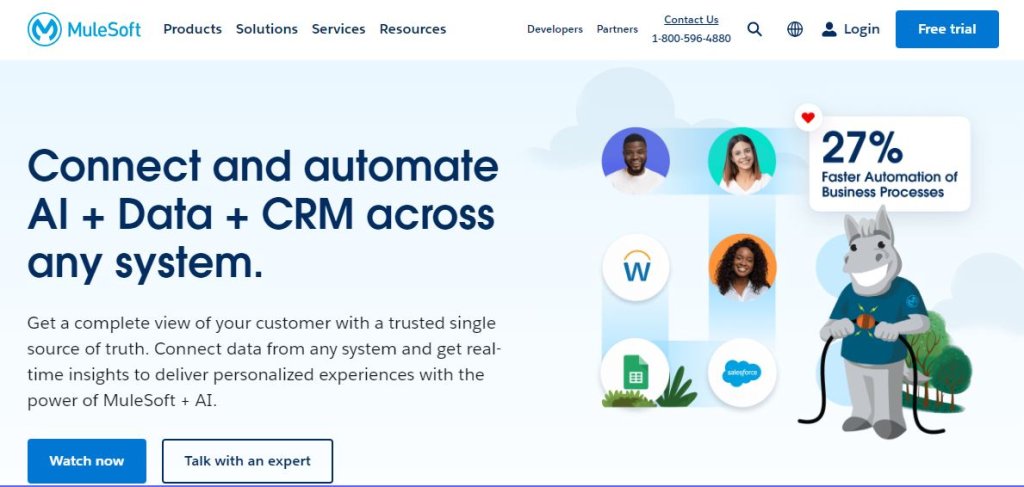 MuleSoft Anytime Platform is now a part of Salesforce as an incredible enterprise integration platform that enables businesses to connect Salesforce with any device, data source, or application. With a visual design environment, pre-built connectors, and APIs to simplify integration development, MuleSoft supports various integration patterns to accelerate operations and unlock unparalleled connectivity. As a Salesforce integration tool, it can offer effortless data integration with a multitude of third-party systems like SAP, Workday, Oracle, etc.
Heroku is Salesforce's cloud application platform and a powerful Salesforce integration tool. While Salesforce empowers businesses of every scale to create exceptional app experiences that foster stronger customer relationships, Heroku simplifies the process of delivering captivating applications on the public cloud while integrating customer data seamlessly.
Heroku connect offers the power of bi-directional synchronization that harmonizes data stored in your Heroku Postgres database with custom objects, accounts, and contacts within your Salesforce CRM database. Additionally, the Heroku Shield Connect offers additional lawyers of protection to ensure security and compliance along with adherence to HIPAA regulations.
Salesforce Deployment Tools List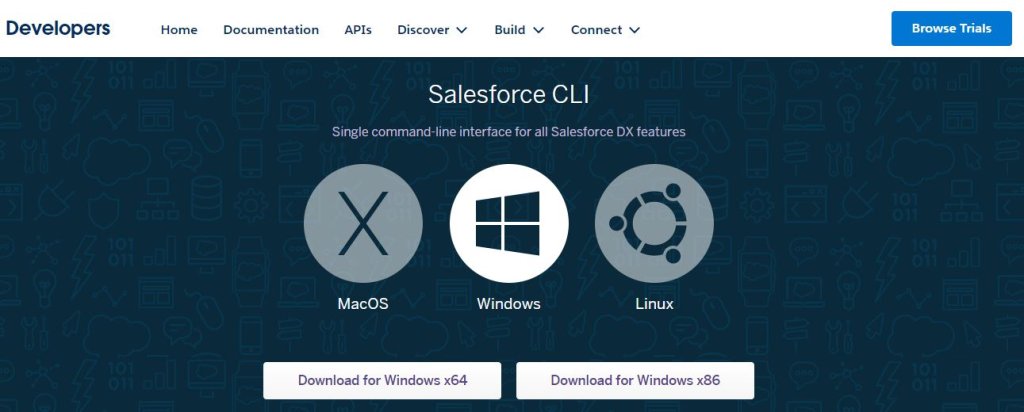 Salesforce CLI is a command-line interface that empowers developers to automate crucial tasks, especially relevant to deploying code changes and executing unit tests. It can be seamlessly integrated with other essential tools like the Data Loader and Metadata API to enable a seamless end-to-end workflow.
Salesforce change sets can be regarded as one of the most sought-after Salesforce deployment tools, owing to its efficiency and simplicity. The tool is designed to streamline the deployment of changes between different Salesforce environments and offers real-time visibility in the deployment progress with unparalleled convenience. It facilitates swift deployments particularly between production and sandbox environments, offers a user-friendly interface, and possesses minimal setup requirements.
Salesforce Data Management Tools List

Salesforce data loader is an incredible tool to empower data management. It is a versatile and user-friendly client application that excels in handling bulk export and import operations, consequently enabling organizations to effortlessly insert, delete, update, or export Salesforce records. Additionally, it supports seamless data migration, database synchronization, and valuable insight extraction. The tool offers an alternate command-line interface available exclusively for Windows users which helps with automated batch operation. This feature caters to diverse data processing needs.
The Data Import Wizard is a user-friendly and web-based Salesforce data management tool that enables users to import data from standard objects like leads, contacts, accounts, and custom objects. The wizard guides users through the data import process for enabling them to validate data, map fields, and import results. This tool is particularly useful for organizations that have the requirement of importing small to medium-sized datasets without getting into advanced data transformation or manipulation.
Salesforce Analytics Tool
Einstein Analytics is an AI-powered analytics platform that enables businesses to uncover insights from their Salesforce data. As an analytics tool, it offers impeccable data visualization, machine learning capabilities, and predictive analytics to empower businesses with data-driven decision making and highly effective pattern recognition, trend identification, and opportunity identification. Businesses can track key performance indicators (KPIs), and leverage actionable insights to optimize their marketing, sales, and service strategies.
Salesforce CRM Tool List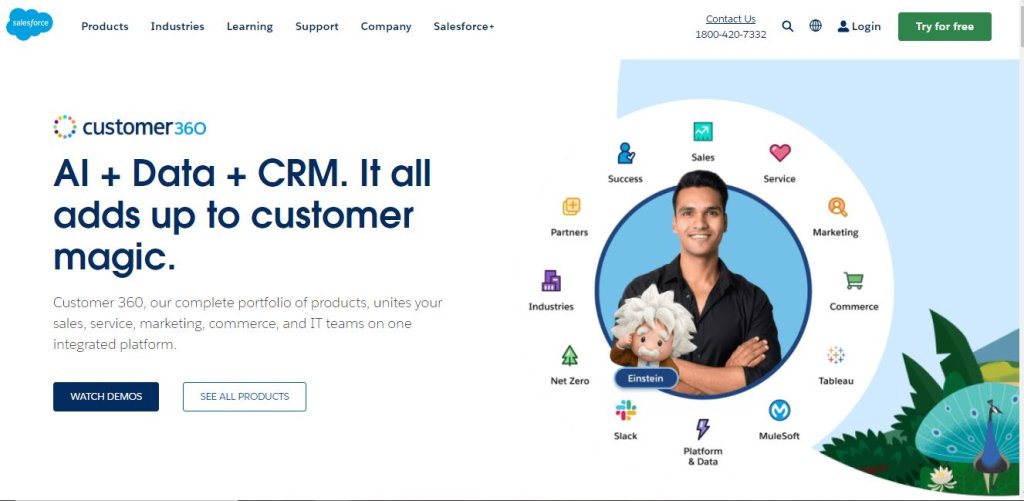 Salesforce Customer 360 is the epitome of CRM excellence. It is a portfolio of market-leading applications that enable businesses to forge and nurture meaningful customer relationships across every facet of their operations. Customer 360 encompasses the entire spectrum of customer-centric endeavors, ranging from sales and marketing to service and support.
Today's era has necessitated CRM as a catalyst for success as it empowers employees with the knowledge and insights necessary for making informed decisions for every customer interaction. As the system has evolved, CRM has transformed from a mere database to an intelligent and AI-powered platform that revolutionizes how businesses operate.
Salesforce Customer 360 equips organizations with the necessary capabilities to unleash the potential of customer relationships with a wealth of innovative features and cutting-edge technologies.
Conclusion
Salesforce offers a vast array of technologies and tools that empower businesses to enhance customer relationships, optimize operations, and drive growth. With an extensive Salesforce technologies list, organizations have a wealth of Salesforce tools available for their specific needs and goals.
In addition to the tools mentioned above, Salesforce offers dedicated Salesforce admin tools like Salesforce Setup and Workbench that simplify the management of Salesforce orgs, automate processes, and ensure data integrity to streamline administrative tasks while improving overall efficiency. Additionally, Salesforce provides an ecosystem of best tools for IT professionals that assist in building and maintaining powerful applications while integrating external systems and helping with streamlines development and deployment processes.
Overall, Salesforce tools empower businesses of all sizes and industries, and equip them with the necessary capabilities for thriving in a competitive marketplace. By harnessing the power of the top Salesforce tools, organizations can unlock the full potential of their Salesforce investment and achieve exceptional business outcomes.
Looking for Salesforce Implementation Partner who can supercharge your Salesforce Project and can mentor you with necessary tools and technologies? We are here to help you!