SAP offers an intelligent, innovative and integrated SaaS ERP solution called SAP S/4HANA Cloud that makes all this possible. In fact, the possibilities are endless!
Let me ask one simple question. What's your priority right now?
Automating and accelerating your business processes.
Laying a digital foundation for your enterprise with complete agility, availability and security.
Keeping all your data on a centralized, real-time platform.
Getting assured data privacy.
I heard you thinking of 'All of the above!' or 'Most of the above, atleast'
Thought that you need different software for everything? THINK AGAIN!
Get ready to take your company to cloud nine with the intelligent ERP: SAP S/4HANA Cloud!
Move Data Management Into The Cloud
Modern companies recognize the importance of broad-reaching digitalization strategies to propel innovation and create true business advantages. Cloud services lie at the core of this transformation, replacing manual and on-premise systems.
The Role of Intelligent Cloud ERP in 21st Century
Intelligent cloud ERP is worth the investment, as it enables enterprises to perform better, with increased flexibility and improved business performance. SMBs that invest in the cloud in today's times can see 2x increased profits and a 25% growth in revenues, according to research.
Meet all your data challenges with SAP S/4HANA Cloud
The Enterprise Resource Planning (ERP) tool is specially designed to create a single source of truth for your company data across departments. Companies can achieve greater efficiency through S/4HANA Could as it provides effective control and data reliability in all operations, from production to purchase.
SAP aptly defines its offering as "The power and performance of SAP S/4HANA with the scale and elasticity of the cloud." By leveraging all the components within SAP S/4HANA, businesses can bring datasets to one platform, transform them, and make them available anytime, anywhere. All of this, along with balanced performance and costs.
Just like every cloud has a silver lining, S/4HANA Cloud's differentiator is its embedded technologies, SAP ERP cloud automation and SAP HANA Artificial Intelligence. Let's dig deeper.
Benefits of SAP S/4HANA Cloud
S/4HANA Cloud is a next-generation, intelligent ERP. Here's why:
There are more reasons to call the ERP intelligent and next-generation. These include capabilities to:
Store data storage and run robust applications
Embedded data integration (virtualization)
Independently elastic and scaled storage and computation
Comprehensive multi-model engines
Multi-model cloud deployment
Delightful customer experience
Rapid adaptation to international, legal and government regulations
SAP S/4HANA Cloud enables a contemporary and lean business automation landscape, accelerates and simplifies data exchange as well as process and system integration.
SAP S/4HANA Cloud enables a contemporary and lean business automation landscape, accelerates and simplifies data exchange as well as process and system integration.
Explore the illustration below to discover the business benefits of SAP S/4HANA Cloud.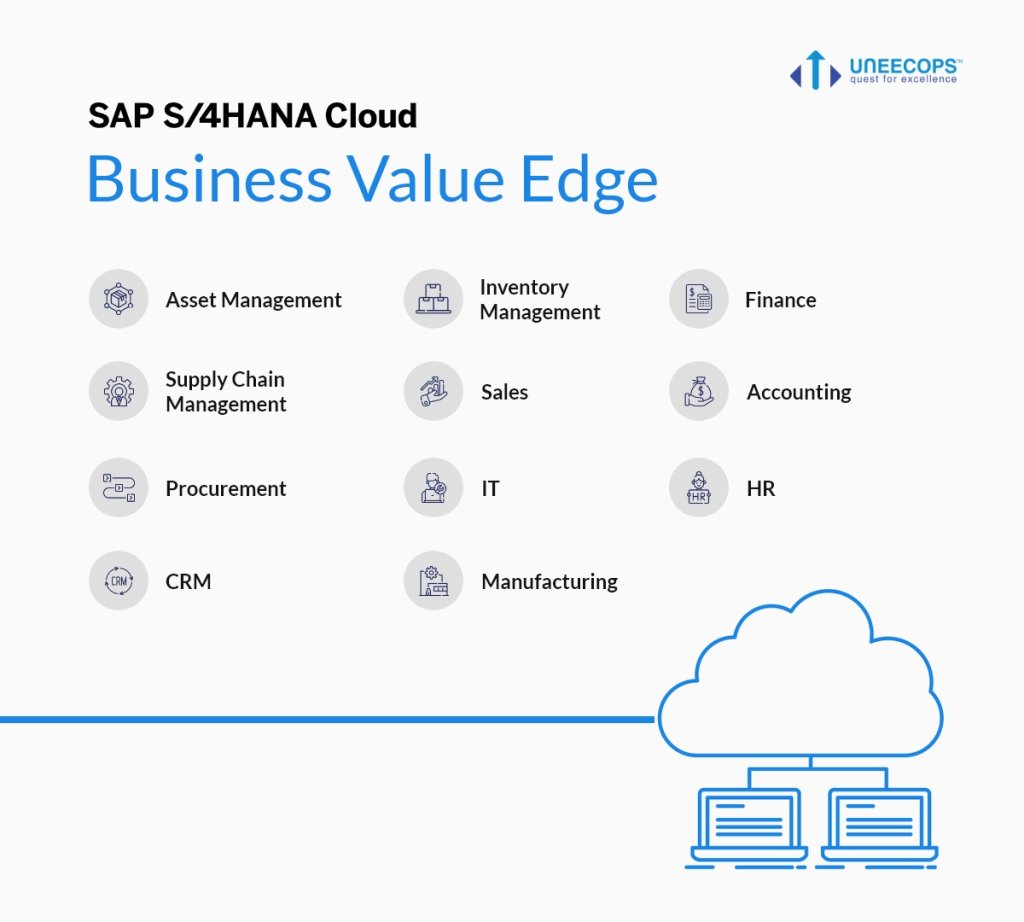 As you read through the above benefits of SAP S/HANA Cloud, you should also know why this is the modern ERP. Let us find out.
Advantages of SAP S4 HANA Cloud
The intelligent cloud ERP leverages contemporary technology such as Artificial Intelligence, IoT, machine learning and embedded analytics. You get the advantages of SAP HANA platform along with the benefits of SAP S/4HANA Cloud. SAP HANA artificial intelligence allows users to predict business outcomes and make smart decisions faster. Capture opportunities, reduce costs and mitigate risks faster with SAP ERP cloud automation. A few more advantages of SAP HANA include: 
Better ROI and reduced costs
Improved business intelligence
Access to analytics-driven insights for powerful decision-making
Effortless and faster deployment as cloud-based systems can be implemented in three to six months
24×7 data accessibility, encouraging work on-the-go
Rapid decision-making–encouraging time saving
Strong data protection
Lower chances of data duplication
Enhanced real-time data visibility
The Best Part – Bid Adieu to Hardware or Operating Systems Management!
With SAP S/4HANA Cloud, backups, software installation, software updates and patches are managed by SAP. You do not need to manage the hardware. As a business owner, you can install the updates as per convenience so that your operations don't get disrupted unexpectedly.
Unlock Key Business Insights and Make Informed Decisions
Act on up-to-date information and improve operations. SAP S/4HANA Cloud is the right business intelligence system that simplifies gaining valuable information. It allows you to create reports with in-depth insights and make informed decisions quickly. The reports can be customized to suit your company's unique needs.
Real Business Intelligence!
You're acquainted with the benefits of SAP S/4HANA Cloud and are almost ready to start your SAP ERP Cloud automation journey.
Uneecops Business Solutions Can Help You with Our Superior Support Services
Cloud technology is the technology you should be looking forward to in 2022. When designing a roadmap for your business transformation, SAP S/4HANA Cloud ERP can be real value addition. Uneecops Business Solutions (UBS) is Asia's #1 SAP partner and India's premier platinum SAP partner. UBS identifies itself as an 'enabler' for SMEs and growing businesses to grow in terms of their technological prowess. A CMMI Level 5 company, UBS is the leader in providing business-centric solutions designed to simplify core business functions.
Our expert SAP consultants help businesses with S/4HANA Cloud services – end-to-end. We offer the support you need to implement the cloud ERP – from implementation to migration, cloud hosting, and technical support. Get in touch with our experts today and avail a free and customized solution demo built on your specific requirements