If data provides answers, data analysis drives change!
Companies that swear by a data-powered system remain resilient and thrive as disruptions. Data turned into useful information forms the lynchpin of their flywheel that drives innovation. Let's talk specifically. Sure, data is ingrained in your business DNA, but you need to be able to guide all decision-making. SAP Business ByDesign can be your business secret to success.
What is SAP Business ByDesign?
Business ByDesign is a cloud-based enterprise resource planning and business management software. Designed keeping in mind the unique requirements of medium and large enterprises, SAP Business ByDesign unifies all your business processes in a single system. This fast-paced, intelligent cloud ERP solution can enable you to scale and compete without the complexity and cost.
It has pre-built capabilities for everything, from accounts and inventory to product management and sales. All this with real-time data analytics abilities to help improve profits and decision-making abilities.
To Know More About Benefits & Features of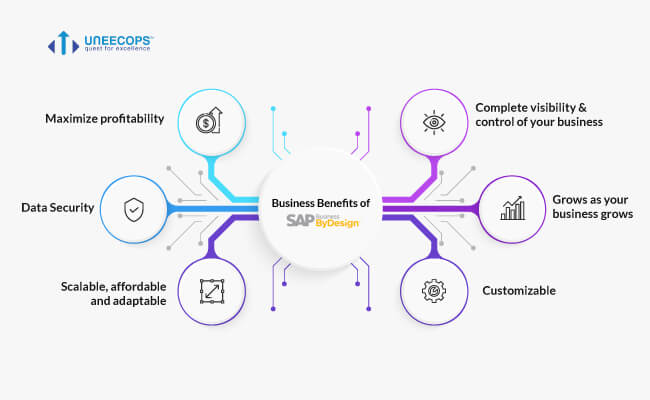 Let's delve deeper and discover the SAP Business ByDesign benefits:
Complete visibility and control of your business
Don't get stuck finding facts or figures amidst widespread accounts! No more struggling to get an overall picture of manufacturing and sales. It gives you the vision and control you need to run your business smoothly and efficiently.
Grows as your business grows
SAP Business ByD analytics becomes the key to finding all your business data in a centralized and standardized platform. You can start with the basic SAP Business ByDesign Starter Package and add more users and data as you open up greater avenues.
Customizable
SAP Business ByDesign customization enables you to cater to specific business management needs. It offers fast-growing businesses an opportunity to turn growth potential into real results. This cloud-based ERP solution can be customized to connect every unique business function to time-tested best practices and in-depth analytics. You'll get the foundation to scale and grow your business your way.
All in one
SAP Business ByDesign allows users to access and automate everything under one roof. Get ready to streamline all the processes end-to-end.
Scalable, affordable and adaptable
SAP Business ByDesign implementation helps your business enterprise from the initial stage. It provides scope for further additions as in when your business grows. Personalize user interface as per your business needs, customize your dashboard, modify business configurations, extend business capabilities by adding data to cloud ERP – SAP Business ByDesign Analytics.
Data Security
With SAP Business ByDesign, you can be rest assured that your data will be safe and protected. The cloud product meets the latest security and compliance standards.
Maximize profitability
Enable your business to become an intelligent digital enterprise with the help of SAP Business ByDesign. It proves to be an excellent choice for companies moving to cloud ERP to eliminate waste and the probability of errors. The software leads to zero wastage of time and efforts and benefits a company's profitability.
The Result? Results! (In the form of greater Return on Investments!)
Design A Future-Proof Business Management Blueprint With SAP Business ByDesign
Transition your business to a modern enterprise that operates on an automated management model. Stay relevant, reduce costs and enhance productivity in the short as well as long run with SAP Business ByDesign. The solution holds the scalability and 21st-century compliance that your business demands. With 25 years of industry experience, Uneecops Business Solutions (UBS) can be your partner of choice in shaping the future of business in 2022 with smart and intelligent SAP Business ByDesign solutions. We can help you end-to-end – from implementation through support. The SAP experts collaborate closely with you to guarantee that every project is seamless and successful. Our foundation resonates with our drive to support businesses to unlock next-generation ERP and business intelligence capabilities.
Time to design a real business success model and combat all management challenges with a single and comprehensive business management suite. Time to take accurate, confident and data-driven decisions with the SAP Business ByDesign. Still curious about What is SAP ByDesign, SAP ByDesign benefits, SAP Business ByDesign Implementation or SAP Business ByDesign Customisation?