Tableau is a market-leading business intelligence (BI) and analytics tool trusted by industry leaders like Amazon and Unilever to explore, visualize, and securely share data. With its user-friendly functionality and data visualization capabilities, Tableau helps organizations make confident decisions backed by proven data.
With many deployment options available, Tableau Online is the one creating 'buzz' in the 21st century. As the name suggests, Tableau 'Online' is hosted on the cloud. In a nutshell, it means 'get going quickly.' While Tableau has on-premise deployment and cloud deployment flexibility as well, Tableau Online is provided by OEM itself, which is hosted on AWS (less known, though).
During the pandemic, while the IT infrastructure and other questions were taken into consideration immensely, more than ever, the cloud hosting options became primitive. Tableau Online further adds this capability to let you get started quickly without that infra question or the setup process, which essentially means time to do more.
Why Tableau Online?
The growth or shift to work from home or a hybrid work environment was bound to happen someday (at least this is what I have a personal belief about), but with pandemic times, this only accelerated by leaps and bounds. This working model also brought in considerations for a solution with deployment flexibility. More than ever, we have seen the trajectory for a shift to cloud, i.e. Tableau Online. This boils down to various factors or choice of deployment considerations like quick to start, ready environment set up, auto-updates and fixes, which makes Tableau Online a choice for SMEs across the country.
This article elaborates on the shift to cloud, primarily towards Tableau cloud. Read on to find out: https://www.tableau.com/blog/2020/9/should-i-move-my-analytics-cloud
Tableau Online Assures Data Security
It is also noteworthy that while we connect with different businesses and hear their thoughts on engagement, one inherent query we deal with is security on the data part or compliance w.r.t Tableau Online. This is an excellent question about the given secrecy of data assurance. We thought the best way to address to this data security query or decode any myth specifically needs a more detailed theory. The article link shared below talks about all the aspects of data/ operational security, data hosting centers, roles and permissions and network security. Read on to know more: https://help.tableau.com/current/online/en-us/to_security.htm
The next article talks more about compliance if you would require certification metrics as a choice of consideration in deployment flexibility. Click to learn more: https://www.tableau.com/security
The Tableau Online Edge
For new customers, Tableau also offers provisions to let you select the region where you may want to host the site/data center. It has a list of options, and as per your suitability and needs, it can be tailor-made. If you opt for the cloud hosting option, which is Tableau Online, bear in mind that it comes with a delta cost difference w.r.t the on-premise deployment option.
This article from Tableau takes a deep dive into the choice of consideration from the deployment perspective. It parameterizes on different factors of consideration.
We hope that this blog covered aspects of the transition to /selection of Tableau Online. Before we end, let us revisit the most important benefits of Tableau.
Tableau Online: Business Benefits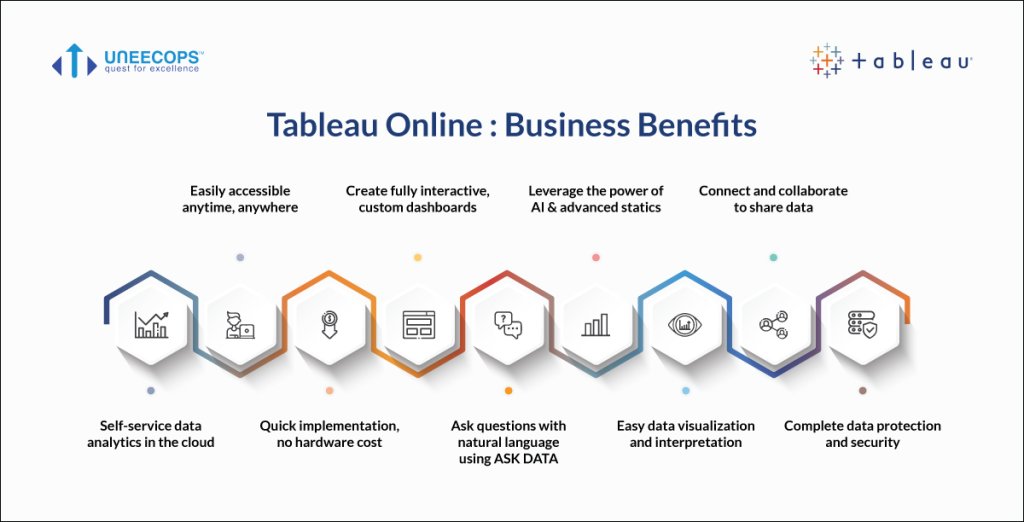 Uneecops Business Solutions: Empowering Organizations with Tableau Powered Data and Business Intelligence
Uneecops Business Solutions (UBS) is India's Tableau silver partner that helps businesses adopt Tableau end-to-end. We ensure a smooth Tableau journey with our implementation, technical guidance and managed services support.
Uneecops hope that the above information about Tableau was helpful for you. We are confident that these inputs proved helpful towards building a better decision matrix on the choice of Tableau deployment flexibility. For any queries, please feel free to connect with us. We would be more than happy to assist and enlighten together.
Keep Vizzing!