It's a digital-first world.
It's about answers and insights from data.
It's about analytics and agility.
It's about smarter and faster decisions.
It's about business intelligence!
Business leaders are embracing a data-first future, and businesses are transforming their customer experiences, relooking operations and prepping themselves up for future growth.
As businesses go digital, business intelligence and data analytics will play a more central role than ever before. And the key to achieving these results—and tapping into data's limitless potential—is Tableau.
Why do we say this?
Fact is, following the "gut" no longer makes the cut. Businesses that enable rapid and confident decision-making will get better results.
Tableau software empowers and enables teams to bring data to every conclusion and conversation. It helps go from ambiguous business challenges to complete insight to impact.
Enterprises that support and promote data analytics will future-proof themselves. With business intelligence playing a prominent role in the future of work, Tableau's role becomes even more pivotal.
Let us explore Tableau software as a business analytics, data visualisation and business intelligence tool.
Tableau: A powerful BI tool – Today is about modern business intelligence. You can drive it in your organization with Tableau, as the platform gives a comprehensive view of your organization's data and uses it to drive change, reduce inefficiencies, and rapidly adapt to market or supply changes. Tableau is the 21st-century modern BI service that prioritizes flexible self-service analysis, empowered business users, and speed to insight. It combines all the business best practices that can drive intelligence: analytics, data visualization, data mining, data tools and infrastructure, and intuitive reporting to help organizations to make informed, data-driven decisions.
Tableau: The World's #1 Analytics Tool and a Leading Data Visualisation Platform
Tableau makes data analytics a breeze with built-in visual best practices and limitless visual data exploration without interrupting the analysis flow.
It turns data into actionable insights with speed and ease. It's as easy as dragging and dropping. All you need is a few clicks on the exceptionally easy user interface, and your aesthetically beautiful and interactive dashboard is ready!
It's no surprise that reporting becomes a cup of tea with such data and analytics insights at your disposal.
That is why Gartner has recognized Tableau as a leader in Analytics & Business Intelligence for 10 years in a row.
And the BI tool proves to power modern businesses like no other platform.
The Ultimate Business Power: When BI, data analytics, and business analytics work together in Tableau
Business intelligence includes business analytics and data analytics but uses them as parts of the process. BI tools help users draw observations and conclusions from data analysis, using advanced statistics and predictive analytics to find out patterns and predict future patterns.
In short, enterprises conduct business analytics as part of their complete business intelligence strategy.
BI answers specific questions and provides an overview analysis for planning and decisions. Now the platform that makes all of these possible is Tableau. You can see and understand data and leverage business analytics to drive business intelligence in your organization.
Put BI in everyone's hands and strengthen your data-driven decision-making abilities with one of the top BI tools in the market – Tableau.
Concluding the article, let us look at the features of Tableau in a nutshell:
Self-Service BI
Data Blending
Highly-secure
On cloud
Analyze data in a few clicks
Create interactive, intuitive dashboards
Deal with massive data
Publish and share data anytime and anywhere
Ready to implement Tableau?
Uneecops Business Solutions: A Top Tableau Reseller and Tableau Gold Partner in India
With over ten years of data science experience, Uneecops has built time-tested approaches that make us a top Tableau reseller in the country.
Being a thought leader in BI solutions, analytics and business intelligence, Uneecops' Tableau experts provide domain knowledge and detailed consulting. Our Tableau BI service portfolio includes the following: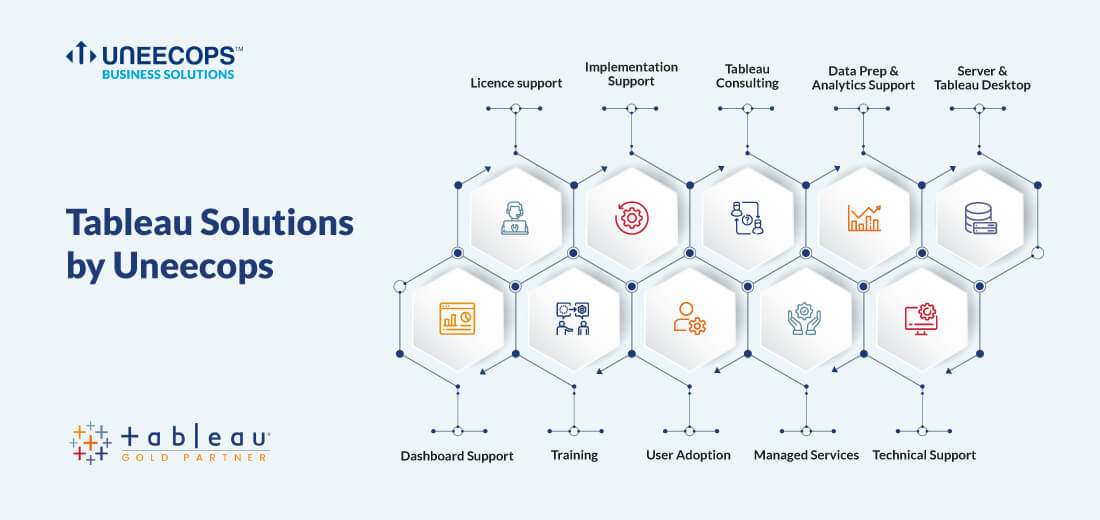 Are you ready to transform with Tableau and partner with UBS?
We put it this way – "Good decisions start with data. Great decisions start with Tableau!"