When it comes to keeping businesses running, the stakes are high.
Any software will just not do anymore.
The key outcomes are all high stakes: visibility, productivity, profitability and cybersecurity.
What's more? The demands of digital transformation require decision-makers to think and act bigger.
Not to mention the ability to run all major operations from your headquarters or living room.
That's where a unique SAP ERP – SAP Business ByDesign (SAP ByD) comes in.
Conquer and compete without the complexity and cost!
A promising, new-age ERP for the new-age businesses. The SAP Business ByDesign is a cloud-based enterprise resource planning and business automation software. Designed keeping in mind the specific requirements of mid-market companies, SAP Business ByDesign unifies all business processes in a single and centralized system.
Reduced TCO, High Speed & Innovation
SAP BYD makes it real.

SAP Business ByDesign Benefits
SAP Business ByDesign boasts pre-built capabilities for all functions, including accounts and inventory to product management and sales. All this with real-time data analytics abilities to improve profits and decision-making abilities. Let's discover in detail the SAP Business ByDesign benefits:
Access and automate everything under one roof.
Streamline all the processes end-to-end.
Gain complete visibility and control of your business.
Find all your business data in a centralized and standardized platform.
Eliminate waste and the probability of errors.
Custom capabilities allow you to cater to your specific business management needs.
Opportunity to turn growth potential into real results.
Cloud-based ERP connects every business function to time-tested best practices and in-depth analytics.
Get the foundation to scale and grow your business your way.
Data security and protection are assured.
Meets the latest security and compliance standards.
Make your business an intelligent digital enterprise.
Scalable, affordable and adaptable.
Seamless user interface and visually appealing dashboard.
SAP ByDesign Features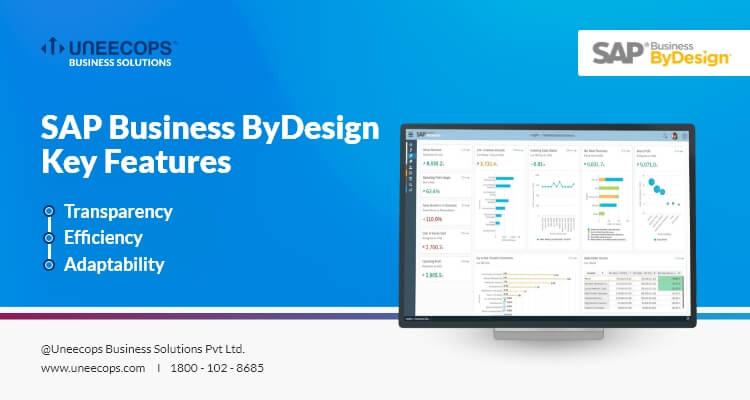 Transparency is offered by embedded analytics, document flow, and attachments
Efficiency is fostered by integrated best business practices and business task management.
Configurable dashboards and customizable reports provide adaptability.
These lay the foundations of profitability and growth, which are the key pillars of any business.
The Decision-Making!
Are you on the fence about SAP Business ByDesign? Still unsure if the ERP can suit your business requirements?
Why not start your journey with the SAP Business ByDesign Starter Package? Offered as ByD Qualified Power Packaged Solution, this Business ByDesign Starter Package allows you to add more users as you expand your business or venture into newer avenues.
ByD for SMEs: ByD Qualified Power Packaged Solution
The SAP Qualified Partner Packaged Solution (QPPS) or Business ByDesign Starter Package is a powerful digital transformation foundation. It is affordable, flexible, secure and agile. Fast-growing and forward-thinking organizations can enjoy the following benefits of ByD Qualified Power Packaged Solution:

500+ reports
Real-time analytics
Embedded analytics
Zero IT footprint
Complete security
Rapid implementation: 6 weeks (Plus, 4 weeks go-live support)
E-commerce integration
Barcode integration
GST filing integration
E-way bills and bank integration
It is affordable and powerful. It is a power-packed starter package!
SAP Business ByDesign Integration, Implementation and Support by UBS
Implemented in the right way, SAP Business ByDesign can help organizations unlock the innovation and agility needed to succeed in 2022 and beyond.
Uneecops Business Solutions (UBS) strives to become your data-driven business success engine. UBS is an 'enabler' for SMEs to thrive in terms of their technological prowess. A CMMI Level 5 company, UBS is the leader in providing business-centric solutions designed to simplify core business functions. Our successful partnerships with SAP power the end-to-end support we offer to our client businesses. The success stems from our inherent commitment to supporting businesses unlock modern ERP and business intelligence capabilities. Our SAP ByD experts collaborate closely with businesses to strengthen their business automation abilities. We help businesses through their SAP Business ByDesign or Qualified Partner Packaged Solution (QPPS) journey from migration to implementation, hosting, customization, and managed services. The professional consultants can also guide you on the suitable SAP ByD for your business. The ultimate aim is to ensure smooth and hassle-free business management.
Our partnerships help small- and mid-market enterprises scale at accelerated rates. The team enables businesses to work with a single source of truth and access critical data anytime, anywhere, from any device.