You've run the rat race.
It's a new era.
Now, take the big leap!
Staying ahead in the e-commerce and trading industry means adopting next-generation analytics capabilities.
The e-commerce and trading boom of the past two years can be attributed to the pandemic to a large extent. With lockdown globally, many brick-and-mortar businesses started selling online. Today, trading and traditional businesses feel the need to have an active online store for business continuity.
Become an intelligent e-commerce and trading enterprise with Uneecops Power-Packed Solution for Fast-Growing Businesses. The SAP Qualified Partner Packaged (QPPS) or Business ByDesign Starter Package by Uneecops Business Solutions serves as a robust foundation for redesigning existing processes along with standardizing existing best practices.
Choose QPPS for the affordability; stay for the security, flexibility and agility!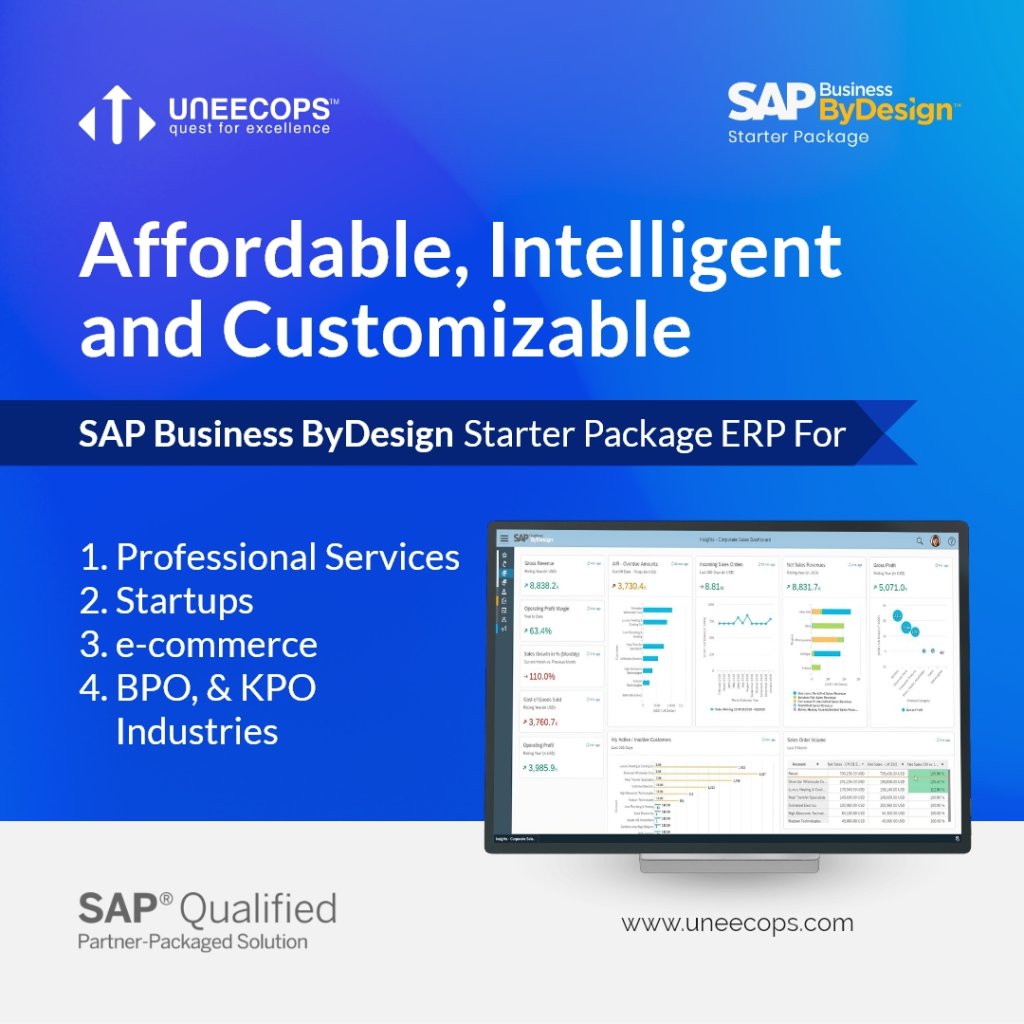 Switching to SAP QPPS isn't a mere tech upgrade; it's a business strategy. Forward-thinking organizations need a strategic work plan that outlines contingencies, identifies risks and cost outlay. An action plan with data involved at every phase of the migration is necessary for a successful transformation.
Here is how QPPS can be instrumental in optimizing e-commerce & trading business functions.
Powerful, All-in-One cloud ERP solution without great complexity or cost.
Your Enterprise's Digital Foundation
500+ Reports
Real-time Analytics
Real-time Decisions
Embedded Analytics
Zero IT Footprint
Complete Security
6 weeks + 4 weeks of go-live support
Seamless Integrations
E-commerce integration
Barcode integration
GST filing integration
E-way bills and bank integration
End-to-end business functions connected:
Finance & Management Accounting
Supplier Relationship Management
Inventory Management
Strategic Sourcing
Supplier Return Management
Customer Relationship Management
Order-to-Cash (Stock)
HR Management
And more
SAP QPPS has a fast-performing, prebuilt analytics data model, embedded artificial intelligence, and a single shared data model across applications. With this modern ERP system, you can eliminate silos, quickly identify meaningful insights and make confident, informed as well as data-driven decisions.
Indeed, power-packed!
How Uneecops Business Solutions supports this transition and transformation
The trading and e-commerce industry has been pumping billions of dollars for many years. Online selling players need to now get to the path of more profitable growth to ensure that they achieve the desired outcome. Uneecops Business Solutions (UBS) is providing solutions for increased efficiency, like moving traditional enterprise applications and workloads to the cloud, for improved performance and user experience, enhanced availability, and automation. With Uneecops Power-Packed Solution for Fast-Growing Businesses, you can get complete support. From implementation, customization to migration and managed services, UBS is your partner in digital transformation.
Being Asia's #1 SAP BI partner and India's first Platinum SAP BI partner, UBS has been awarded SAP awards for 10 consecutive years, SAP Business One Partner of the year, APJ for three successive years (2018, 2019 & 2020). That is why fast-growing e-commerce businesses across the country rely on our power-packed SAP ERP.
Move to Improve!
Make the move to QPPS. Our power-packed price starts from Rs 19,999 per user/month (Licenses : 10 in all. 2 Advanced & 8 Core Users). Please note that the prices are subject to applicable taxes, business specifications, subscription time, etc.