Intense competition and ever-changing requirements have placed small and medium-sized businesses in a vulnerable situation. Thankfully, SAP Business One provides a great relief to all business owners and entrepreneurs to deal with this competitive business landscape.
As the software is enterprise-ready with robust capabilities, we tend to think that its pricing is not something within our reach. Designed specifically for small and medium-sized businesses, SAP Business One is one of the most affordable ERP packed with feature-rich functionalities and useful modules such as accounting and finance, purchasing and operations, sales and service, inventory and distribution, production and MRP, and so much more.
Here, in this blog, we will discuss various SAP Business One license cost, license models and license type.
What SAP Licensing is all about?
SAP software is modular and scales with your immediate and future business requirements. There are two major tenets that are important to comprehend when licensing SAP Business One software. One is deployment option which means whether you are choosing on-premise or on-cloud options and the other one is choosing the license type.
What are the different SAP Business One License Models?
SAP Business One renders flexible licensing models to choose that best fit your budget requirements, business needs, and timeframe.
One Time Licenses
With one time license, it is easy to pay the SAP Business One cost and purchase a perpetual license for your business that suits your business needs.
Licenses as Subscription
This model requires an annual renewal of the SAP Business One license subscription.
What are the different SAP Business One License Type?
The following chart indicates various SAP user licenses in the SAP Business One software.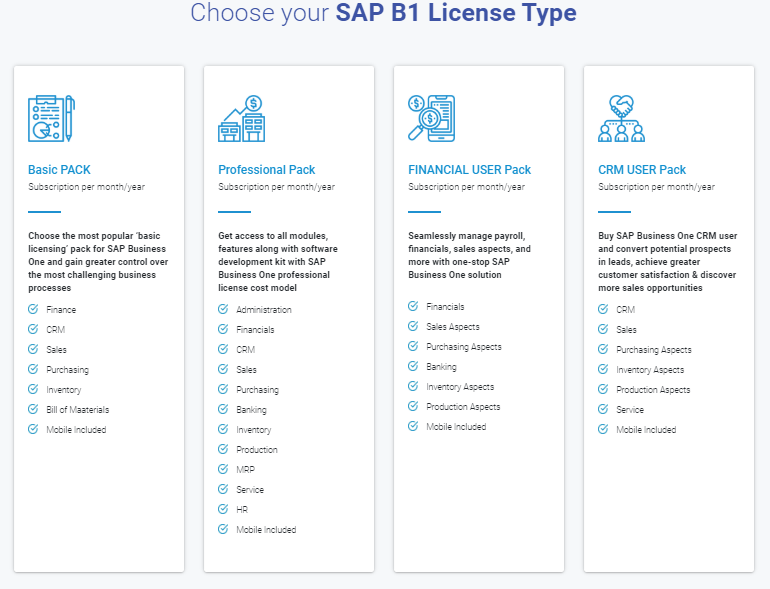 Uneecops helps you to understand your best-fit licensing pack and unravel new growth opportunities with SAP Business One solution. So, if you are confused as to which SAP Business One licensing you should go for such as basic, professional, financial user and CRM user pack, we can help you decide as per your unique business requirements. We are Asia's #1 SAP Business One partner with a successful record of over 300+ ERP implementations.