"By failing to prepare, you are preparing to fail." – Benjamin Franklin
An age-old saying. But what does this mean for businesses in today's context?
A business plan is a blueprint for success.
Regardless of the niche or size of your business, your company will benefit from planning ahead.
Planning ahead for modern business means managing finances, planning sales, inventory, expenses, considering challenges and a lot more. It means aligning day-to-day activities and eliminating confusion.
21st-century strategic business planning requires data that can produce quick answers. It requires users to see the whole business picture on one platform.
Curious?
Tableau helps make smarter plans faster and with more confidence
Imagine, when you manufacture or sell goods armed with thorough knowledge of cost per item, estimated demand, inventory forecasting, and labour availability, how much you could save on expenses and complications!
Designed for fast-paced, intelligent businesses, Tableau enables firms to make plans using the latest data visualization features. It empowers organizations to keep up with the continuously evolving technology and outperform the competition through innovative data analytics. It is an easy-to-use software with rich functionality. Tableau dashboard provides immediate insight by transforming data into engaging, interactive views.
Discover Tableau benefits for effective business planning –
See and understand data
The in-demand visual analytics platform has changed the way businesses use data. Users can make data charts to plan business goals and solve problems in advance.
Plan for the entire business – each department and all operations
Tableau becomes the roadmap to success, providing clarity on every aspect of your business, from marketing and accounts to operations, finance, products, services, inventory, supply chain, human resources and more.
Infuse agility and intelligence
in your business with
Gartner Rated Tableau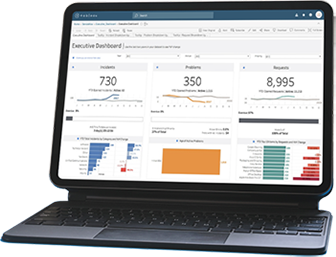 As your business grows and complexities increase, planning also gets complicated. Instantly transform complex business data into valuable insights powered by Tableau BI software. Ask questions, predict trends, create intuitive reports and plan activities of each and every department beforehand.
Provide unparalleled flexibility and choice
Plan wherever you are. Tableau, designed for the mobile-first world, helps business leaders stay at the forefront of evolving data technologies. It can be deployed on-premises, in the cloud, as a SaaS solution, or embedded within applications. You get a cycle of self-service analytics—from prep to analysis. The flexibility and choice allow your business to plan as per its unique needs.
Get clarity and structure
Tableau can help structure data to make effective plans. You can easily define company management objectives. The software becomes a reference tool to keep the company on track with sales targets and operational milestones. It can also help measure and manage your priority areas of focus.
Level up business agility, profitability and business intelligence in the long-run
Usher innovation and build a data culture right from the planning phase. Digitize data sources, connect them to one single source of truth and make data-driven decisions.
Those were just a few of the benefits and capabilities of Tableau. As you explore the software, there is much more you can do.
Let's get back to planning, which is a step-by-step, methodological process. There are many steps involved in strategic planning before you can finally carry out the strategies and witness the positive impacts on the enterprise. Here is a breakdown!
Step-wise Business Planning using Tableau
Clarify your vision
The first step is about setting short- and long-term goals depending on SWOT analysis (strengths, weaknesses, opportunities and threats).Tableau helps you manage all this information on one platform.
Collect and analyze data
Collate data, generate reports in a few seconds, analyze market trends and forecast the company's needs using historical data analysis. Tableau helps you prepare the strategy for the foreseeable market demand.
Strategy implementation
Successful strategy implementation is the action phase – a critical step for the business venture's success. Tableau software is integrated into all departments, and all users can access their panned tasklist and monitor its progress for optimal implementation.
Evaluate and control
Evaluating and controlling the existing plans involve measuring the performance, reviewing all issues, and employing corrective actions when necessary. Tableau BI service tool helps you not just visualize but also analyze data for informed decision-making.
The future can be bright if you plan with Tableau.
But, it can be brighter if you have someone to assist!
Trust UBS – For Tableau Implementation to Tableau Transformation!
Ultimately, the strategic plan of every business is to exceed customers' expectations by providing quality products at the most effective cost. To prepare your business and plan everything, leverage Tableau software. Automate strategizing with the advanced software that stores critical business data and provides comparisons of all possibilities. Quickly generate reports on the Tableau dashboard – anywhere and anytime.
Uneecops Business Solutions (UBS) is a Tableau Gold Partner and India's leading partner for Tableau implementation. Our data scientists can easily plug into your organization and help you leverage Tableau to its fullest.
75+ Data Experts
120+ Clients
Diverse Industry Experience
09 Locations
We offer end-to-end BI services to small and multi-national businesses. Our Tableau cost & pricing are affordable, so businesses can get the most out of the analytics software. With over 100+ successful BI implementations across 18 industry verticals, UBS brings proven and time-tested methodologies for stress-free Tableau implementation. For more information on Tableau cost & pricing, get in touch with our experts. You can also fix a no-cost demo and see in action!