Online purchasing has become popular in this era of technology. People like to shop online due to its conveniences. Modern online shoppers demand convenience, speed, reliability, and personalization when purchasing from online stores. The ideal solution to fulfil these high consumer expectations is SAP Commerce Cloud. SAP guarantees a high level of information security and upholds consumer privacy rights. With solid search capabilities, it can speed up the browsing and purchasing processes for its online customers.
This post on SAP Commerce Cloud – an – Overview will highlight various aspects of SAP Commerce Cloud that will help you to know a lot more about this e-Commerce platform.
What is SAP Commerce Cloud?
A B2B and B2C cloud-based e-Commerce platform are SAP Commerce Cloud. Large companies use it to provide customers with omnichannel or seamless experiences, including content management and purchase processing.
By providing individualized experiences from client possession to retention and amalgamating all touchpoints, including online, POS, mobile, and so on worldwide, it meets each customer's particular wants and preferences.
SAP Commerce Cloud was formerly known as Hybris Commerce Cloud. Prior to being bought by SAP, SAP Commerce was known as Hybris. Compared to Salesforce Commerce Cloud, SAP Commerce Cloud or Hybris Commerce Cloud have a number of significant advantages.
It has a fantastic range of features, such as advanced order management, supplier relationship management, customer relationship management, and so on. Besides, it costs less than Salesforce.
Features of SAP Commerce Cloud
By moving to a enterprise-grade e-commerce and innovative commerce platform, you can unlock business agility, secure your margins, and future-proof your CX strategy.
Omni-commerce connect APIs makes it omnichannel
All touchpoints may be connected effortlessly with SAP Commerce Cloud, resulting in a streamlined and expert buying process for all users. They are processed by headless APIs that guarantee the efficient operation of a company's application.
Delivers compelling customer experience by highly personalizing
SAP Commerce Cloud offers a compelling, relevant storefront experience with one-to-one recommendations and real-time merchandising. Also, the real-time insights help in understanding what each customer's wants and needs throughout the online buying journey. This is a highly professional approach to handle and enables users to customize the customer experience to meet their demands.
Robust environment and agility and flexibility with cloud-based technology
The best-case scenario is to create applications with the cloud in mind. Yet, microservices-based programs are more suited for the cloud. However, SAP Commerce Cloud is exempt from this rule. SAP offers all the advantages of a healthy environment and the agility and flexibility that cloud-based technology offers.
Incredible immersive experience by ready-to-use features
You can build your own e-Commerce App using the tools available on the very captivating SAP Commerce platform. You can avoid making architectural decisions in great detail or start from scratch because everything is incorporated into the package.
On day one, you receive a complete e-Commerce App with all the required connections. In SAP Commerce Cloud, you will find that the architecture is already established, making it very easy for new developers to integrate into the team.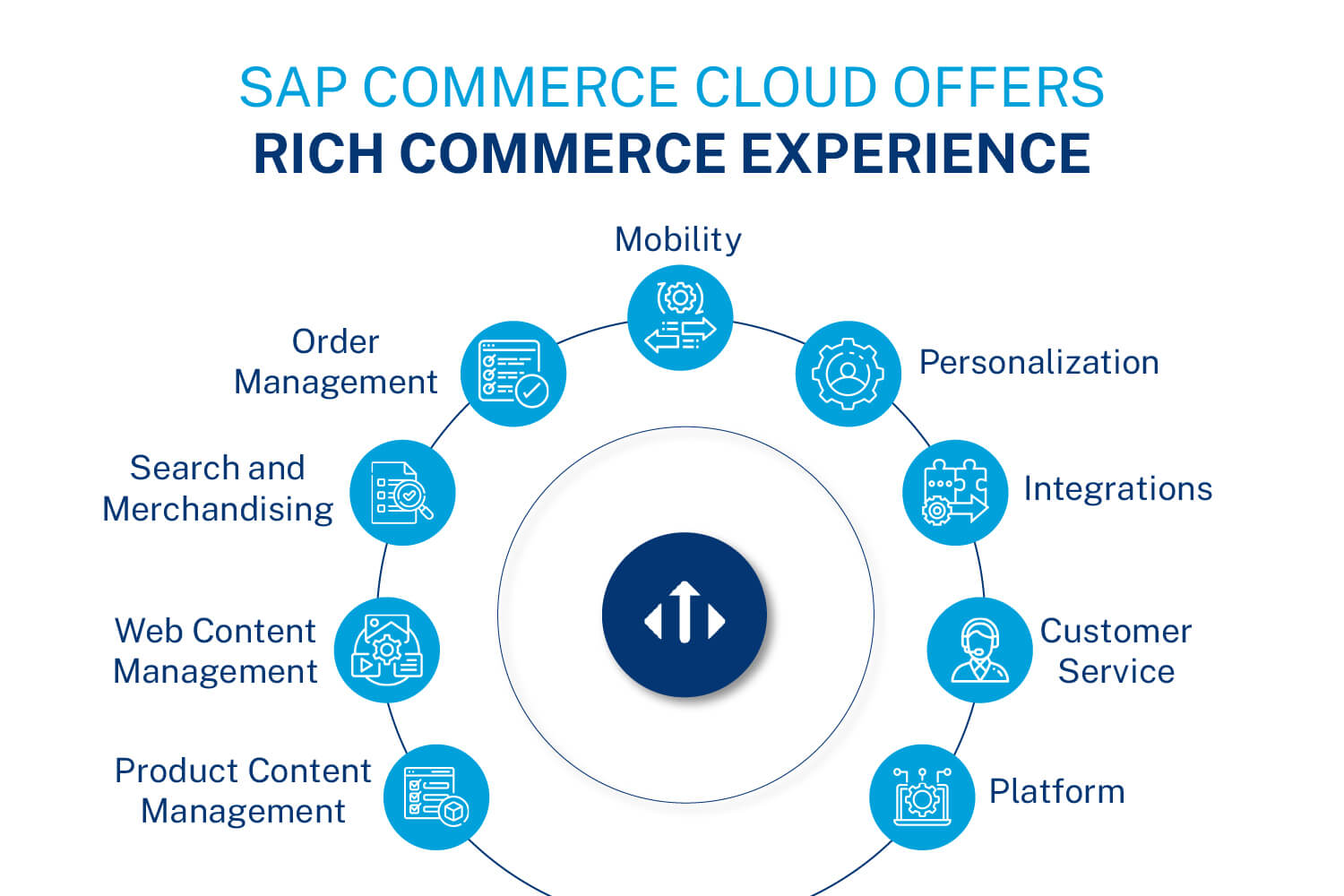 SAP Commerce Cloud Architecture
One of the critical advantages of utilizing SAP Commerce Cloud is that it gives users access to an authentic architecture. The SAP Commerce platform establishes all the connections required for your application to operate effectively via the API.
The application includes mechanical components that make it possible to write custom code. Hence, from the shop to online content management, you can design important bespoke components for the program.
Furthermore, Java is the primary programing language used by SAP Commerce Cloud. It operates on Tomcat servers and makes use of a number of structures.
Benefits of SAP Commerce Cloud
Quick onboarding is made possible by SAP Commerce Cloud's instant access to the development, staging, and deployment environments.
With the help of cloud-native capabilities, you will be able to reach the most recent releases, code, update packages, checks, and so on.
Without disrupting the primary application, the SAP Commerce Cloud platform Extension Factory enables the extension and amalgamation of microservices.
A significant benefit of the SAP Commerce Cloud platform is that it can easily accommodate your extreme traffic volumes. This is because SAP is very scalable, which will result in the growth of your business.
Why Should Enterprise Organizations Use SAP Commerce Cloud?
Omnichannel SAP Commerce Cloud offers a refined customer experience. Today's market's best option for e-Commerce solutions, SAP Commerce Cloud, gives attention to clients developing extraordinarily complex and large-scale applications with many concurrently supported services.
Enterprises are increasingly asking for Hybris-specific engineers to tackle the needs provided with the product because of the size of the offering. SAP Commerce Cloud is a solid business choice for enterprises seeking a scalable and reliable e-Commerce platform.
SAP Commerce Cloud vs Hybris
SAP Commerce Cloud and Hybris are actually the same product. SAP commerce cloud was formerly known as Hybris Commerce Cloud. Prior to being bought by SAP, SAP commerce was known as Hybris.
So, if you think that both are different products and want to know the differences between them, then we would say that there is no difference between them. Hybris Commerce Cloud has emerged as SAP Commerce Cloud under the SAP name, replacing Hybris.
When Is It Better to Use or Not to Use SAP Commerce Cloud?
Although SAP Commerce Cloud has many advantages for businesses to improve customer experience, it is unsuitable for simple, entry-level applications. Other platforms might be a better option for users who don't need the entire SAP Commerce Cloud feature set or for those involved in working on smaller Apps.
In contrast, for people who have worked with e-Commerce platforms often for a number of years and are seeking a more powerful e-Commerce solution with ample flexibility, SAP Commerce is typically better suitable for them.
Conclusion
If you're in search of an e-commerce platform that can help you scale your business, look no further than SAP Cloud Commerce. With its focus on creating intricate, large-scale systems, it's no wonder that SAP stands out in the market. By leveraging the power of the cloud, this platform can assist your business in selling more products, services, and digital content at every touchpoint.
The rising acceptance of cloud-based solutions is a testament to the value they bring to businesses of all sizes. So, why join the many companies that have already made the switch? With SAP Cloud Commerce, you'll have everything you need to take your business to the next level. Don't wait – give it a try today!