In today's fast-moving world, it is imperative to continuously reinvent ourselves. New competitors transform from promising startups to unstoppable entrepreneurs at a lightning speed. Companies that pivot to pursue new growth opportunities through innovation will lead. While many are making strides in this direction, only a few businesses have been able to secure a sustainable future.
Moreover, the ongoing global COVID-19 pandemic battle is changing the world fiercely, requiring startups, small and micro businesses to invest in an enterprise-ready ERP to run agile, make smarter decisions, improve business performance and manage risk. But is there any such ERP that can help you become the global market leaders of tomorrow?
Entering SAP Business One Starter Package
There comes a simple solution for startups and micro-businesses to carve their future in-
Seed phase, Startup phase, Growth phase and Expansion phase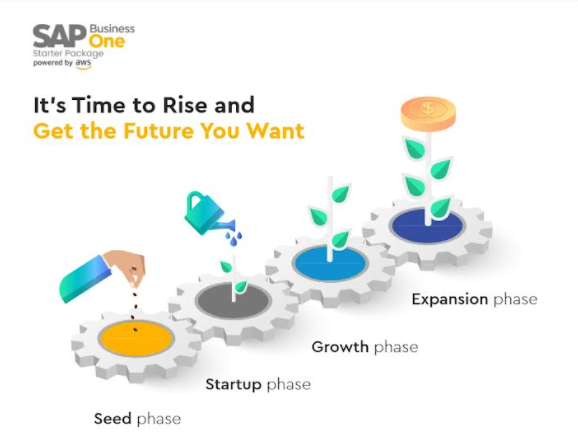 SAP Business One Starter Package happens to be the light version of SAP Business One with enterprise-grade functionality which comes at an unbelievably low price. Micro-small businesses generally don't opt for ERP software during the initial years of their operations. Instead, they rely on their traditional spreadsheets and manual processes. What this means is that small businesses start their journey with a heavy stone chained to them. The business process does not get run – it gets dragged. Because in the world of efficient and digital business processes, it doesn't matter if you run a 50-employee company or a 5000-employee company – each of them needs an internal system that integrates all the aspects of the business.
SAP has always ensured that its ERP system can be used even by small and mid-size businesses. Hence, back in 2002, it came up with SAP Business One. Now, for entry-level businesses and startups, SAP is here with its ultra-affordable SAP Business One Starter Package.
The speed of change is placing traditional business methods into question. A successful business must think beyond short-term value to true and long-lasting value. SAP and Uneecops- both are enabling leaders of tomorrow to reinvent their business landscape and make them relevant, resilient, and sustainable with smart and incredible affordable technology .
Starter Package License at Rs.3,999 per User/Month
SAP Business One Starter Package is licensed at Rs.3,999 per user/month. With a one-time implementation fee of Rs.49,000, Uneecops also takes care of the setup and configuration process. So, you don't need to care about lifting legacy data and shifting it to the new ERP. Additionally, since the whole setup is hosted on an AWS Cloud platform managed by Uneecops, there's no need to invest in expensive hardware and servers, thus high ROI and low total cost of ownership (TCO). The annual cloud management and upgrade cost is also included in the subscription.
You're Here to Do Great Things: SAP Starter Package Helps
SAP Business One Starter Package is not just an ERP software. It's a system – a process – in itself. Most startups, in their early stages, don't have a business process in place. Hence everything seems hit-and-miss Once you implement SAP Business One Starter Package, you give your organization the gift of tried and tested business processes.
Powered by SAP HANA, the revolutionary in-memory database, SAP Business One Starter Package can investigate any-level of information in real-time. You can simply use its Google-style enterprise search functionality and instantly locate desired documents and information, apply filters, summarise and dive into the detail just like that. Further, as your business grows in size, you can upgrade to the full SAP Business One license at any time with minimal business disruption and zero risk. It's that simple and scalable.
Features Of SAP Business One Starter Package
An organization – big or small – runs smoothly only because of some critical business processes. The success with which the organization runs these processes ensures its overall success. With SAP Business One Starter Package, you can manage-
Accounting and Finance
Effortlessly manage your general ledger, journals, and accounts payable and receivable anytime, anywhere, and so much more like-
Set up budgets and cost accounting
Perform all banking activities, process payments by check, cash, credit card, and bank transfer.
Monitor your financial performance at a glance
Simplify financial reporting for profit and loss
Purchasing and Supplier Relationships
With SAP Business One Starter Package, you can automate the purchasing and supply chain relationships.
Manage the complete order-to-pay cycle
Raise purchase orders and pay suppliers
Create purchase orders and link purchasing documents
View document trails for audit purposes
Manage returns and expenses
Create compelling reports and dashboards
Sales and Customer Relationship
The SAP Business One Starter Package equips you with an automated sales system with an integrated CRM.
Create quotations for your customers. You can even customize these quotations based on who you are sending them to.
Enter new orders into the system.
With the Opportunity pipeline, track sales opportunities from lead generation to the closing of sales.
Gain detailed information about each customer.
Integration with Microsoft Outlook ensures seamless management of customer and supplier contact info.
Schedule essential processes and events in Outlook without any data duplication.
Inventory & Distribution
With SAP Business One Starter Package, integrate your inventory with other aspects of your business. The end result? Constantly updated inventory records with no bottlenecks and zero paperwork.
Easy inventory valuation with various methods to choose from – like standard costing, moving average, or FIFO.
Automatic updation of stock levels after delivery and sales. Monitor stock levels from your ERP system.
Customize the product pricing based on volume or customer account.
Make Data-Driven Decisions With Insightful Reports And Summary
SAP Business One Starter Package provides analytics that encompasses all aspects of your small business. In addition, it can be fully integrated with SAP Crystal Reports software.
Balance Sheet Report
Profit and Loss statement
GSTR1 and GSTR 3B reports
Purchase analysis and Last Price Reports
Backorder and sales analysis
Inventory Audit and Warehouse Reports
Employee Master Data
SAP Business One Starter Package: Mission Critical to Surviving and Thriving
In this age of speed and agility, accounting software and legacy applications work no more. It is a burden holding back your businesses to thrive in their business. You need to act and move really fast to keep pace with the dynamic business landscape. SAP Starter Package is the best ERP software for small business that helps your business to access the right information at the right time to make real-time business decisions. It minimizes duplicate data entries, errors, and delays, optimizes cash flow for business needs, builds closer customer relationships and holds a key to your seamless and bright future.
Are you ready to give your business a stronger business foundation? An ERP which is backed by the assurance of high quality support? An ERP which is comprehensive, time-saving, intuitive, adaptable and yet easy to maintain? It's time to dream big and achieve high with SAP Business One Starter Package and Uneecops as an ERP implementation partner.